My Aprilaire humidifier is leaking! What to do about it.
As one of the largest resellers of Aprilaire humidifiers and humidifier parts - we often talk with customers about problems they are having - usually with older whole house humidifiers.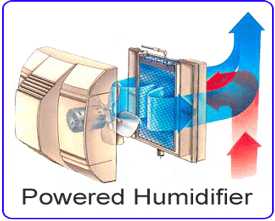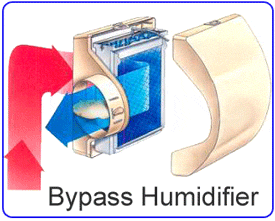 Leaking is a common problem with older Aprilaire humidifiers that have not been properly maintained. This article will discuss possible causes of leaking and associated solutions. NOTE - information in this article does not relate to Aprilaire humidifier models 400, 400A, 445, 445A, 448 (these models use a pump, or water reservoir system). The concepts in this article apply to all other Aprilaire Humidifier models including

110, 112, 220, 224, 350, 360, 550, 500A, 500M, 550, 550A, 558, 560, 560A, 568, 600, 600M, 600A, 700, 700M, 700A, 760, 760A, & 768
How whole house humidifiers are supposed to work . . .
When the humidistat is calling for humidity (and the furnace is running) a solenoid valve will open and allow fresh water to flow across a porous evaporator pad, where it is exposed to warm, dry air forced through the humidifier by the furnace blower. As the water evaporates, the heating system circulates humidified air throughout the home. Water flows over the evaporator pad, or water panel via gravity. Once the pad/panel is saturated excess water will leave the humidifier through a drain tube on the bottom of the unit.

Possible causes of a leaking whole house humidifier
Water backing up drain line - if the drain line does not have a continuous slope to the drain, it is possible for it to air lock and for water to back up in the drain line. Removing dips and hills from the drain line and flushing it with water under pressure will eliminate the problem. Replace drain line every year or as necessary.

Water Panel Evaporator or scale control insert - a clogged water panel evaporator could cause the scale control insert to fill with residue and block the drain opening, causing leaking. Clean scale control insert and install a new water panel evaporator. If you've never changed the water panel before - click here for instructions.

Solenoid valve - be sure the water flow through the valve is in the correct direction. Note an arrow designating water flow direction on the valve body. Should a piece of dirt lodge between the valve plunger and seat on the solenoid and prevent it from completely closing, the solenoid will leak. After shutting of water at the saddle valve, disconnect electrical power, remove the solenoid and backwash with water under light pressure or blow out. This is quite effective unless the valve seat has been permanently damaged, in which case it will be necessary to replace the valve.
Water pressure - water pressure above 125 psi can cause leakeage. Check pressure and use a pressure reducer if necessary.