Honeywell HC22E1003 | Our#: 112778
Honeywell HC22E 1003 Humidifier Pad, 10-Pack
Honeywell HC22E1003 | Our#: 112778
Fast Shipping & Free Returns
100% Compatibility Guarantee
10-pack special Original Factory Replacement Water Panel Evaporator for Honeywell Humidifier Models: HE220A,HE220B,HE225A,HE225B Size: 9 13/16" x 9 1/2" x 1 1/2" / Agion Antimicrobial Coated
This product is currently unavailable.
The Honeywell HC22E1003 that you're looking for is so popular right now, it is not available at the moment. Enter your email address and we'll keep you updated when it's in stock.
Fast Shipping & Free Returns
100% Compatibility Guarantee
Frequently Purchased Together
Product Details
Honeywell HC22E 1003 Humidifier Pad, 10-Pack
The "heart" of your whole-house humidifier, the Water Panel (also known as humidifier filter, water pad, evaporator pad), should be changed at least once per heating season. The pad is constructed of an expanded aluminum honeycomb mesh that is dipped in a clay coating. This coating is able to absorb and hold water. Warm, dry air is forced through the wet pad to introduce water vapor into the home.
Product Features:
Factory original OEM part
Dimensions approximately - 9 13/16" x 9 1/2" x 1 1/2"
Pad change instructions are printed on product carton
Agion Antimicrobial Coated
Fits the Following Humidifiers:
Honeywell HE220A
Honeywell HE220B
Honeywell HE225A
Honeywell HE225B
Honeywell HE100A
Honeywell HE150A
Humidifier water panels (sometimes referred to as a filter) are a regular replacement item in whole-house humidifiers. For the best performance we recommend that the Water Panel be replaced once a year, either prior to the start or at the end of the heating season. If you have especially hard water - the panel can be replaced 2 times per year.

Click here for instructions on changing out your water panel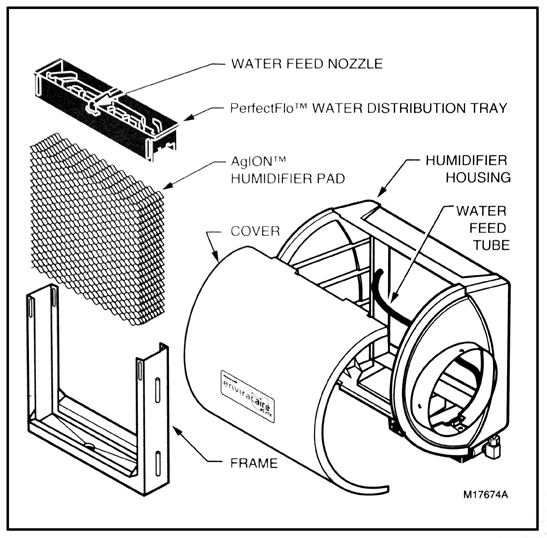 ---
Replaces These Water Panels:
Honeywell:
hc22e1003
Toptech:
tt-pad2
Fits In These Systems:
Honeywell:
he100
he100a
he100a1000
he105a
he105a1000
he150
he150a1005
he150b
he200b
he220
he220a
he220a1001
he220a1019
he220a1043
he220a1234
he220b1009
he225
he225a
he225a1006
he225a1234
he225b
he225b1004
he225dg115
he225h8908
he225vpiaq