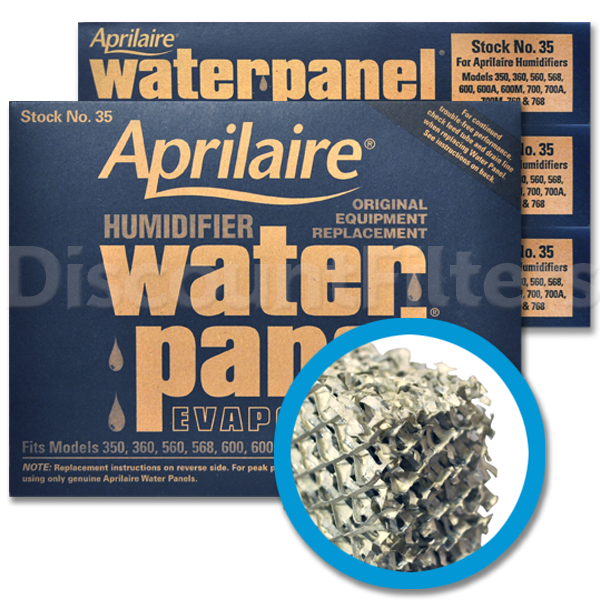 Aprilaire 35 | Our#: 177166
Aprilaire #35 Water Panel Evaporator, 4-Pack

265 review(s)
Aprilaire 35 | Our#: 177166
Free Shipping & Returns
100% Compatibility Guarantee
Aprilaire #35 Water Panel Evaporator - 4-Pack
7 people in your area recently purchased this product!
$

12.07
(

4

Water Panels for $

48.29

)
Free Shipping & Returns
100% Compatibility Guarantee
Frequently Purchased Together
Product Details
The Aprilaire humidifier filter is a key facet in the process of introducing water vapor into your home. The "heart" of your whole-house humidifier, the Aprilaire #35 water panel (also known as Aprilaire humidifier filter, water pad, evaporator pad), is constructed of an expanded aluminum honeycomb mesh. Dipped in a clay coating, this mesh filter pad is able to absorb and hold water. As warm, dry air is forced through the Aprilaire humidifier filter on its way through your whole-house humidifier, water vapor is produced and released throughout your entire indoor space.
Water vapor released into the air by the Aprilaire #35 water panel works to increase the humidity level of your indoor spaces. Achieving a proper humidity level between 30% and 50% will alleviate symptoms of dry air such as dry skin, bloody noses, and itchy eyes. Cold air holds less moisture in the air, so the humidity is lower which means dry air. In colder weather, a humidifier is a great solution to rejuvenate the moisture levels in your household.
Product Features:
Factory original OEM part
Dimensions approximately - 10" x 13" x 1-1/2"
Pad change instructions are printed on product carton
Fits the Following Humidifiers:
Aprilaire 350
Aprilaire 360
Aprilaire 560
Aprilaire 560A
Aprilaire 568
Aprilaire 600
Aprilaire 700
Aprilaire 760
Aprilaire 760A
Aprilaire 768
Humidifier water panels (sometimes referred to as a filter) are a regular replacement item in whole-house humidifiers. For the best performance we recommend that the Water Panel be replaced once a year, either prior to the start or at the end of the heating season. If you have especially hard water - the panel can be replaced 2 times per year.
---
Replaces These Filters:
Aprilaire:
35
Bestairpro:
a35-pr
Nordyne:
rp0035
Ruud:
Tempstar:
3242rp
York:
s1-hupad35
Fits In These Systems:
Aprilaire:
350
360
560
5608
560a
600
600a
600m
700
700a
700m
760
760a
768
Tempstar:
hmiclb17a
hmiclb17b
hmiclf18a
hmiclf18b