Smith Filter TFS25161N | Our#: 100645
25" X 16" X 1" Galvanized Steel Grease Baffle Filter
Smith Filter TFS25161N | Our#: 100645
Fast Shipping & Free Returns
100% Compatibility Guarantee
25" X 16" X 1" Galvanized Steel Grease Baffle Filter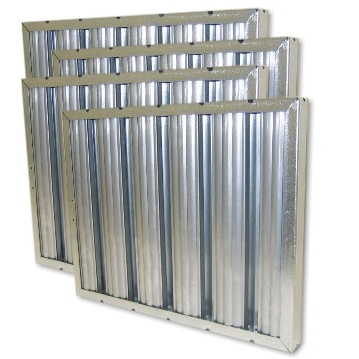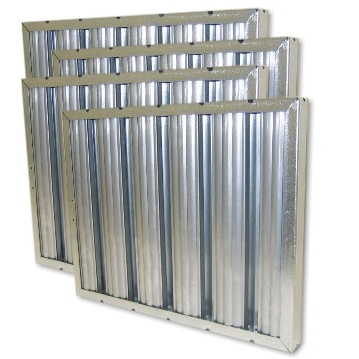 2 people in your area recently purchased this product!
$

31.19
(

4

Filters for $

124.74

)
Fast Shipping & Free Returns
100% Compatibility Guarantee
Frequently Purchased Together
Product Details
25" X 16" X 1" Galvanized Steel Grease Baffle Filter

*Listed filter size is nominal. Actual filter size is up to ½" less on all dimensions.

One inch thick Grease Filter, designed from Heavy Galvanized Steel, makes up the Thrifty Flame Stop "G" Filter an inexpensive way of preventing flames from getting up into the hood. UL Approved for Grease.

The THRIFTY FLAME STOP FILTER features 2 layers of uniquely formed baffles, secured in a frame. The baffles are arranged to eliminate direct passage of flame or grease through the filter. Grease-laden air is forced to swirl. Accumulation of grease on the baffles is held to an absolute minimum. Drain holes at the bottom of the filter allows rapid runoff to the drain trough.

CONSTRUCTION - Made from Hot Dip, 24 Gauge Galvanized Steel, with a spangled finish. The baffles are uniquely designed by a press, giving them the exact distance from one baffle to the next. Each pad of baffles are in one piece, pressed from Galvanized Steel coils into the baffle shape. Two of these pads are put together to make the inside of the THRIFTY FLAME STOP "G". One piece frame shall be made from 24 gauge Hot Dip G-90 Galvanized Steel, roll formed to give it extra strength and the frame is secured with rivets on one end.

CLEANABILITY - The THRIFTY FLAME STOP "G" holds up through numerous cleanings. The baffle design allows for easy cleaning of the baffle filter by either a high pressure washer or a steam cleaner. Drain holes at the corners allow for easy drainage after washing as well as grease drainage. Under extremely high heat conditions, some charring of grease may occur. This can be removed with frequent cleanings or cleaning compounds.

MAXIMUM TEMPERATURE RANGE ON THE THRIFTY FLAME STOP "G" IS 450 DEGREES F.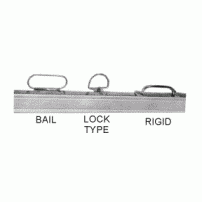 NOTE: If handles are desired - please select handle type above when ordering
NOTE: WHEN ORDERING GREASE BAFFLES - VERTICAL DIMENSION ALWAYS COMES FIRST. SEE EXAMPLE BELOW: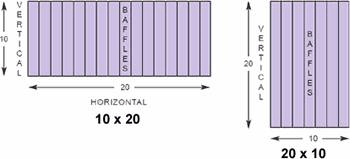 ---
Additional Information
---