Smith Filter FG-G16252N | Our#: 100683
16" X 25" X 2" Galvanized Steel Grease Baffle Filter
Smith Filter FG-G16252N | Our#: 100683
Fast Shipping & Free Returns
100% Compatibility Guarantee
16" X 25" X 2" Galvanized Steel Grease Baffle Filter No Handles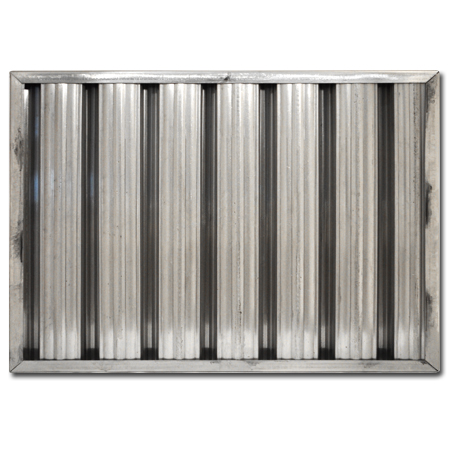 6 people in your area recently purchased this product!
Fast Shipping & Free Returns
100% Compatibility Guarantee
Frequently Purchased Together
Product Details
16" X 25" X 2" Galvanized Steel Grease Baffle Filter No Handles

*Listed filter size is nominal. Actual filter size is 15.5" x 24.5" x 1.75".

This Galvanized Steel baffle filter is designed to hold up through the toughest conditions. The Smith FIRE GUARD "G" is made with heavy 24 gauge Galvanized Steel throughout the filter, including the baffles. Two layers of baffles are carefully aligned to eliminate the direct passage of flame and grease through the filter. The heavy guage gives it the strength needed to withstand numerous cleanings. Secured in place, the baffle pad will not shift or bend being handled. Because of the extra weight, the filter won't vibrate when installed. Grease-laden air is forced to swirl, preventing accumulation of grease on the baffles. Drain holes along the bottom of the filter allow rapid runoff into the drain trough. This filter was designed for the Hood Service Companies, which require numerous cleanings of their filters. That's why it's known as "THE RUGGED" Grease Filter. UL approved for grease.

TEMPERATURE - The maximum temperature this filter can handle is 450 degrees F. Anything more could cause damage to the filter. If you are in need of a higher temperature Grease Filter, the Smith Fire Patrol "S" (Stainless Steel) would be what you are looking for. This filter can handle temperatures up to 900 degrees F.

CLEANABILITY - Easily cleaned in a conventional or commercial dish washer, sink or by steam. Galvanized Steel can withstand some stronger alkali solutions but it may cause discoloration in the filter. Cleaning times may vary per application depending upon the type and amount of grease that has accumulated. Because of the heavy Steel, the Smith FIRE GUARD "G" should withstand numerous cleanings.

MAXIMUM TEMPERATURE IS 450 DEGREES F.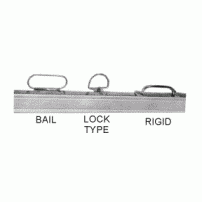 NOTE: If handles are desired - please select handle type above when ordering
NOTE: WHEN ORDERING GREASE BAFFLES - VERTICAL DIMENSION ALWAYS COMES FIRST. SEE EXAMPLE BELOW: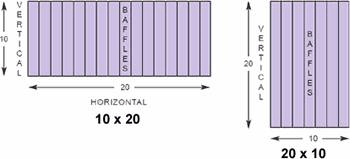 ---
Additional Information
---