Ultravation 91-005 | Our#: 176950
Ultravation Model 91-005 Progressive Media Filter - 16x25x5

27 review(s)
Ultravation 91-005 | Our#: 176950
Fast Shipping & Free Returns
100% Compatibility Guarantee
Reduce common allergy symptoms
Reduces allergy irritating particles
Captures allergens like dust, mold spores, pet dander, dust mite debris and more
Lessens odors from car fumes & smog
Creates cleaner indoor air
Actual Dimensions: 15 ¾" x 24 ¼" x 4 ⅞"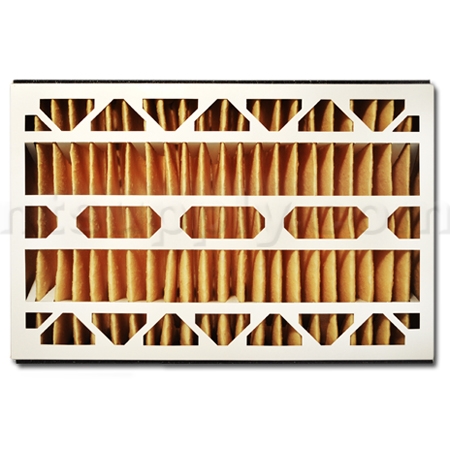 6 people in your area recently purchased this product!
Fast Shipping & Free Returns
100% Compatibility Guarantee
Frequently Purchased Together
Product Details
Ultravation Model 91-005 Progressive Media Filter - 16x25x5 (actual dimensions 15 3/4" X 24 1/4" X 4 7/8"). - Rated MERV 11

NOTE: This is a Factory Original Ultravation Filter!

Quality filtraton is fundamental for any indoor air quality improvement solution. Ultravation Progressive Media is a whole house solution that reduces the number one indoor air problem: airborne particulates, including many allergens.

Ultravation Progressive Media is layered filter system with a MERV 11 rating that can trap and hold more dirt than most filter designs without excessive air restriction. Its Shaped UltraStrand Fibers are specially designed and electrostatically charged, to capture and hold very small particles, increasing filter capacity.

Most Ultravation filters are pleated designs and contain 32 square feet of media This high level of surface area gives the filter a long life and prevents air resistance that wastes energy.
Replacement Filter for:
Part # 91-005
Air Cleaner Models 90-006, 92-024, 92-025, 92-026, 92-115, 92-116, 92-117, 92-028, 92-029, 92-030, 92-118, 92-119, 92-120, 92-010, 92-011, 92-012, 92-133, 92-134, 92-135
MERV is Minimum Efficiency Reporting Value. Industry standard filter performance ratings created by ASHRAE, (The American Society of Heating, Refrigeration and Air Conditioning Engineers). The MERV 11 performance standard requires 85% efficiency for particles 3 to 10 microns in size. MERV 11 is considered a premium level of performance for residential applications
ProgessiveMedia filters the air entering your HVAC system and helps keep it running at top efficiency. By keeping cooling coils cleaner the heating and cooling process takes less energy. Long filter life means you will use (typically) just 2 filters per year.

Five inch Ultravation ProgressiveMedia filters designed to last about six months under normal circumstances. Your results may be different, depending on air conditions in your area. Dusty area may require more frequent replacement.
---
Replaces These Filters:
National Filter Sales:
15.75x24.25x4.875
Ultravation:
91-005
How to change your furnace/air-conditioner/HVAC air filter
Estimated time: 10 minutes or less
Steps
Determine the location of your filter

Your forced air system will be similar, whether or not it is a heating (furnace) or cooling (AC) system – or both. The furnace filter housing/slot is located right next to the heating/cooling system's air handler or blower. Your filter(s) may also be located in a return grille on the wall or ceiling of your home.

Determine the type/size of filter that you use

Typically, the dimensions or part number of the filter will be printed on the filter frame. Use this information to order a new filter.

Purchase a new air filter from DiscountFilters.com

Visit DiscountFilters.com and purchase a new filter. Use our filter finders to verify the correct match.

Remove the old filter

Turn off the power to the heating/cooling system and remove the old filter from its housing/slot and discard.

Insert the new filter

Pay attention to any airflow direction arrows printed on the frame of the new filter. Install the filter by sliding it into the filter housing/slot with the airflow arrow pointing towards the blower. If installing the filter in a wall or ceiling grille – the airflow arrow should point towards the wall or ceiling. Turn on the power to the forced air system.

Enjoy cleaner air!