Trane FLR06463 | Our#: 186130
Trane CleanEffects PreFilter Replacement for 14-1/2" Upflow/Sideflow Furnace Cabinets

1 review(s)
Trane FLR06463 | Our#: 186130
Fast Shipping & Free Returns
100% Compatibility Guarantee
PreFilter for Trane CleanEffects Cabinets 14-1/2" Upflow/Sideflow Furnace Styles
Change Every 12 Months
Original Manufacturer Part
3 people in your area recently purchased this product!
In Stock
Ships in 24 hours
Fast Shipping & Free Returns
100% Compatibility Guarantee
Frequently Purchased Together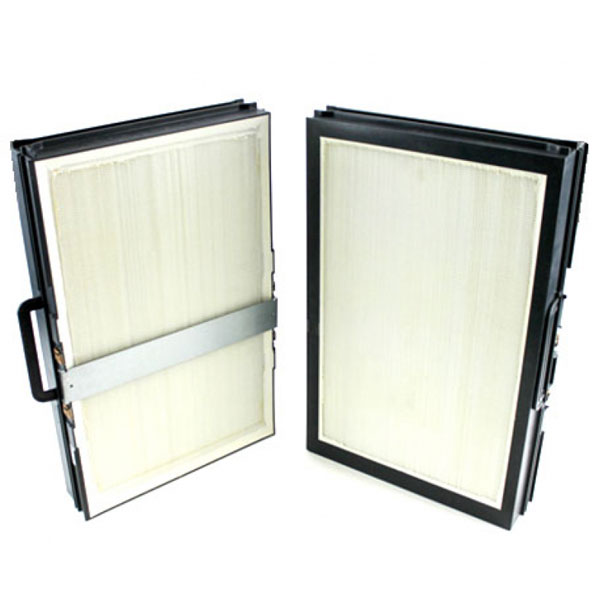 Product Details
Replacment PreFilter for Trane CleanEffects TFD145CLFR models
This woven mesh prefilter will catch all the large particles from entering your CleanEffects 14-1/2" Upflow/Sideflow Furnace cabinet and prematurely filling the collection cells inside the unit. Approximate dimensions - 14" X 26-3/4" X 1"

Vacuuming is the preferred method to clean the PREFILTER and COLLECTION CELLS. It is recommended that the PRE-FILTER and the COLLECTION CELLS be vacuumed outside the home to ensure particles on the filters are not reintroduced into the air. Persons highly sensitive to the collected particles should wear appropriate respiratory protection while cleaning.
The air cleaner is factory set to notify the home owner to clean the PRE-FILTER every two months [10 weeks] of actual run time of the air cleaner. This notification can be changed by the installer/home owner to 1 month or 3 months [5 to 15 weeks] depending on the conditions in the home (pets, smokers, etc.).
This prefilter will fit the following CleanEffects Cabinets:
AFD145ALFH000BB
AFD145ALFH000BC
AFD145ALFR000AA
AFD145ALFR000AB
AFD145ALFR000BB
AFD145ALFR000BC
AFD145ALFR000CC
AFD145ALFR000CD
AFD145ALUPGRDAA
AFD145ALUPGRDAB
AFD145ALUPGRDAC
AFD145ALUPGRDAC
AFD145ALUPGRDCC
AFD145ALUPGRDCD
AFD145CLFR000CD
AFD145CLFR000CE
AFD145CLFR000DA
AFD145CLFR000EA
AFD145CLFR000EB
AFD145CLFR000EC
AFD145CLFR000FA
TFD145ALFH000BB
TFD145ALFR000AA
TFD145ALFR000AB
TFD145ALFR000BB
TFD145ALFR000BC
TFD145ALFR000BC
TFD145ALFR000CC
TFD145ALFR000CD
TFD145ALUPGRDAA
TFD145ALUPGRDAB
TFD145ALUPGRDAC
TFD145ALUPGRDAC
TFD145ALUPGRDCC
TFD145ALUPGRDCD
TFD145CLFR000CD
TFD145CLFR000CE
TFD145CLFR000DA
TFD145CLFR000EA
TFD145CLFR000EB
TFD145CLFR000EC
TFD145CLFR000FA
---
Specifications
Depth:
1"
Length:
14"
Width:
26-3/4"