Honeywell POPUP1625 | Our#: 110236
Honeywell 16X25 PopUP Media Air Filter, 2-Pack

5 review(s)
Honeywell POPUP1625 | Our#: 110236
Fast Shipping & Free Returns
100% Compatibility Guarantee
Reduce common allergy symptoms
Reduces allergy irritating particles
Captures allergens like dust, mold spores, pet dander, dust mite debris and more
Lessens odors from car fumes & smog
Creates cleaner indoor air
Actual Dimensions: 15 ⅞" x 24 ⅞" x 4 ⅜"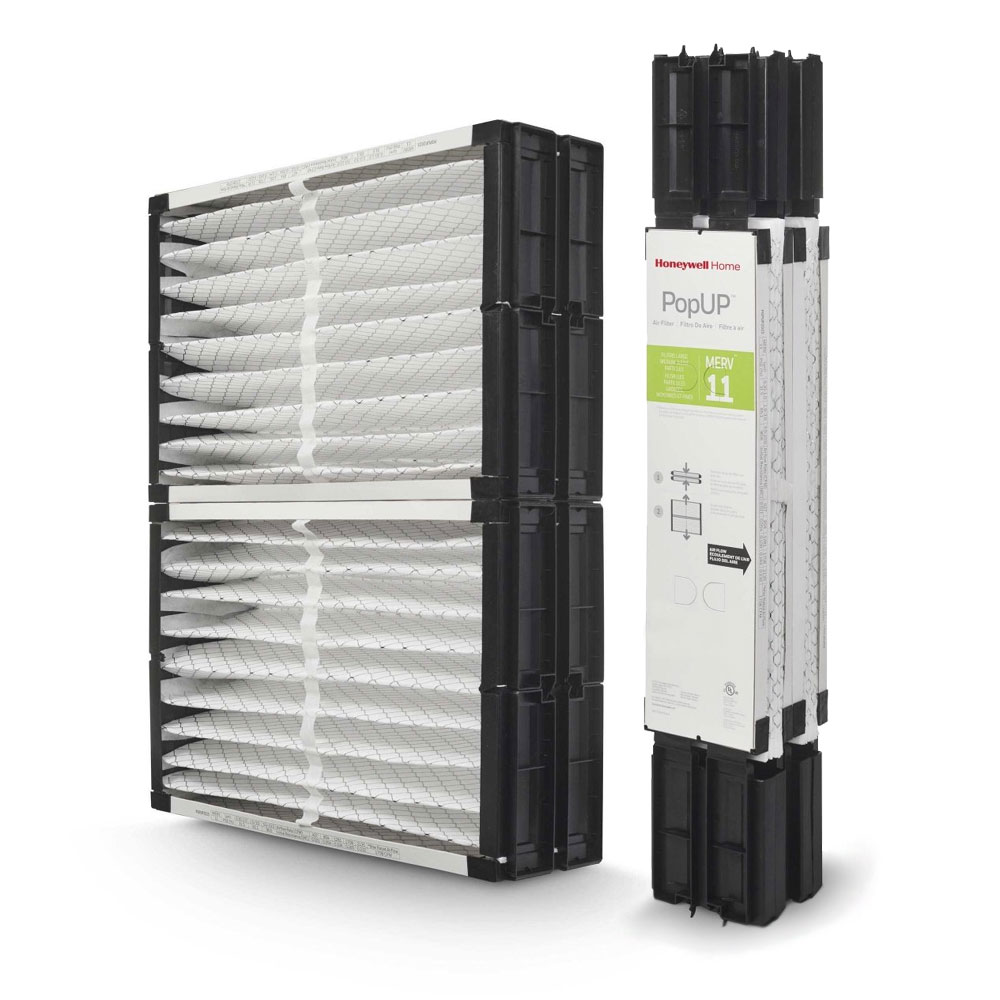 4 people in your area recently purchased this product!
$

58.76
(

2

Filters for $

117.52

)
Fast Shipping & Free Returns
100% Compatibility Guarantee
Frequently Purchased Together
Product Details
Honeywell 16X25 PopUP Media Air Filter (2-Pack)
The PopUP revolutionizes air filtration with a design that self-assembles to drastically reduce installation time and the messiness of replacement, while maintaining a highly efficient MERV 11 air-filtration rating. When maintenance is required, just remove, collapse and dispose of the entire filter - no more seperate parts (pleat combs, inner frames) needed!
Key Features:
* No assembly required
* Fiberglass-free filtration (fiberglass is an American Lung Association lung irritant)
* Quick, easy maintenance. Preassembled filter is replaced with just one piece - the filter - making simple homeowner maintenance.
* Additional 1" inch filtration provides more surface area for higher efficiency air filtration.
* Universal fit. PopUP is available in six sizes, compatible with all Honeywell and most competitive MACs.
* Limited Warranty
Dimensions:
(in.) 16 in. x 25 in.
Efficiency:
Standard Efficiency ratings are based on American Society of Heating, Refrigerating and Air-Conditioning Engineers Standard 52.2-1999.;Efficiency ranges are defined for small particles, E1=0.3 to 1.0 microns; medium particles, E2=1.0 to 3.0 microns; and large particles, E3=3.0 to 10.0 microns.
Minimum Efficiency Reporting Value: MERV 11
Used With: F100F1004, F100B1008, F150E1000, F100F2028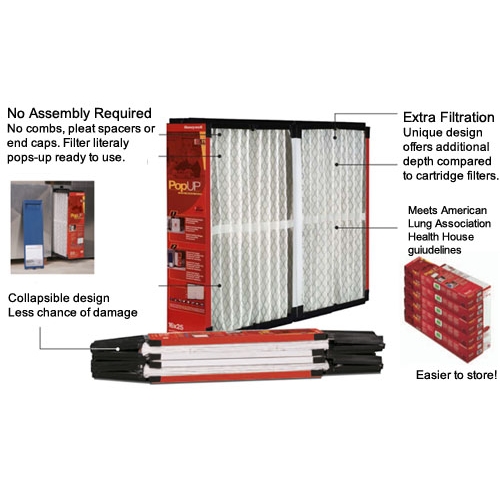 ---
Replaces These Filters:
Honeywell:
National Filter Sales:
How to change your furnace/air-conditioner/HVAC air filter
Estimated time: 10 minutes or less
Steps
Determine the location of your filter

Your forced air system will be similar, whether or not it is a heating (furnace) or cooling (AC) system – or both. The furnace filter housing/slot is located right next to the heating/cooling system's air handler or blower. Your filter(s) may also be located in a return grille on the wall or ceiling of your home.

Determine the type/size of filter that you use

Typically, the dimensions or part number of the filter will be printed on the filter frame. Use this information to order a new filter.

Purchase a new air filter from DiscountFilters.com

Visit DiscountFilters.com and purchase a new filter. Use our filter finders to verify the correct match.

Remove the old filter

Turn off the power to the heating/cooling system and remove the old filter from its housing/slot and discard.

Insert the new filter

Pay attention to any airflow direction arrows printed on the frame of the new filter. Install the filter by sliding it into the filter housing/slot with the airflow arrow pointing towards the blower. If installing the filter in a wall or ceiling grille – the airflow arrow should point towards the wall or ceiling. Turn on the power to the forced air system.

Enjoy cleaner air!