Honeywell FR8000F2025 | Our#: 176977
Honeywell FR8000F2025 Media Filter for TrueCLEAN Air Cleaner

1 review(s)
Honeywell FR8000F2025 | Our#: 176977
Fast Shipping & Free Returns
100% Compatibility Guarantee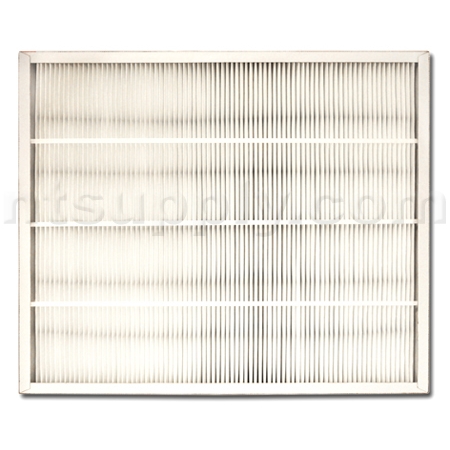 6 people in your area recently purchased this product!
Fast Shipping & Free Returns
100% Compatibility Guarantee
Frequently Purchased Together
Product Details
Honeywell FR8000F2025 Media Filter for TrueCLEAN Air Cleaner - Fits in FH8000F2025 Air Cleaner

Actual Dimensions - 20-5/8" X 24-1/2" X 3-9/16"

The Honeywell TrueCLEAN Enhanced Air Cleaner is designed for use in return air duct of a forced air heating, cooling and ventilation system. TrueCLEAN provides extremely high filtration performance while destroying captured contaminants, including viruses, bacteria and mold spores.

The Honeywell TrueCLEAN Enhanced Air Cleaner treats the entire air stream through a state of the art three-step process.
-Charge: In stage one particles in the air are electrically charged by an array of ionizer points as they enter the air cleaner.
-Capture: In stage two the charged particles are electrically attracted and captured in the filter cartridge which is located within an electric field.
-Destroy: In stage three captured particles are destroyed by electrical current flow and ion bombardment.


Specifications:

Description TrueCLEAN Replacement Filter
Application Replacement Filter
Dimensions (in.) 20 in. x 25 in.
Dimensions (mm) 508 mm x 635 mm
Airflow Max.-Capacity (cfm) 2000 cfm
Airflow Max.-Capacity (m³/hr) 3400 m³/hr
Efficiency Standard Efficiency ranges are defined for small particles, E1=0.3 to 1.0 microns; medium particles, E2=1.0 to 3.0 microns; and large particles, E3=3.0 to 10.0 microns.
Efficiency Standard Efficiency ratings are based on American Society of Heating, Refrigerating and Air-Conditioning Engineers Standard 52.2-1999.
Efficiency Standard Efficiency rating of filter as installed.
Fractional Efficiency E1=90%, E2=96%, E3=99%
Minimum Efficiency Reporting Value (Media Filters Only) MERV 15
Static Pressure Drop (in. w.c.) 0.25 at 500 FPM
Type or Air Cleaner Enhanced Air Cleaner
Approvals, Underwriters Laboratories Inc Filter Element: UL900
Approvals, Canadian Standards Association Filter Element: UL900
Used With FH8000F2025
---
How to change your furnace/air-conditioner/HVAC air filter
Estimated time: 10 minutes or less
Steps
Determine the location of your filter

Your forced air system will be similar, whether or not it is a heating (furnace) or cooling (AC) system – or both. The furnace filter housing/slot is located right next to the heating/cooling system's air handler or blower. Your filter(s) may also be located in a return grille on the wall or ceiling of your home.

Determine the type/size of filter that you use

Typically, the dimensions or part number of the filter will be printed on the filter frame. Use this information to order a new filter.

Purchase a new air filter from DiscountFilters.com

Visit DiscountFilters.com and purchase a new filter. Use our filter finders to verify the correct match.

Remove the old filter

Turn off the power to the heating/cooling system and remove the old filter from its housing/slot and discard.

Insert the new filter

Pay attention to any airflow direction arrows printed on the frame of the new filter. Install the filter by sliding it into the filter housing/slot with the airflow arrow pointing towards the blower. If installing the filter in a wall or ceiling grille – the airflow arrow should point towards the wall or ceiling. Turn on the power to the forced air system.

Enjoy cleaner air!