Goodman 1856 | Our#: 113424
Activated Carbon Filter for Goodman / Five Seasons Air Cleaner 1856-3

6 review(s)
Goodman 1856 | Our#: 113424
Fast Shipping & Free Returns
100% Compatibility Guarantee
Love your pets, not their odors
Reduces indoor odors from pets
Odor blocking carbon
Removes additional odors from paint, new carpet, cigarette smoke, cooking
Only filter that reduces chemical vapors
Creates cleaner indoor air
Actual Dimensions: 5" x 20" x ⅜"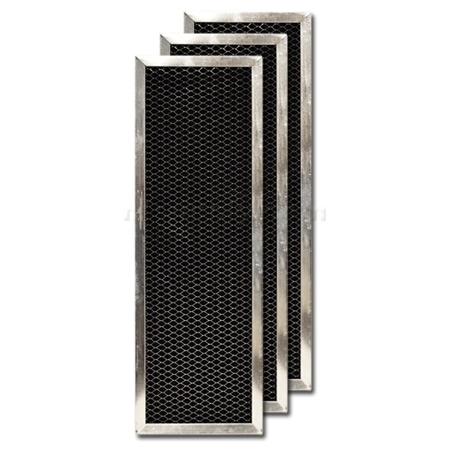 This product is currently unavailable.
The Goodman 1856 that you're looking for is so popular right now, it is not available at the moment. Enter your email address and we'll keep you updated when it's in stock.
Fast Shipping & Free Returns
100% Compatibility Guarantee
Frequently Purchased Together
Product Details
Household odors can create discomfort for family members and guests. They can also infiltrate the carpeting and walls, which decreases the home's value. Electronic air cleaners use filters to trap airborne odors and particles. It removes odors from smoking, cooking, pets, the bathroom, cleaning chemicals or paint. Activated carbon, the main ingredient, attracts and removes unpleasant odors. This filter is a factory original part. When replaced every three months, it removes unpleasant odors and gives the indoor air a clean and fresh smell.
MERV 4
odor blocking carbon traps and removes a variety of household odors
replace once every 3 months
OEM part fits air cleaners by Amana, Bryant, Carrier, Coleman, Goodman Manufacturing, Kenmore, Frigidaire and others
5" x 20" x 3/8" nominal size
5" x 20" x 3/8" actual size
three pack
---
Replaces These Filters:
National Filter Sales:
5x20x0.375
How to change your furnace/air-conditioner/HVAC air filter
Estimated time: 10 minutes or less
Steps
Determine the location of your filter

Your forced air system will be similar, whether or not it is a heating (furnace) or cooling (AC) system – or both. The furnace filter housing/slot is located right next to the heating/cooling system's air handler or blower. Your filter(s) may also be located in a return grille on the wall or ceiling of your home.

Determine the type/size of filter that you use

Typically, the dimensions or part number of the filter will be printed on the filter frame. Use this information to order a new filter.

Purchase a new air filter from DiscountFilters.com

Visit DiscountFilters.com and purchase a new filter. Use our filter finders to verify the correct match.

Remove the old filter

Turn off the power to the heating/cooling system and remove the old filter from its housing/slot and discard.

Insert the new filter

Pay attention to any airflow direction arrows printed on the frame of the new filter. Install the filter by sliding it into the filter housing/slot with the airflow arrow pointing towards the blower. If installing the filter in a wall or ceiling grille – the airflow arrow should point towards the wall or ceiling. Turn on the power to the forced air system.

Enjoy cleaner air!