AIRx 24x25x4BC-ALLERGY | Our#: 174776
24x25x4 AIRx ALLERGY Carrier FILXXCAR0024 Replacement Air Filter - MERV 11

49 review(s)
AIRx 24x25x4BC-ALLERGY | Our#: 174776
Fast Shipping & Free Returns
100% Compatibility Guarantee
Reduce common allergy symptoms
Reduces allergy irritating particles
Captures allergens like dust, mold spores, pet dander, dust mite debris and more
Lessens odors from car fumes & smog
Creates cleaner indoor air
Actual Dimensions: 23 ⅞" x 24 ¾" x 4 ⅜"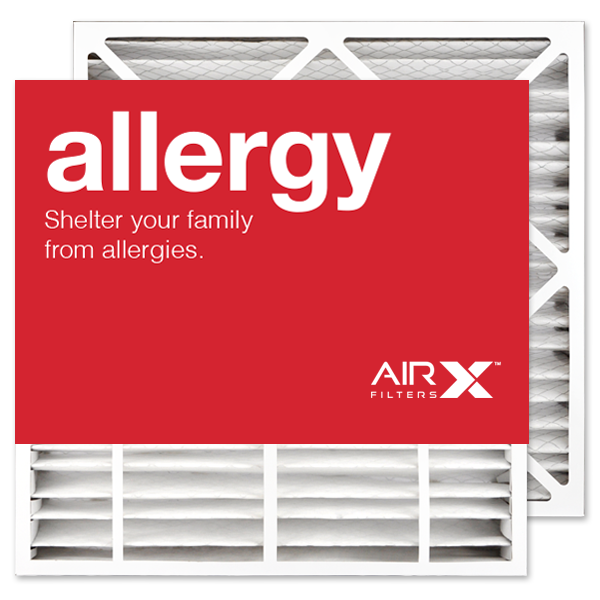 2 people in your area recently purchased this product!
$

40.86
(

2

Filters for $

81.71

)
Fast Shipping & Free Returns
100% Compatibility Guarantee
Frequently Purchased Together
Product Details
Is this the right air filter for you?
If you want superior IAQ (Indoor Air Quality) in your home and removal of allergy-causing particles from the air you breathe then yes, this is the filter for you! The media in this filter is specially constructed to remove the small particles that irritate your lungs. You won't find this unusual size at the local store. Why not have it delivered directly to your door? We make it convenient and quick.
Quality 4" pleated air filter offers improved filtration and longer service life over common 1" filters
MERV 11 rating means the filter attracts household allergens like pet dander, pollen, dust mite debris, and other airborne particles that cause allergies
Replaces the Bryant/Carrier FILXXCAR0024 (also branded as Day-Night, Payne, BDP, Totaline)
Replace every 6 months under normal use
Made with pride in the USA
Fast Shipping and Free Returns on all filters
What does this air filter remove?

What part numbers does this filter replace?
Do you want to know about the technical specs?
Bryant / Carrier / Totaline / Payne / BDP / Day & Night FILXXCAR0024, FILXXCAR0124, FILXXCAR0024-A02, FILXXCAR0124-A02, FILBBCAR0024, FILBBCAR0124, FILCCCAR0024, FILCCCAR0124, FILBBFTC0024, FILCCFTC0024, FILCCCAR0024, EXPXXFIL00 24, EXPXXFIL0324, MACPAK024, MACPAK24
Accumulair DPFPC24X25X5M8, DPFPC24X25X5M11, DPFPC24X25X5M13
Quality Filters 50001-102-0193, 50001-102-0194, 50001-102-0195, 50001-102-0196
Tier1 799932609701, 799932609831, 799932609572, 799932609589, 799932609718, 799932609848, 799932609824, 799932609817, 799932609688, 799932609695, 799932609565, 799932609558, 799932609671, 799932609664, 799932609800, 799932609794
AllFilters.com W50001-202-0193, W50001-202-0194, W50001-202-0195, W50001-202-0196
Eco-Aire RDP.CA052425M11
---
Do you want to know about the technical specs?
Nominal Dimensions
Actual Dimensions
Filter Media
Electrostatically charged 100% synthetic gradient media that does not support microbiological growth
Filter Support Grid
30 gauge galvanized expanded metal grid
Frame
Moisture resistant double-wall beverage board
Max Temperature
180F (82C) continuous service, peak 225F (107C)
Max Humidity
Resistant to 100% R.H.
Replaces These Filters:
Accumulair:
DPFPC24X25X5M11
DPFPC24X25X5M13
DPFPC24X25X5M8
AllFilters.com:
W50001-202-0193
W50001-202-0194
W50001-202-0195
W50001-202-0196
Bryant:
FILBBCAR0024
FILBBCAR0124
FILBBFTC0024
FILCCCAR0024
FILCCCAR0124
FILCCFTC0024
FILXXCAR0024
FILXXCAR0024-A02
FILXXCAR0124
FILXXCAR0124-A02
MACPAK024
MACPAK24
Eco-Aire:
RDP.CA052425M11
National Filter Sales:
Quality Filters:
50001-102-0193
50001-102-0194
50001-102-0195
50001-102-0196
Tier1:
799932609558
799932609565
799932609572
799932609589
799932609664
799932609671
799932609688
799932609695
799932609701
799932609718
799932609794
799932609800
799932609817
799932609824
799932609831
799932609848