AIRx 20x20x5HW-HEALTH | Our#: 177318
20x20x5 AIRx HEALTH Honeywell FC100A1011 Replacement Air Filter - MERV 13

105 review(s)
AIRx 20x20x5HW-HEALTH | Our#: 177318
Fast Shipping & Free Returns
100% Compatibility Guarantee
Protect more sensitive lungs
Highest rated filter to reduce most pollutants
Reduces pollen, dust, lint, dust mite debris, pet dander & mold spores
Lessens odors from car fumes & smoke
Removes bacteria & virus carriers
Creates cleaner indoor air
Actual Dimensions: 19 ⅝" x 19 ⅞" x 4 ⅜"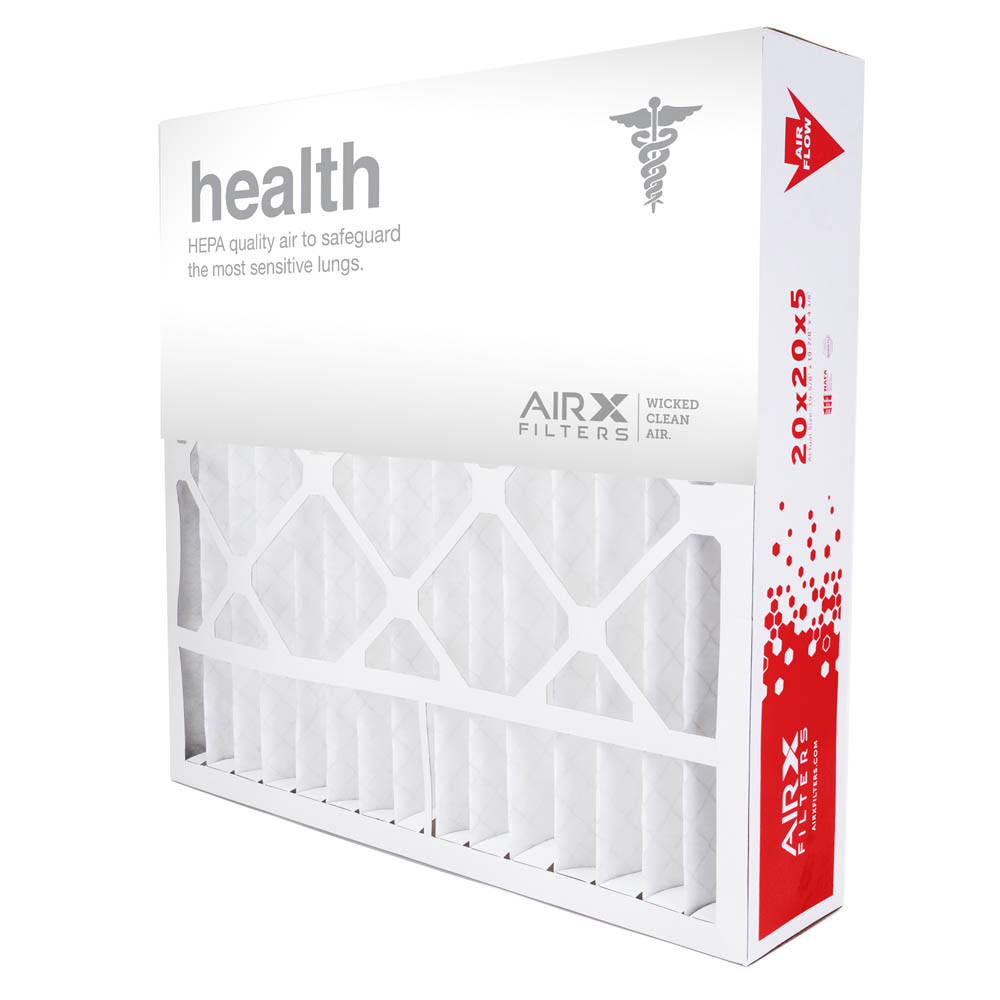 3 people in your area recently purchased this product!
In Stock
Ships in 24 hours
Fast Shipping & Free Returns
100% Compatibility Guarantee
Frequently Purchased Together
Product Details
20" X 20" X 5" MERV 13 Honeywell Filter Replacement. (Actual Dimensions - 19-5/8" X 19-7/8" X 4-3/8").

Highly-efficient, synthetic material features extended surface pleats that have a higher dirt-holding capacity than competitive filters. These high quality filters capture and hold pollutants inside the filter, allowing clean air to flow freely through the system.

FEATURES:
Cost-effective, high quality alternative to factory original filter
Built to same dimensions and specifications as original Honeywell filter
Moisture resistant frame remains sturdy even in high humidity
Rust resistant galvanized wire downstream gives the filter rigidity and holds media in place after installation
Built-in support fingers hold pleats in place and allow for maximum dust holding
For optimum system performance, replace the filter every six months
MERV 13 rating means the filter attracts common large household allergens like dust, pollen, and mold spores as well as smaller particulate like smoke, bacteria, and pet dander
REPLACEMENT FILTER FOR:
FC100A1011
FC200E1011
CF200A1024
FC35A1019
2400.4721
POPUP2020
203721
SBHW1140
SBHW11MQP
SBHW11GQP
DPFW20X20X5M8
DPFW20X20X5M11
DPFW20X20X5M13
82655.0452020
82755.0452020
5-2020-8
5-2020-11
P25-3
Honeywell F25F1018 Air Cleaner
Honeywell F35F1016 Air Cleaner
Honeywell F100F1020 Air Cleaner
Honeywell F150E1018 Air Cleaner
Honeywell F100E1024 Air Cleaner
Honeywell F100F1026 Air Cleaner
Honeywell F100B2024 Air Cleaner
Honeywell F100F2036 Air Cleaner
Honeywell F200E1011 Air Cleaner
---
Do you want to know about the technical specs?
Nominal Dimensions
Actual Dimensions
Filter Media
Electrostatically charged 100% synthetic gradient media that does not support microbiological growth
Filter Support Grid
30 gauge galvanized expanded metal grid
Frame
Moisture resistant double-wall beverage board
Max Temperature
180F (82C) continuous service, peak 225F (107C)
Max Humidity
Resistant to 100% R.H.
Replaces These Filters:
Accumulair:
DPFW20X20X5
DPFW20X20X5M11
DPFW20X20X5M13
DPFW20X20X5M15
DPFW20X20X5M8
DPFW20X20X5MOB
AeroStar:
RDP.HW052020M08AF26
RDP.HW052020M08FF26
RDP.HW052020M11AF26
RDP.HW052020M11FF26
RDP.HW052020M13AF26
RDP.HW052020M13FF26
Astro-Guard:
HWP20205
HWP20205M11
HWP20205M13
HWP20205M8
Atomic Filters:
AF-DHW13.0520202P
BestAir:
5-2020-11
5-2020-13
5-2020-8
5-2020-PR11
HW2020
HW2020-11R
HW2020-8R
Columbia:
HRG2020
Eco-Aire:
RDP.HW052020M08
FilterBuy:
HRF20x20x5M
HRF20x20x5M11
HRF20x20x5M13
HRF20x20x5M8
FiltersFast:
FFC20205HON
FFC20205HONM13
Filtrete:
DP02DC
Flanders:
82655.045202
82755.045202
Honeywell:
203721
CF200A1024
CF200D2020
FC100A1011
FC100A1011/U
FC200E1011
FC35A1019
Indigo:
2400.4721
Koch Filters:
102-718-003
Magnet:
National Filter Sales:
20x20x4
20x20x5
PF-03-202005HW-1
PF-03-202005HW-2
Nordic Pure:
20X20X5H-PBS
20X20X5HM10
20X20X5HM12
20X20X5HM13
20X20X5HM13+C
20X20X5HM14
20X20X5HM14+C
20X20X5HM15
20X20X5HM15+C
20X20X5HM8
20X20X5HM8C
20X20X5HPM10C
20X20X5HPM12C
Purolator:
P25-3
Quality Filters:
50001-202-0065
50001-202-0066
50001-202-0067
50001-202-0068
SBHW1140
SBHW11DQP
SBHW11EQP
SBHW11GQP
SBHW11MQP
SBHW11OB
Tier1:
DPFW20X20X5OB
US Home Filter:
CECOMINOD093017
SC60-20X25X5HW
SC80-20X20X5HW
Fits In These Systems:
Honeywell:
F100B2024
F100E1024
F100F1020
F100F1026
F100F2036
F150E1018
F200E1011
F25F1018
F300A2020
F300E1027
F35F1016
How to change your furnace/air-conditioner/HVAC air filter
Estimated time: 10 minutes or less
Steps
Determine the location of your filter

Your forced air system will be similar, whether or not it is a heating (furnace) or cooling (AC) system – or both. The furnace filter housing/slot is located right next to the heating/cooling system's air handler or blower. Your filter(s) may also be located in a return grille on the wall or ceiling of your home.

Determine the type/size of filter that you use

Typically, the dimensions or part number of the filter will be printed on the filter frame. Use this information to order a new filter.

Purchase a new air filter from DiscountFilters.com

Visit DiscountFilters.com and purchase a new filter. Use our filter finders to verify the correct match.

Remove the old filter

Turn off the power to the heating/cooling system and remove the old filter from its housing/slot and discard.

Insert the new filter

Pay attention to any airflow direction arrows printed on the frame of the new filter. Install the filter by sliding it into the filter housing/slot with the airflow arrow pointing towards the blower. If installing the filter in a wall or ceiling grille – the airflow arrow should point towards the wall or ceiling. Turn on the power to the forced air system.

Enjoy cleaner air!