AIRx 20x20x5HW-ALLERGY | Our#: 186532
20x20x5 AIRx ALLERGY Honeywell FC100A1011 Replacement Air Filter - MERV 11, 3-Pack

116 review(s)
AIRx 20x20x5HW-ALLERGY | Our#: 186532
Fast Shipping & Free Returns
100% Compatibility Guarantee
Reduce common allergy symptoms
Reduces allergy irritating particles
Captures allergens like dust, mold spores, pet dander, dust mite debris and more
Lessens odors from car fumes & smog
Creates cleaner indoor air
Actual Dimensions: 19 ⅞" x 19 ⅞" x 4 ⅜"
2 people in your area recently purchased this product!
$

39.64
(

3

Filters for $

118.91

)
In Stock
Ships in 24 hours
Fast Shipping & Free Returns
100% Compatibility Guarantee
Frequently Purchased Together
Product Details
20" x 20" x 4 3/8" MERV 11 Honeywell Filter Replacement (Single Filter).

(actual size 19 7/8" X 19 7/8" X 4 3/8")

Fits Honeywell Series: F25/F35/F100/F150
Replaces FC35A1019 / 203721 / CF200A1024

These well-constructed filters are made to perform like the original replacement filter at a value price!

Designed not only to reduce dust, but has the ability to capture most common allergens. This is achieved by combining 100% synthetic electrostatically charged media, optimum pleat spacing and high quality construction. These deep-pleated filters have exceptionally high initial and sustained efficiency, high dust holding capacity, and very low pressure drop. The media is resistant to a wide range of chemicals, does not absorb moisture and will not support microbial growth.

SPECIFICATIONS:

MERV Rating: 11
Filter Media Particulate: 100% synthetic gradient media, electrostatically charged
Filter Support Grid: 30 gauge galvanized expanded metal grid
Frame: Moisture resistant 28 point beverage board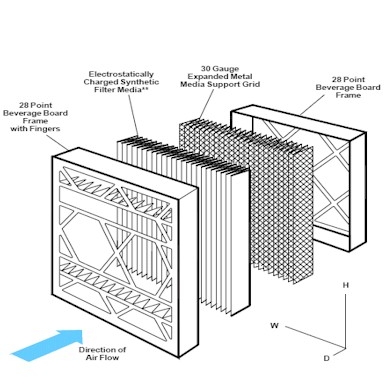 ---
Do you want to know about the technical specs?
Nominal Dimensions
Actual Dimensions
Filter Media
Electrostatically charged 100% synthetic gradient media that does not support microbiological growth
Filter Support Grid
30 gauge galvanized expanded metal grid
Frame
Moisture resistant double-wall beverage board
Max Temperature
180F (82C) continuous service, peak 225F (107C)
Max Humidity
Resistant to 100% R.H.
Replaces These Filters:
Accumulair:
DPFW20X20X5
DPFW20X20X5M11
DPFW20X20X5M13
DPFW20X20X5M15
DPFW20X20X5M8
DPFW20X20X5MOB
AeroStar:
RDP.HW052020M08AF26
RDP.HW052020M08FF26
RDP.HW052020M11AF26
RDP.HW052020M11FF26
RDP.HW052020M13AF26
RDP.HW052020M13FF26
Astro-Guard:
HWP20205
HWP20205M11
HWP20205M13
HWP20205M8
Atomic Filters:
AF-DHW13.0520202P
BestAir:
5-2020-11
5-2020-13
5-2020-8
5-2020-PR11
HW2020
HW2020-11R
HW2020-8R
Columbia:
HRG2020
Eco-Aire:
RDP.HW052020M08
FilterBuy:
HRF20x20x5M
HRF20x20x5M11
HRF20x20x5M13
HRF20x20x5M8
FiltersFast:
FFC20205HON
FFC20205HONM13
Filtrete:
DP02DC
Flanders:
82655.045202
82755.045202
Honeywell:
203721
CF200A1024
CF200D2020
FC100A1011
FC100A1011/U
FC200E1011
FC35A1019
Indigo:
2400.4721
Koch Filters:
102-718-003
Magnet:
National Filter Sales:
PF-02-202005HW-1
PF-02-202005HW-2
Nordic Pure:
20X20X5H-PBS
20X20X5HM10
20X20X5HM12
20X20X5HM13
20X20X5HM13+C
20X20X5HM14
20X20X5HM14+C
20X20X5HM15
20X20X5HM15+C
20X20X5HM8
20X20X5HM8C
20X20X5HPM10C
20X20X5HPM12C
Purolator:
P25-3
Quality Filters:
50001-202-0065
50001-202-0066
50001-202-0067
50001-202-0068
SBHW1140
SBHW11DQP
SBHW11EQP
SBHW11GQP
SBHW11MQP
SBHW11OB
Tier1:
DPFW20X20X5OB
US Home Filter:
CECOMINOD093017
SC60-20X25X5HW
SC80-20X20X5HW
Fits In These Systems:
Honeywell:
F100B2024
F100E1024
F100F1020
F100F1026
F100F2036
F150E1018
F200E1011
F25F1018
F300A2020
F300E1027
F35F1016