AIRx 18x20x4-DUST | Our#: 179978
18x20x4 AIRx DUST Air Filter - MERV 8
AIRx 18x20x4-DUST | Our#: 179978
Fast Shipping & Free Returns
100% Compatibility Guarantee
Enjoy a cleaner home with less work
Reduces dust, lint, dust mites, pollen
Will help keep your HVAC system clean
Maintains superior airflow
Creates cleaner indoor air
Actual Dimensions: 17 ½" x 19 ½" x 3 ¾"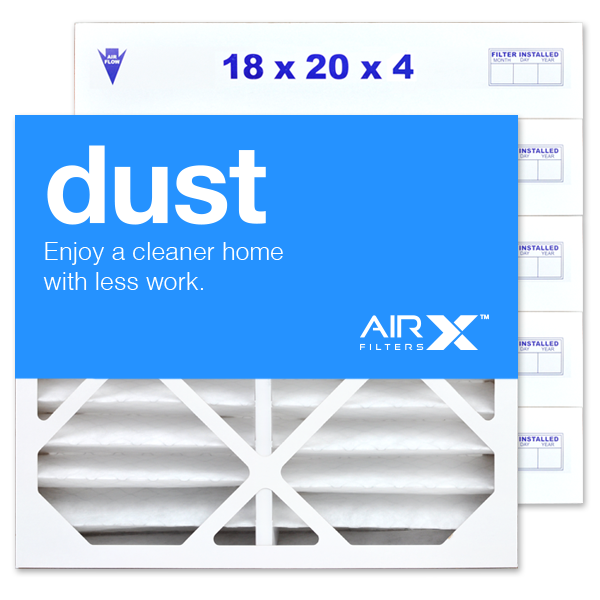 2 people in your area recently purchased this product!
$

23.07
(

6

Filters for $

138.40

)
Fast Shipping & Free Returns
100% Compatibility Guarantee
Frequently Purchased Together
Product Details
18x20x4 AIRx DUST Air Filter - MERV 8

(Actual Size 17.5" x 19.5" x 3.75")
Improving indoor air quality starts with improving your filtration system. If you're still using ordinary furnace filters, you might want to upgrade to pleated panel filters. Pleated panel filters have been proven to outperform ordinary furnace filters. This is achieved through optimal pleat spacing and high initial and sustained efficiency, 100% synthetic electrostatically charged media, very low pressure drop, and high capacity for holding dust. As another added benefit, the media is resistant to a wide variety of chemicals, will not support microbial growth, and does not absorb moisture.

Great at reducing airborne allergens such as: bacteria, particles that carry viruses, pollen, find dust, pet dander, and mold. This filter material has no added chemicals and is 30x more efficient at trapping and holding micro particles than ordinary filters made with fiberglass. These filters last up to 3 months.
Features:
MERV 8 Rating
Electrostatically charged, 100% synthetic gradient media
Media pack totally bonded to frame
Moisture resistant double wall beverage board
30 gauge galvanized expanded metal grid
Underwriters Laboratories rating: U.L. Class 2.
---
How to change your furnace/air-conditioner/HVAC air filter
Estimated time: 10 minutes or less
Steps
Determine the location of your filter

Your forced air system will be similar, whether or not it is a heating (furnace) or cooling (AC) system – or both. The furnace filter housing/slot is located right next to the heating/cooling system's air handler or blower. Your filter(s) may also be located in a return grille on the wall or ceiling of your home.

Determine the type/size of filter that you use

Typically, the dimensions or part number of the filter will be printed on the filter frame. Use this information to order a new filter.

Purchase a new air filter from DiscountFilters.com

Visit DiscountFilters.com and purchase a new filter. Use our filter finders to verify the correct match.

Remove the old filter

Turn off the power to the heating/cooling system and remove the old filter from its housing/slot and discard.

Insert the new filter

Pay attention to any airflow direction arrows printed on the frame of the new filter. Install the filter by sliding it into the filter housing/slot with the airflow arrow pointing towards the blower. If installing the filter in a wall or ceiling grille – the airflow arrow should point towards the wall or ceiling. Turn on the power to the forced air system.

Enjoy cleaner air!