Brita Filtered Water Bottle
Brita 35558 | Our#: 177304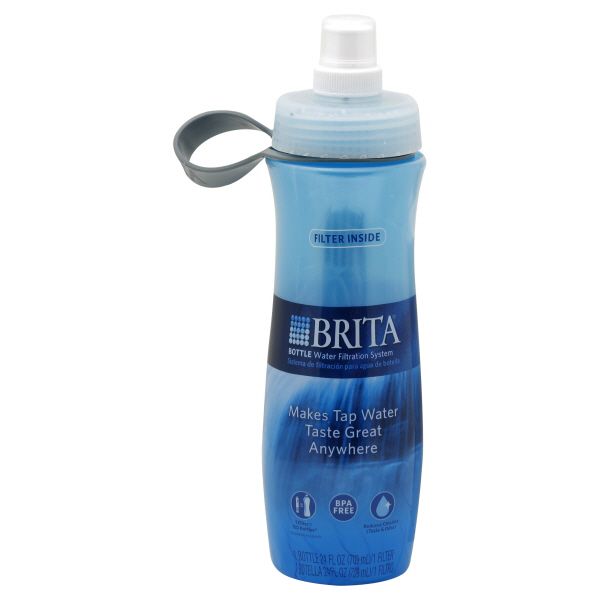 Description
---
Take fresh, great-tasting water with you anywhere you go with the Brita water bottle. The Brita filtered water bottle has a Brita filter attached to the dispenser to filter out contaminants that can affect the safety and taste of your water. Municipal tap water can contain impurities such as dirt, sand silt, rust, lime, and chlorine, which creates poor-tasting water and can affect your health. The included Brita carbon filter removes these contaminants and particulates for a safe, healthy drink on the go.
Features:
24 ounce capacity
BPA free
Certified by NSF International to meet standard 42 for the reduction of the taste and smell of chlorine
One filter replaces 150 plastic water bottles
One filter included
Each filter lasts for 128 20 ounce servings (approximately 2 months or 20 gallons)
Reduces the taste and odor of chlorine
Removes sediment, dirt, sand, silt, rust, and limescale from the water
Founded in 1966 by German entrepreneur Hanz Henkammer, Brita has become a leader in water filtration around the world. The name Brita is synonymous with great-taste, safety, and clean water. Using a Brita filter removes harmful contaminants from your water to protect you and your family, while giving you great-tasting, crystal clear water.

Save Your Furnace Tip #4:
MERV stands for Minimum Efficiency Reporting Value, and measures a filters' efficiency in removing small particles. The higher the MERV rating, the more particles the filter can remove.