Brita SpaceSaver Filtered Water Pitcher
Brita 35250 | Our#: 172490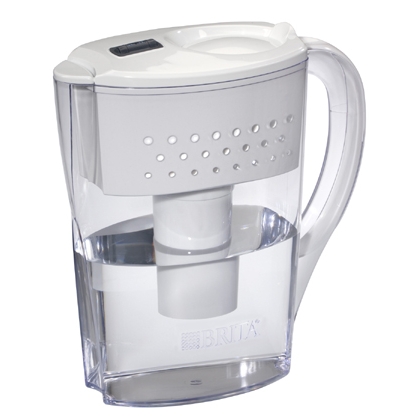 Description
---
Tap water can contain dangerous contaminants. By filtering the water before you drink it, you reduce the risk of ingesting lead, asbestos, cysts, bacteria, chlorine and other particulates. The Brita SpaceSaver pitcher reduces these and other particulates. BPA-free materials make the filter safe to use every day. Its efficient design allows you to store the pitcher in the refrigerator or on your counter. The flip top enables you to refill the pitcher easily. To clean the pitcher, simply wash it with mild detergent. Before inserting fresh filters, saturate them for 15 minutes in order to activate the carbon and prepare it to filter tap water immediately. A calendar reminder on the pitcher indicates when you need to replace the filter. Use the Brita SpaceSaver filter pitcher at home or at work, and enjoy the benefits of great tasting and clean filtered water.
48 ounce capacity, equivalent to six 8-ounce glasses
simple to refill and easy to store
reduces particulates and contaminants from the tap water
BPA free
reminder dial indicates when the filter must be changed
includes one pitcher and one filter

Save Your Furnace Tip #7:
When you place your order you can sign up for a free Filter Change Reminder email. We will send you an email when it's time to change your filter!