Brita On-Tap Advanced Faucet Filtration System, White
Brita 42201 | Our#: 172516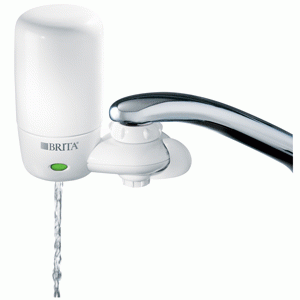 Description
---
This advanced Brita faucet-mounted filtration system installs in minutes and lets you switch between filtered and unfiltered water with the flip of a switch. Fits all standard faucets and installs without tools.

Features:
Electronic Filter Life Indicator
Convenient Spray Option
Includes 1 Filter
No Tools Required
Quick and Easy Filter Replacement

Brita part # 42201
---
Brita Water is Better Water
Brita is the world's #1 brand of household water filtration. Our advanced technologies transform ordinary tap water into healthier, great-tasting drinking water. Brita's multistage filter reduces harmful contaminants (see table below) and has an added layer to trap sediment, so all that's left behind is great-tasting, cleaner water.
Great Value & Convenience
Attaches easily in minutes
No tools required
Fits all standard faucets
Quick and easy filter replacement
Contaminant Reduction
| | | |
| --- | --- | --- |
| Reduces These Harmful Chemicals | Source | Potential Health Effects |
| Lead | Corrosion of household plumbing systems; erosion of natural deposits | Infants and children: Delays in physical or mental development. Adults: Kidney problems; high blood pressure |
| Asbestos | Decay of asbestos cement in water mains; erosion of natural deposits | Increased risk of developing benign intestinal polyps |
| Total Trihalomethanes (TTHMs) | By-product of drinking water disinfection | Liver, kidney or central nervous system problems; increased risk of cancer |
---
The Brita OPFF-100 Faucet Filtration System has been tested and certified by NSF international, the nation's leading testing authority for water filtration products against:
NSF/ANSI Standard 53 - Health Effects - Reduction of: Lead, Cysts (Cryptosporidium and Giardia), Asbestos, Turbidity, o-Dichlorobenzene, Alachlor, Atrazine, Carbofuran, 2, 4-D, Chlordane, Heptachlor epoxide, Lindane, Methoxychlor, Trichloroethylene, Styrene, Toxaphene, Chlorobenzene, Benzene, Endrin, Carbon tetrachloride, Simazine, Toluene, Tetrachloroethylene, Ethylbenzene, TTHM, VOC
NSF/ANSI Standard 42 - Aesthetic Effects - Reduction of: Chlorine (taste and odor), Particulate (Class I)

Save Your Furnace Tip #1:
Make sure the airflow arrow is pointed in the direction that air flows through your system.