Neo-Pure NP-EWS | Our#: 184833
Neo-Pure Replacement Filter for Elkay® Drinking Fountains, 6-Pack

7 review(s)
Neo-Pure NP-EWS | Our#: 184833
Fast Shipping & Free Returns
100% Compatibility Guarantee
Neo-Pure Replacement Filter for Elkay® Drinking Fountains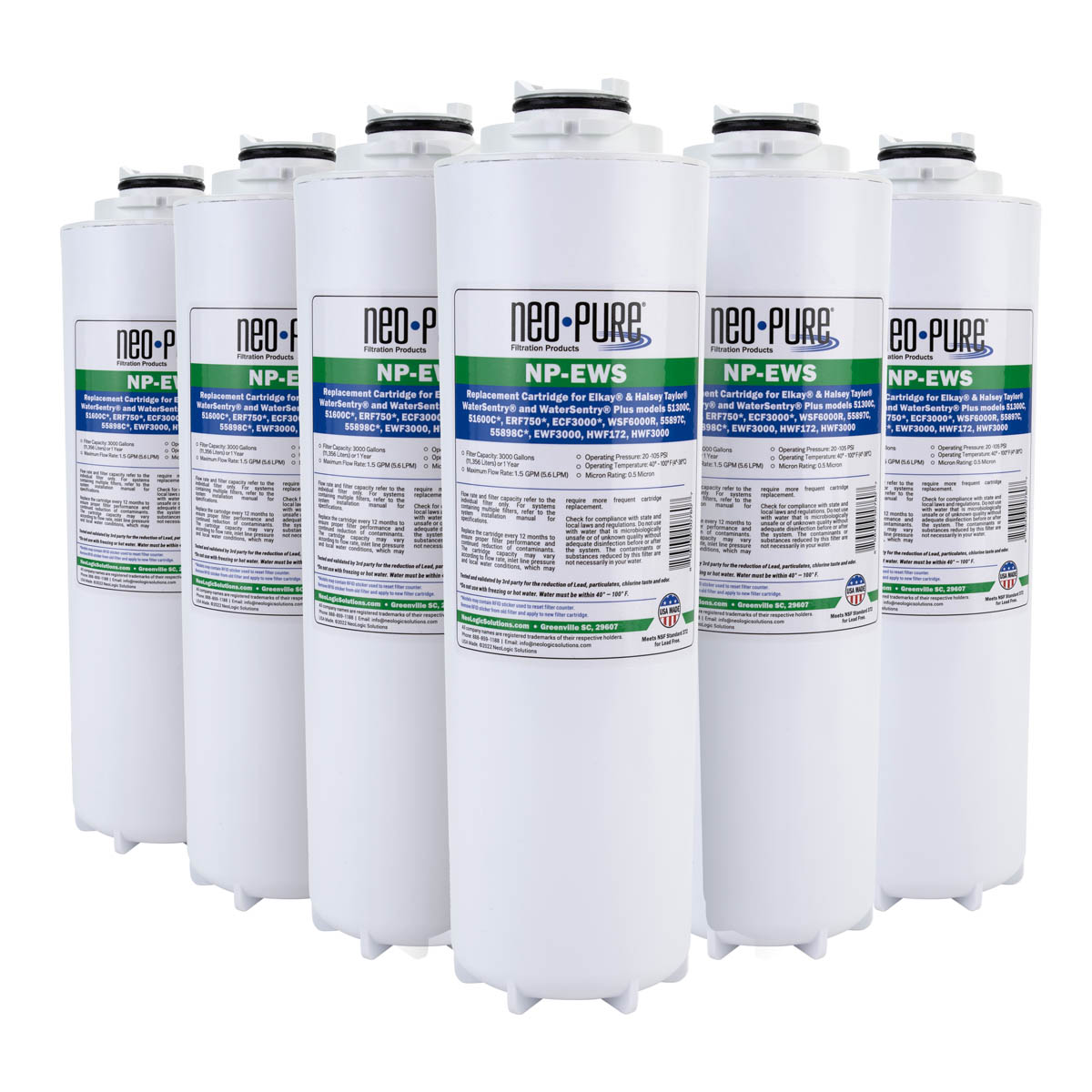 4 people in your area recently purchased this product!
$

49.81
(

6

Filters for $

298.83

)
In Stock
Ships in 24 hours
Fast Shipping & Free Returns
100% Compatibility Guarantee
Frequently Purchased Together
Product Details
Neo-Pure Replacement Filter for Elkay® Drinking Fountains
The Neo-Pure NP-EWS replaces several popular filters for Elkay® and Halsey Taylor® water coolers, drinking fountains, bottle fillers, classroom bubblers and cold water dispensers. This filter is designed to reduce chlorine taste and odor as well as harmful contaminants such as cysts and lead. The filter includes advanced sediment reduction - featuring a spun poly pre-filter wrap.
FEATURES:
Cost effective alternative to factory original item
Replaces popular Elkay® WaterSentry filters (51299C, 51300C, WSF6000R)
Simple installation process - just twist to install
Tested and Certified by IAPMO to ANSI/NSF Standard 42-Chlorine Class 1, and Taste and Odor
Tested and Certified by IAPMO to ANSI/NSF Standard 53 for Reductions of Lead and Cysts
NOTE: This filter does not include the RFID microchip (found on the OEM 51300C filters) required by the "Enhanced Model" series produced since 2015
If your system utilizes the RFID microchip please click here for video instructions on how to manually reset the counter and light
Elkay® and WaterSentry® Plus, and Halsey Taylor are registered trademarks of Elkay Manufacturing Company, Oak Brook, IL. Company names are registered trademarks of their respective holders. National Trade Supply, Inc and DiscountFilters.com are not affiliated with Elkay Manufacturing Company
---
Specifications
Dimensions:
3.125" Diameter x 12.5" Tall
Capacity:
4750 Gallons
Flow Rate:
1.5 GPM
Max Pressure:
105 PSI
Max Temperature:
100 °F
Reduction Claims:
Sediment, Chlorine Taste & Odor, Cysts, Lead
Replaces These Filters:
Elkay:
51299C
51300C
55897C
HWF172
WSF6000R
Halsey Taylor:
Fits In These Systems:
Elkay:
LCRSP8K
LCRSPM8K
LMABF8WSLK
LMABF8WSSK
LMABFDWSLK
LMABFDWSSK
LMABFTL8WSLK
LMABFTL8WSSK
LMABFTLDDWSLK
LMABFTLDDWSSK
LMABFWS-RF
LRPB28K
LRPB28RAK
LRPB8K
LRPBGRNM28K
LRPBGRNM28RAK
LRPBGRNM8K
LRPBGRNMV28K
LRPBGRNMV28RAK
LRPBGRNMV8K
LRPBM28K
LRPBM28RAK
LRPBM8K
LRPBMV28K
LRPBMV28RAK
LRPBMV8K
LVRC8WSK
LVRCDWSK
LVRCGRN8WSK
LVRCGRNTL8WSK
LVRCTL8WSK
LVRCTLDDWSK
LZS8GWSLK
LZS8GWSSK
LZS8WSLK
LZS8WSLP
LZS8WSSP
LZS8WSVLK
LZS8WSVRLK
LZSDWSSK
LZSDWSVRSK
LZSTL8WSLK
LZSTL8WSLP
LZSTL8WSSK
LZSTL8WSSP
LZSTL8WSVRLK
LZSTL8WSVRSK
LZSTLDDWSLK
LZSTLDDWSSK
LZSTLDDWSVRLK
LZSTLDDWSVRSK
LZSTLG8WSLK
LZSTLG8WSSK
LZWS-ERFP8-RF
LZWS-SFGRN28K
LZWS-SFGRN8K
LZWS-SS28K
LZWS-SS8K
LZWS8K
LZWS8PK
LZWSDK
LZWSDPK
LZWSGRN8K
LZWSGRN8PK
LZWSGRNM8K
LZWSGRNM8PK
LZWSM8K
LZWSM8PK
LZWSMDK
LZWSMDPK
LZWSRK
Halsey Taylor:
HACG8BLPV-NF
HACG8PV-NF
HACG8PV-WF
HACG8SS-NF
HACG8SS-WF
HTHB-HAC8BLSS-NF
HTHB-HAC8PV-NF
HTHB-HAC8SS-NF
HTHB-HACG8BLPV-NF
HTHB-HACG8PV-NF
HTHB-OVLEBP-I
HTHB-OVLER-I
HTHBHACG8BLSS-NF
HTHBHACG8SS-NF
HTVZ8BLPV-WF
HTVZ8BLSS-NF
HTVZ8BLSS-WF
HTVZ8PV-NF
HTVZ8PV-WF
HTVZ8SS-NF
HTVZ8SS-WF
HTVZDBLPV-NF
HTVZDBLPV-WF
HTVZDBLSS-NF
HTVZDBLSS-WF
HTVZDPV-NF
HTVZDPV-WF
HTVZDSS-NF
HTVZDSS-WF
HVR8HD
HVR8HD-WF
HVR8HDBL
HVR8HDBL-WF
Additional Information
---