Everpure EV9692-61 | Our#: 185308
Everpure 7FC Filter Cartridge for Soda/Combination Systems
Everpure EV9692-61 | Our#: 185308
Fast Shipping & Free Returns
100% Compatibility Guarantee
NSF/ANSI 42 and 53
Everpure 7FC Filter Cartridge for Soda/Combination Systems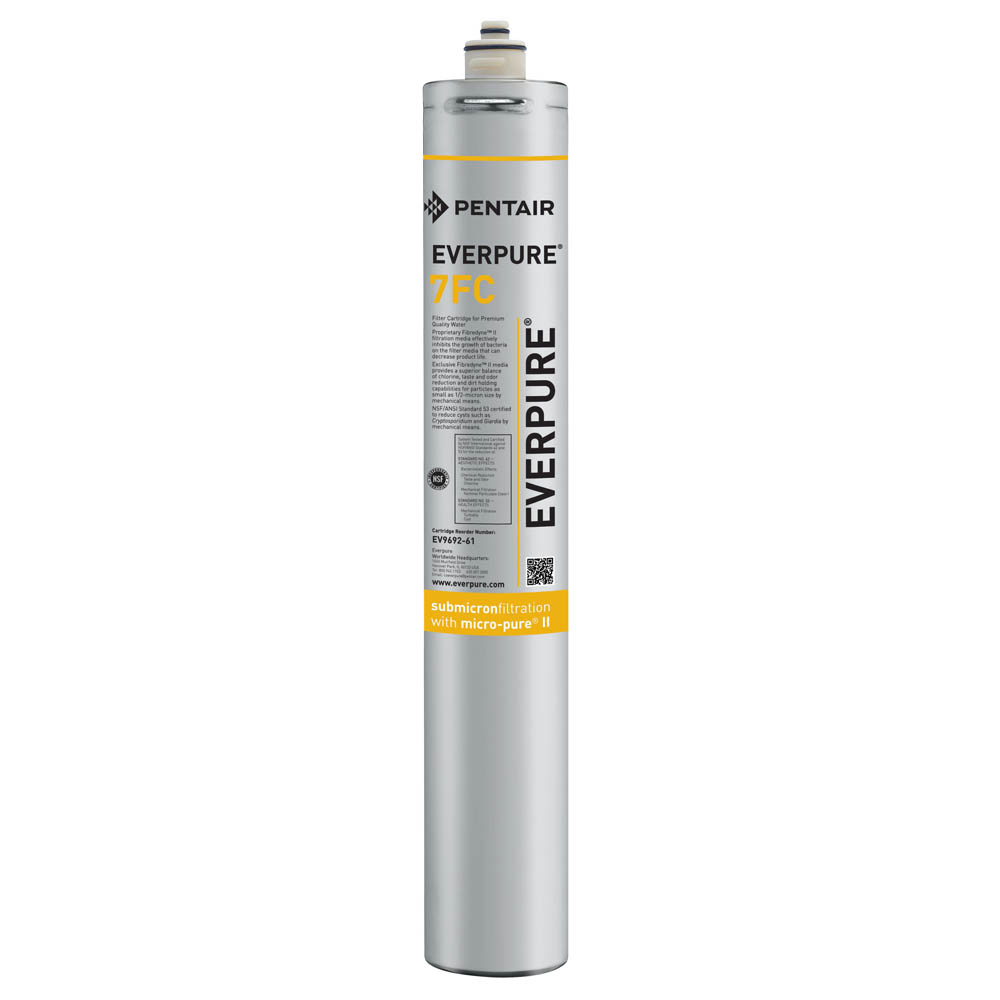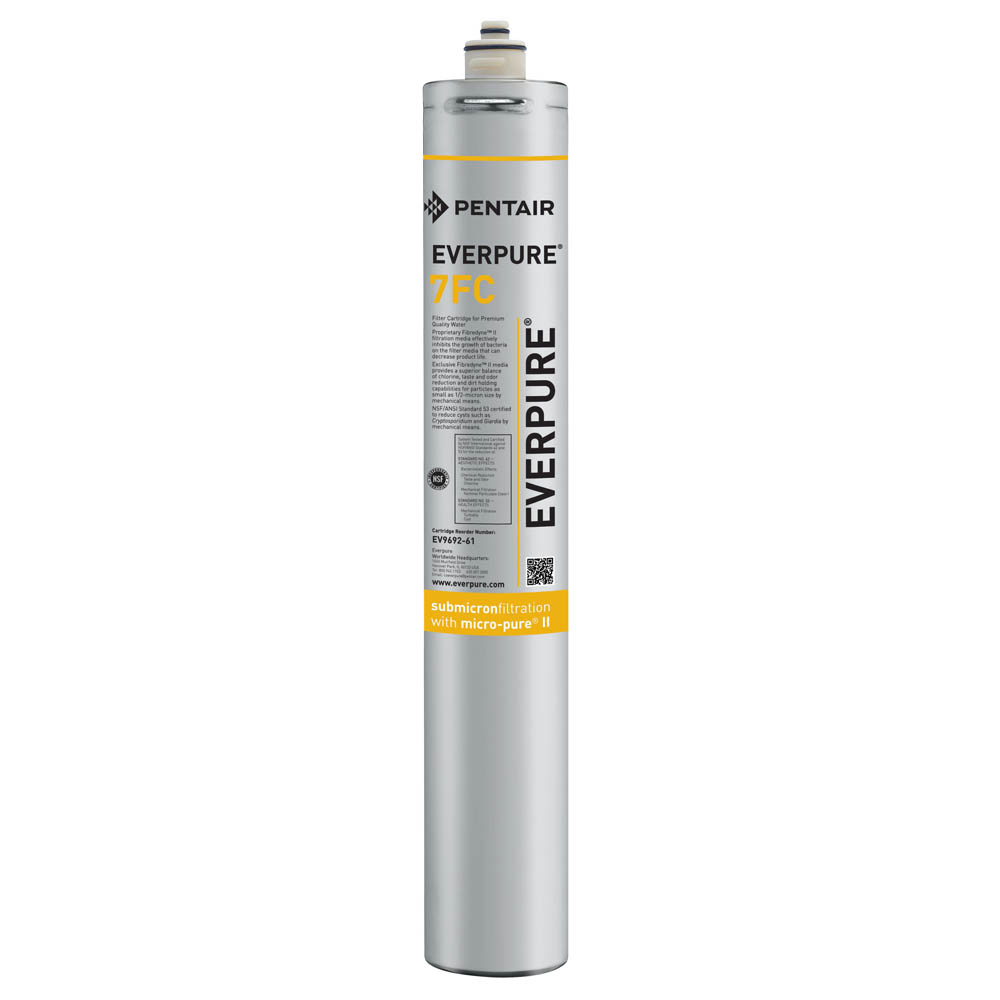 This product is currently unavailable.
The Everpure EV9692-61 that you're looking for is so popular right now, it is not available at the moment. Enter your email address and we'll keep you updated when it's in stock.
Fast Shipping & Free Returns
100% Compatibility Guarantee
NSF/ANSI 42 and 53
Frequently Purchased Together
Product Details
Everpure 7FC Filter Cartridge for Soda/Combination Systems
The 7FC Cartridge offers increased capacity for extended reduction of chemical and mechanical contaminants. It is a balanced cartridge for optimum performance in varying water qualities. This cartridge improves the taste of fountain beverages and helps retain the drink's carbonation. It also protects drink system seals, pump, tubing and small orifices from clogging, corrosion and abrasive wear.
Compatible with Coldrink, QC7I, QL2, QL3B, QL3 Heads, and High Flow CSR manifolds
Features proprietary FibredyneT

II media which effectively inhibits the growth of bacteria on the filter media that can decrease product life
Reduces chlorine taste & odor and other offensive contaminants that can adversely affect the taste of beverages
Submicron filtration technology reduces dirt and particles as small as 1/2-micron in size by mechanical means
NSF/ANSI Standard 53 certified to reduce cysts such as Cryptosporidium and Giardia by mechanical means
Sanitary cartridge replacement is simple, quick and clean; internal filter parts are never exposed to handling or contamination
NSF Certified under NSF/ANSI Standards 42 and 53
NOTE: No electrical connection required
---
Specifications
Micron Rating:
.5 Micron
Dimensions:
30-3/4" H x 3-1/4" Dia.
Capacity:
25,000 Gallons
Certifications:
NSF/ANSI 42 & 53
Flow Rate:
2.5 GPM
Max Pressure:
125 PSI
Max Temperature:
100 °F
Reduction Claims:
Chlorine, Taste & Odor, Cysts, Sediment, Bacteria
Replaces These Pcs:
Evepure:
EV9692-61
Everpure:
Heritage Parts:
EVEEV969261
NuCalgon:
9692-61
Restaurant Supply:
8881
Webstaurant:
Fits In These Systems:
Everpure:
357296-06
Coldrink 1
Coldrink 2
Coldrink 3
Coldrink 4
EV9256-17
EV9256-18
EV9256-19
EV9259-24
EV9272-14
EV9272-18
EV9272-22
EV9272-23
EV9272-24
EV9272-41
EV9278-91
EV9293-01
EV9293-03
EV9293-04
EV9293-21
EV9293-22
EV9293-23
EV9293-24
EV9336-11
EV9798-38
Filter Head
QC7I DIO Manifold
QC7I Quad
QC7I Single
QC7I Triple
QC7I Twin
QL1
QL2
QL3
QL3B
Series Head
Twin Series Head
Pentair:
357296-06
Coldrink 1
Coldrink 2
Coldrink 3
Coldrink 4
EV9256-17
EV9256-18
EV9256-19
EV9259-24
EV9272-14
EV9272-18
EV9272-22
EV9272-23
EV9272-24
EV9272-41
EV9278-91
EV9293-01
EV9293-03
EV9293-04
EV9293-21
EV9293-22
EV9293-23
EV9293-24
EV9336-11
EV9798-38
Filter Head
QC7I DIO Manifold
QC7I Quad
QC7I Single
QC7I Triple
QC7I Twin
QL1
QL2
QL3
QL3B
Series Head
Twin Series Head
Additional Information
---