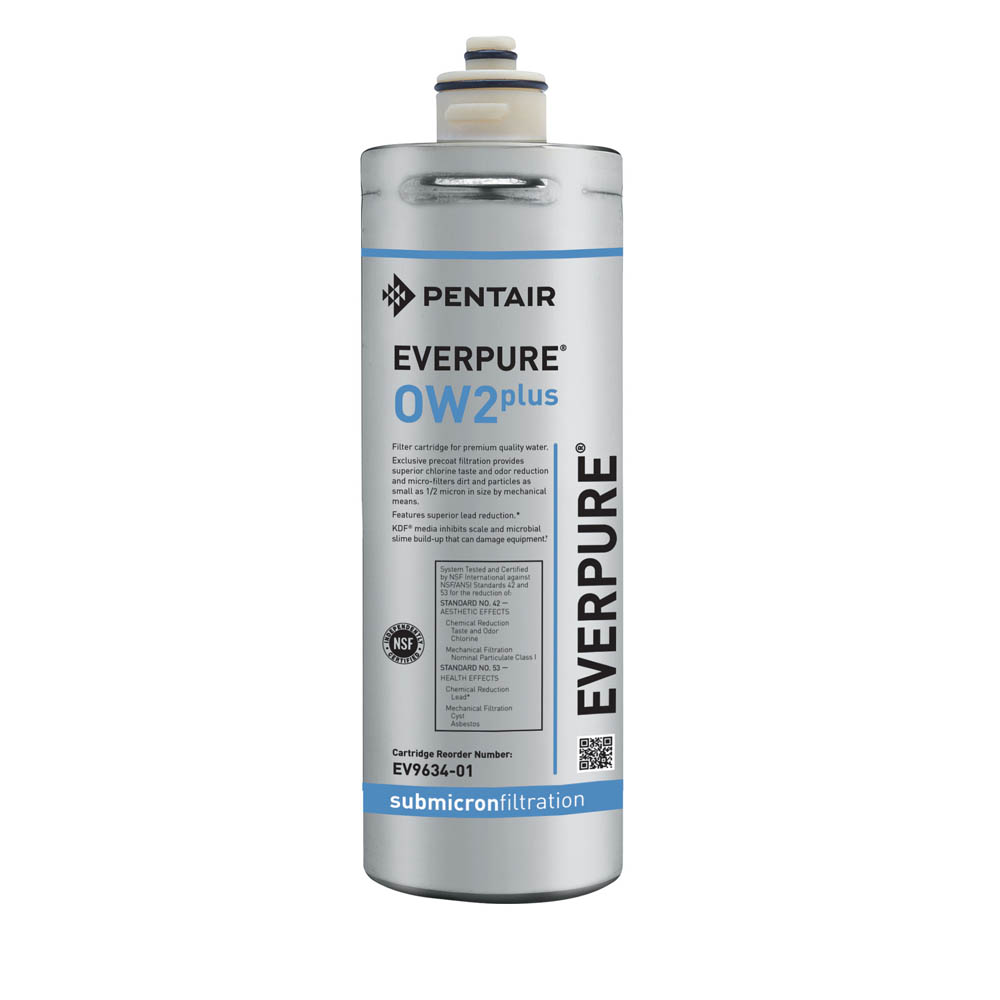 Everpure EV9634-01 | Our#: 111938
Everpure OW2-PLUS Water Filtration Cartridge
Everpure EV9634-01 | Our#: 111938
Free Shipping & Returns
100% Compatibility Guarantee
NSF/ANSI Standards 42 and 53
Everpure OW2-PLUS Water Filtration Cartridge (EV9634-01)
Free Shipping & Returns
100% Compatibility Guarantee
NSF/ANSI Standards 42 and 53
Frequently Purchased Together
Product Details
Everpure OW2-PLUS Water Filtration Cartridge
Also wotks as a replacement for the Everpure ADC cartridge for RV systems
Delivers premium quality drinking water for bottleless coolers and drinking fountains
Everpure's unique filter blend using activated carbon reduces chlorine taste and odor and other offensive contaminants
Reduces lead to below the Federal Action Level of 10 ppb
Precoat submicron technology reduces dirt and particles as small as 1/2 micron in size
Provides bacteriostatic control and reduces microbial growth
Reduces contaminants such as asbestos fibers and Cryptosporidium and Giardia cysts
Inhibits limescale build-up in water using appliances with KDF® media
Sanitary cartridge replacement is simple, quick and clean. Internal filter parts are never exposed to handling or contamination
NSF Certified under NSF/ANSI Standards 42 and 53

NOTE: No electrical connection required
KDF® is the registered trademark of KDF Fluid Treatment, Inc.
The contaminants or other substances removed or reduced by this drinking water system are not necessarily in your water. Do not use with water that is microbiologically unsafe or of unknown quality without adequate disinfection before or after the system. Systems certified for cyst reduction may be used with disinfected water that may contain filterable cysts.
Features:
Bacteriostatic
Cyst Reduction
Lead
Scale Control
Taste & Odor
TDS Reduction
---
Specifications
Micron Rating:
0.5 Micron
Dimensions:
10-1/4" H x 3-1/4" Dia.
Capacity:
1000 Gallons
Certifications:
NSF/ANSI 42 & 53
Flow Rate:
0.5 GPM
Reduction Claims:
Scale, Lead, Chlorine, Chemicals, Taste, Cysts, Bacteria, Limescale
Replaces These Filters:
Everpure:
EV9634-01
EV963401
OW2-Plus
Heritage Parts:
Webstaurant:
Zoro:
G2740421
Fits In These Systems:
Everpure:
357296-06
EV9256-17
EV9256-18
EV9256-19
EV9259-24
EV9272-14
EV9272-18
EV9272-41
Filter Head
QC7I
QL1
QL2
QL3
QL3B
Pentair:
357296-06
EV9256-17
EV9256-18
EV9256-19
EV9259-24
EV9272-14
EV9272-18
EV9272-41
Filter Head
QC7I
QL1
QL2
QL3
QL3B
Additional Info
rmation
---