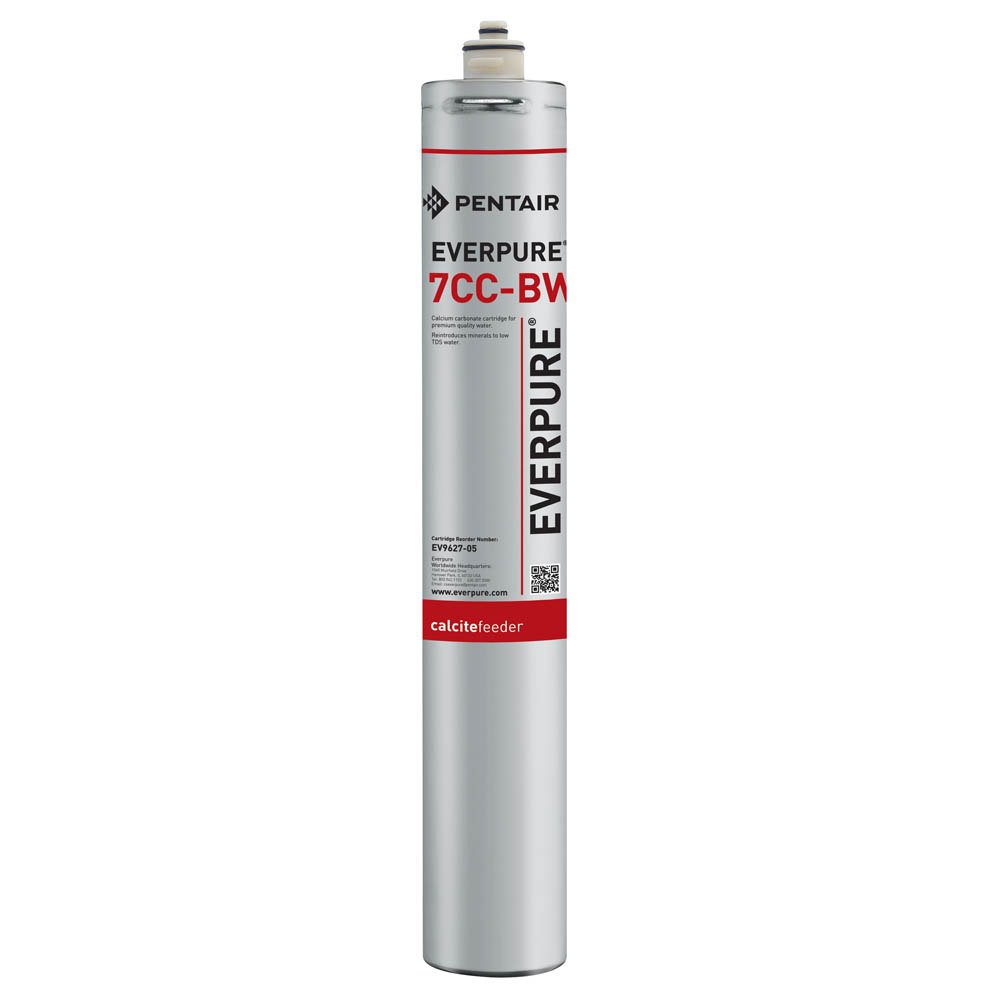 Everpure EV9627-05 | Our#: 111925
7 CC-BW CARTRIDGE 1 PK
Everpure EV9627-05 | Our#: 111925
Free Shipping & Returns
100% Compatibility Guarantee
7 CC BW CART 1 PK (9627-05)
3 people in your area recently purchased this product!
Free Shipping & Returns
100% Compatibility Guarantee
Frequently Purchased Together
Product Details
7 CC BW CART 1 PK (9627-05)
Problem solving and special application cartridge for extraordinary water conditions. Designed to increase water hardness by introducing a small amount of calcium carbonate minerals into low hardness/TDS waters. This controlled mineral addition is desirable for coffee and other applications that require some hardness to achieve optimum results.
Protects equipment by reducing the corrosive tendencies of low TDS content waters
Improves electronic level control sensitivity by increasing water conductivity
---
Specifications
Dimensions:
20-3/4" H x 3-1/4" Dia.
Flow Rate:
0.5 GPM
Max Pressure:
125 PSI
Max Temperature:
100 °F
Reduction Claims:
Improves Hardness and Conductivity
Replaces These Pcs:
Everpure:
7 CC-BW
EV9627-05
EV962705
Heritage Parts:
EVEEV962705
Restaurant Supply:
8850
Zoro:
G8818372
Fits In These Systems:
Everpure:
357296-06
EV9256-17
EV9256-18
EV9256-19
EV9259-24
EV9272-14
EV9272-18
EV9272-22
EV9272-23
EV9272-24
EV9272-41
EV9278-91
EV9336-11
EV9798-38
Filter Head
QC7I
QC7I DIO Manifold
QC7I Quad
QC7I Triple
QC7I Twin
QL1
QL2
QL3
QL3B
Series Head
Twin Series Head
Pentair:
357296-06
EV9256-17
EV9256-18
EV9256-19
EV9259-24
EV9272-14
EV9272-18
EV9272-22
EV9272-23
EV9272-24
EV9272-41
EV9278-91
EV9336-11
EV9798-38
Filter Head
QC7I
QC7I DIO Manifold
QC7I Quad
QC7I Triple
QC7I Twin
QL1
QL2
QL3
QL3B
Series Head
Twin Series Head
Additional Info
rmation
---