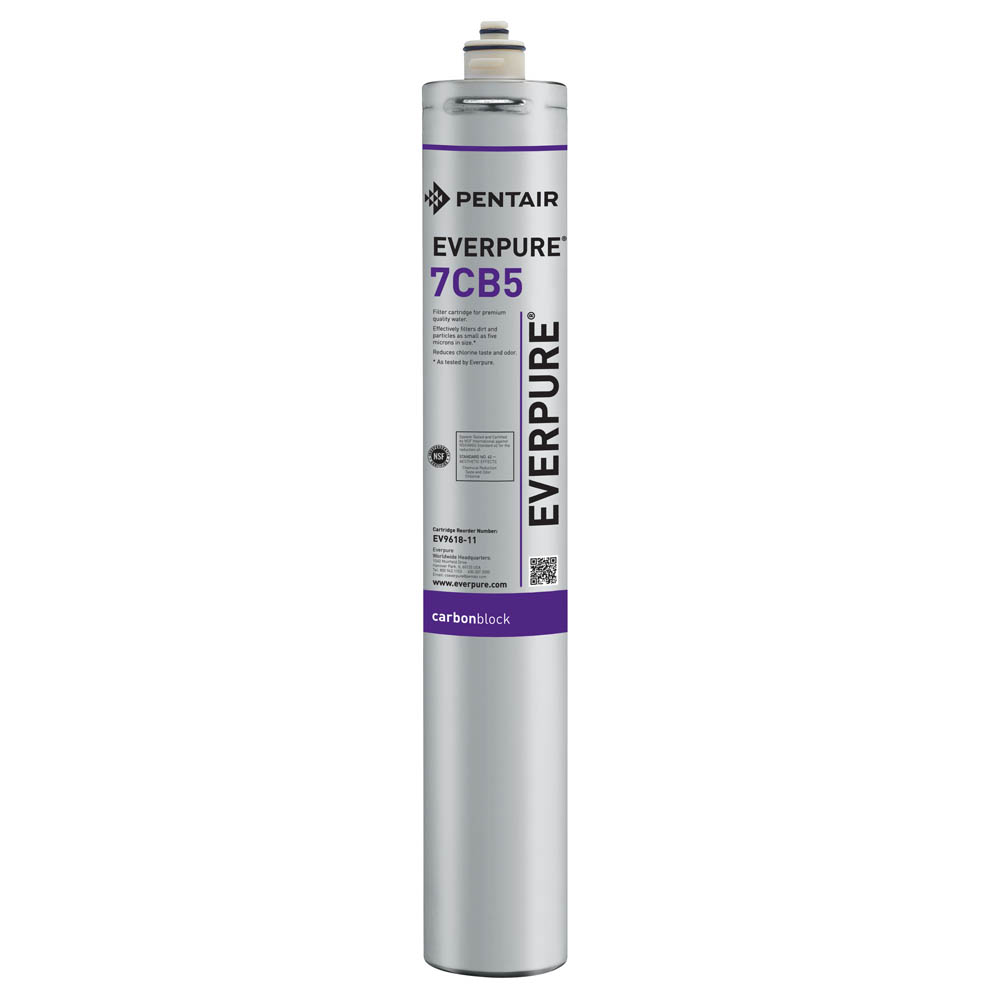 Everpure EV9618-11 | Our#: 111916
Everpure 7CB5 Water Filtration Cartridge

1 review(s)
Everpure EV9618-11 | Our#: 111916
Fast Shipping & Free Returns
100% Compatibility Guarantee
NSF/ANSI 42
2 people in your area recently purchased this product!
Fast Shipping & Free Returns
100% Compatibility Guarantee
NSF/ANSI 42
Frequently Purchased Together
Product Details
Everpure 7CB5 Water Filtration Cartridge (9618-11)
Delivers quality water for foodservice applications
Carbon block filter finely polishes water for high quality beverage and food applications
Reduces chlorine taste and odor and other offensive contaminants that can adversely affect the taste of water and beverages
Reduces extra fine dirt and particles as small as 5 microns in size
Sanitary cartridge replacement is simple, quick and clean. Internal filter parts are never exposed to handling or contamination
NSF Certified under NSF/ANSI Standard 42
NOTE: No electrical connection required
The contaminants or other substances removed or reduced by this drinking water system are not necessarily in your water. Do not use with water that is microbiologically unsafe or of unknown quality without adequate disinfection before or after the system. Systems certified for cyst reduction may be used with disinfected water that may contain filterable cysts.
Features:
Taste & Odor
TDS Reduction
Capacity: 10,000 gallons
Maximum Flow: 1.67 gpm (6.3 Lpm)
Can Size: 7
Qty. per Case: 0
Micron Rating: 5.00
Working Pressure: 10 - 125 psi (0.7 - 8.6 bar), non-shock
Max. Temp: 35 - 100°F (2 - 38°C)
Inlet Outlet Size: 3/8" FPT
H: 20.75" D: 3.25" Certifications: NSF42

---
Specifications
Micron Rating:
5 Micron
Dimensions:
20-3/4" X 3-1/4" Dia.
Capacity:
10,000 Gallons
Certifications:
NSF/ANSI 42
Flow Rate:
1.67 GPM
Max Pressure:
125 PSI
Max Temperature:
100 °F
Reduction Claims:
Chlorine Taste & Odor, Sediment, Chemicals
Replaces These Pcs:
Aquasana:
EP-CTO-17-R
Everpure:
Global Industrial:
T9FB1439758
Grainger:
5WFF2
Heritage Parts:
EVEEV961811
Ice Machines Plus:
8841
Pentair:
7CB5
EV9252-01
EV9525-01
EV9618-16
Restaurant Supply:
8841
Webstaurant:
Zesco:
236-B-029
Zoro:
G0889122
Fits In These Systems:
Everpure:
EV9259-24
EV9272-18
EV9272-22
EV9272-23
EV9272-41
EV9336-11
EV9797-21
EV9797-22
Kleensteam II
Kleensteam II Twin
Kleenstean II
Kleenstean II Twin
QC71 Quad
QC71 Single
QC71 Triple
QC71 Twin
QC7I Quad
QC7I Single
QC7I Triple
QC7I Twin
QL1
QL2
QL3
Pentair:
EV9259-21
EV9259-22
EV9259-24
EV9272-18
EV9272-22
EV9272-23
EV9272-41
EV9336-11
EV9797-21
EV9797-22
Kleensteam II
Kleensteam II Twin
Kleenstean II
Kleenstean II Twin
QC71 Quad
QC71 Single
QC71 Triple
QC71 Twin
QC7I Quad
QC7I Single
QC7I Triple
QC7I Twin
QL1
QL2
QL3
Additional Info
rmation
---