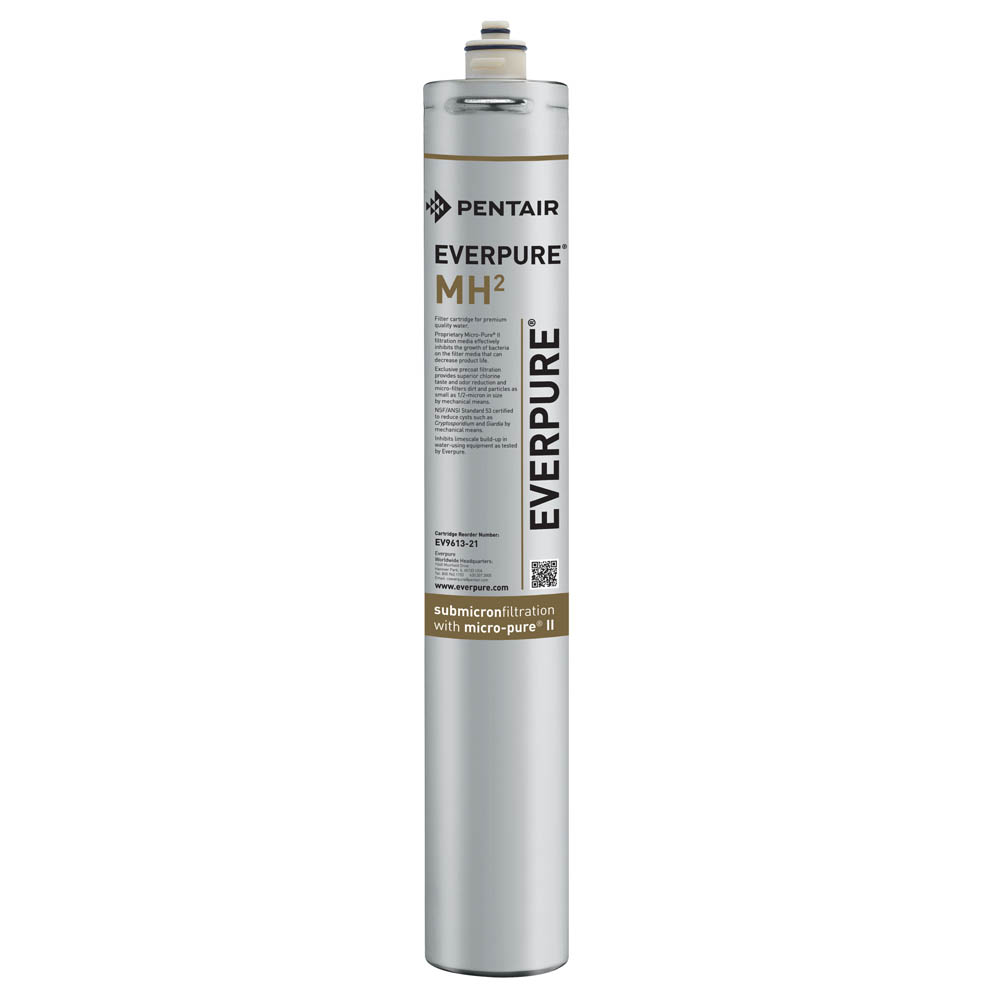 Everpure EV9613-21 | Our#: 111902
Everpure MH2 Filter Cartridge for Coffee Systems
Everpure EV9613-21 | Our#: 111902
Fast Shipping & Free Returns
100% Compatibility Guarantee
NSF/ANSI Standards 42 and 53
5 people in your area recently purchased this product!
Fast Shipping & Free Returns
100% Compatibility Guarantee
NSF/ANSI Standards 42 and 53
Frequently Purchased Together
Product Details
Everpure MH2 Filter Cartridge for Coffee Systems
Delivers premium quality water for coffee applications. Provides clear, fresh, premium quality ingredient water for consistently great tasting coffee and beverages, and saves energy by reducing scale buildup.
Unique activated carbon filter blend reduces chlorine taste & odor and other offensive contaminants
Exclusive precoat filtration provides superior chlorine taste & odor reduction and micro-filters dirt and particles as small as 1/2-micron in size by mechanical means*
Proprietary Micro-Pure II filtration media effectively inhibits the growth of bacteria on the filter media that can decrease product life*
NSF/ANSI Standard 53 certified to reduce cysts such as Cryptosporidium and Giardia by mechanical means*
Reduces asbestos fibers
Self-contained scale inhibitor feed dramatically prevents limescale from forming in brewing equipment**
Sanitary cartridge replacement is simple, quick and clean; internal filter parts are never exposed to handling or contamination
NSF Certified under NSF/ANSI Standards 42 and 53
---
Specifications
Micron Rating:
0.5 Micron
Dimensions:
20-3/4" H x 3-1/4" Dia.
Capacity:
9000 Gallons
Certifications:
NSF/ANSI 42 & 53
Flow Rate:
1.67 GPM
Reduction Claims:
Scale, Chlorine, Chemicals, Taste, Cysts
Replaces These Pcs:
Everpure:
7FC
EV9613-21
EV9692-61
MH2
Heritage:
EVEEV961321
Heritage Parts:
EVEEV969261
Hertiage:
EVEEV961321
NuCalgon:
9692-61
Restaurant Supply:
Webstaurant:
Zoro:
G7719525
Fits In These Systems:
Everpure:
357296-06
Coldrink 1
Coldrink 2
Coldrink 3
Coldrink 4
EV9256-17
EV9256-18
EV9256-19
EV9259-24
EV9272-14
EV9272-18
EV9272-19
EV9272-22
EV9272-23
EV9272-24
EV9272-41
EV9278-91
EV9293-01
EV9293-03
EV9293-04
EV9293-21
EV9293-22
EV9293-23
EV9293-24
EV9336-11
EV9798-38
Filter Head
QC71 Quad
QC71 Single
QC71 Single MH
QC71 Triple
QC71 Twin
QC71 Twin MH
QC7I DIO Manifold
QC7I Quad
QC7I Single
QC7I Triple
QC7I Twin
QL1
QL2
QL3
QL3B
Series Head
Twin Series Head
Pentair:
357296-06
Coldrink 1
Coldrink 2
Coldrink 3
Coldrink 4
EV9256-17
EV9256-18
EV9256-19
EV9259-24
EV9272-14
EV9272-18
EV9272-19
EV9272-22
EV9272-23
EV9272-24
EV9272-41
EV9278-91
EV9293-01
EV9293-03
EV9293-04
EV9293-21
EV9293-22
EV9293-23
EV9293-24
EV9336-11
EV9798-38
Filter Head
QC71 Quad
QC71 Single
QC71 Single MH
QC71 Triple
QC71 Twin
QC71 Twin MH
QC7I DIO Manifold
QC7I Quad
QC7I Single
QC7I Triple
QC7I Twin
QL1
QL2
QL3
QL3B
Series Head
Twin Series Head
Additional Info
rmation
---