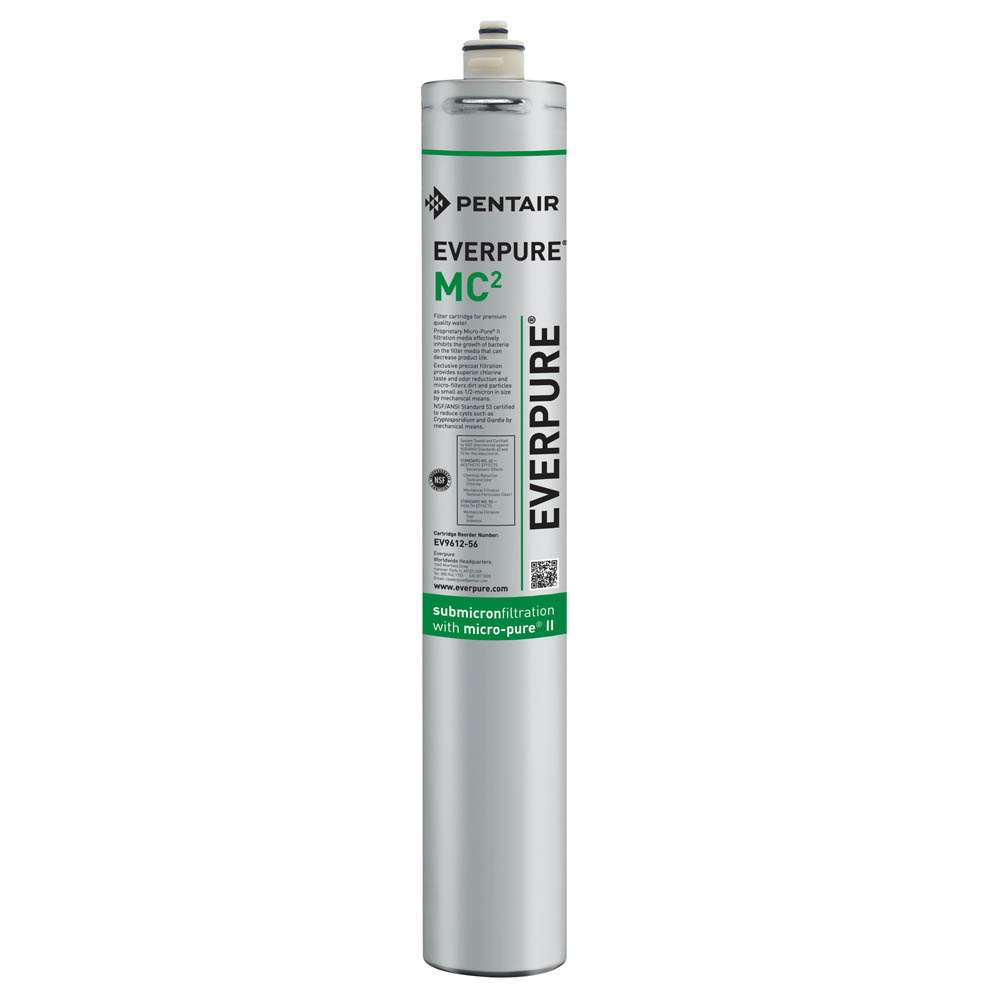 Everpure EV9612-56 | Our#: 111896
Everpure MC2 Water Filtration Cartridge
Everpure EV9612-56 | Our#: 111896
Fast Shipping & Free Returns
100% Compatibility Guarantee
NSF/ANSI Standards 42 and 53
6 people in your area recently purchased this product!
Fast Shipping & Free Returns
100% Compatibility Guarantee
NSF/ANSI Standards 42 and 53
Frequently Purchased Together
Product Details
Everpure MC² Water Filtration Cartridge (EV9612-56) - Replaces EV9612-06.
Delivers premium quality water for fountain and combination applications
New and improved Micro-Pure II media with AgION antimicrobial protection inhibits any potential bacterial growth
Reduces chlorine taste and odor and other offensive contaminants that can adversely affect the taste of beverages
Improves the taste of fountain beverages and helps retain the drink's carbonation
Precoat submicron technology reduces dirt and particles as small as 1/2 micron in size and possible health contaminants such as asbestos fibers and Cryptosporidium and Giardia cysts
Protects drink system seals, pump, tubing and small orifices from clogging, corrosion and abrasive wear
Sanitary cartridge replacement is simple, quick and clean. Internal filter parts are never exposed to handling or contamination
NSF Certified under NSF/ANSI Standards 42 and 53
The contaminants or other substances removed or reduced by this drinking water system are not necessarily in your water. Do not use with water that is microbiologically unsafe or of unknown quality without adequate disinfection before or after the system. Systems certified for cyst reduction may be used with disinfected water that may contain filterable cysts.
Features:
Bacteriostatic
Cyst Reduction
TDS Reduction
---
Specifications
Micron Rating:
0.5 Micron
Dimensions:
20-3/4" H x 3-1/4" Dia.
Capacity:
9000 Gallons
Certifications:
NSF/ANSI 42 & 53
Flow Rate:
1.67 GPM
Max Pressure:
125 PSI
Max Temperature:
100 °F
Reduction Claims:
Chlorine, Chemicals, Taste, Cysts
Replaces These Filters:
Aquasana:
EP-MU-17-R
Central Restaurant Products:
C1943699
Cuno:
Ecolab:
9320-2401
Everpure:
EV9612-05
EV9612-06
EV9612-55
MC2
Grainger:
53GK26
Nu-Calgon:
nu-MC
Pentair:
EV9612-05
EV9612-06
EV9612-55
MC2
Rapids Wholesale Equipment Company:
8E618
Restaurant Supply:
8826
Webstaurant:
HPEV961256
Zesco:
236-B-052
Zoro:
G7719349
Fits In These Systems:
Everpure:
Coldrink 1-MC
Coldrink 2-MC
Coldrink 3-MC
Dual High Flow Coldrink M-MC
Dual High Flow Coldrink S-MC
EV9259-24
EV9272-22
EV9272-23
EV9272-41
EV9275-01
EV9275-02
EV9275-03
EV9328-01
EV9328-02
EV9328-03
EV9328-05
EV9328-06
EV9330-42
EV9336-11
EV9337-22
EV9337-44
EV9437-10
EV9437-11
High Flow CSR Quad-MC
High Flow CSR Quad-MC W/LPA
High Flow CSR Triple-MC
High Flow CSR Triple-MC W/LPA
High Flow CSR Twin-MC
QC71 Quad
QC71 Quad-MC
QC71 Single
QC71 Single-MC
QC71 Triple
QC71 Triple-MC
QC71 Twin
QC71 Twin-MC
Pentair:
Coldrink 1-MC
Coldrink 2-MC
Coldrink 3-MC
Dual High Flow Coldrink M-MC
Dual High Flow Coldrink S-MC
EV9259-24
EV9272-22
EV9272-23
EV9272-41
EV9275-01
EV9275-02
EV9275-03
EV9328-01
EV9328-02
EV9328-03
EV9328-05
EV9328-06
EV9330-42
EV9336-11
EV9337-22
EV9337-44
EV9437-10
EV9437-11
High Flow CSR Quad-MC
High Flow CSR Quad-MC W/LPA
High Flow CSR Triple-MC
High Flow CSR Triple-MC W/LPA
High Flow CSR Twin-MC
QC71 Quad
QC71 Quad-MC
QC71 Single
QC71 Single-MC
QC71 Triple
QC71 Triple-MC
QC71 Twin
QC71 Twin-MC
Additional Info
rmation
---