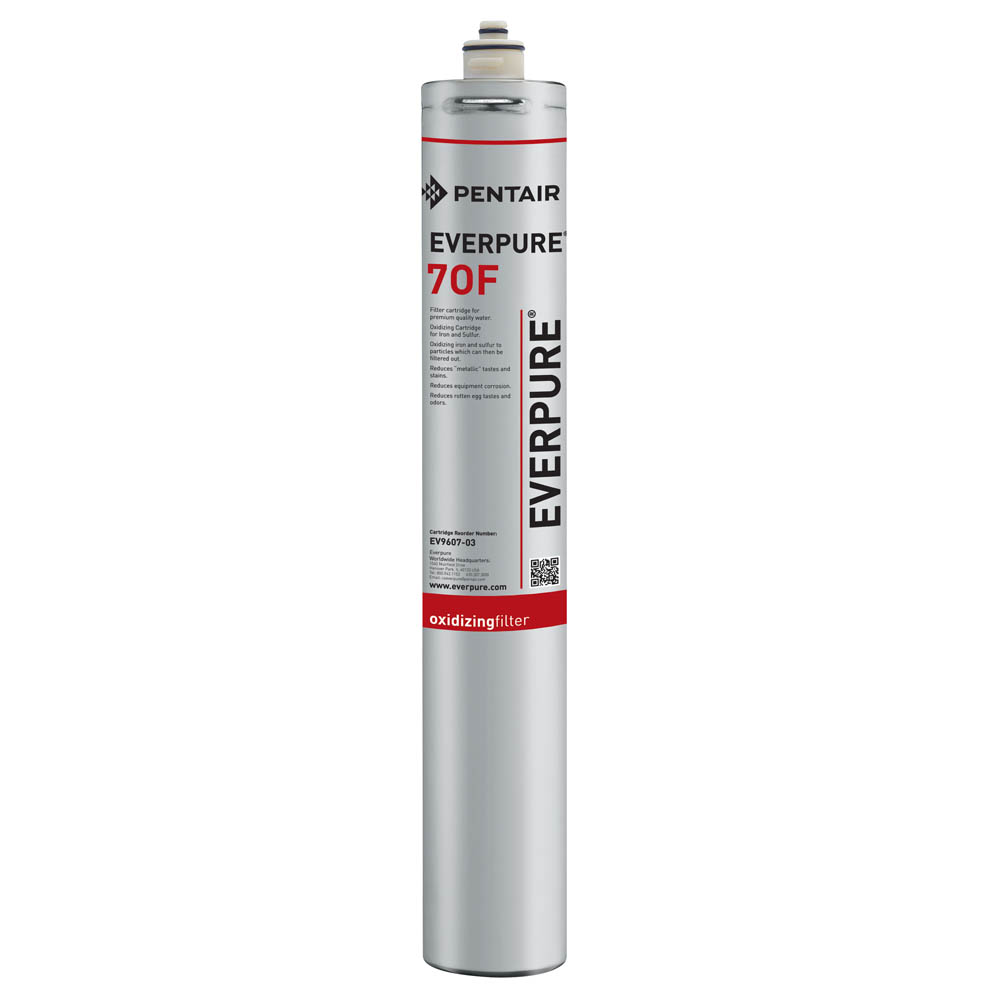 Everpure EV9607-03 | Our#: 111876
7OF Cartridge
Everpure EV9607-03 | Our#: 111876
Fast Shipping & Free Returns
100% Compatibility Guarantee
6 people in your area recently purchased this product!
Fast Shipping & Free Returns
100% Compatibility Guarantee
Frequently Purchased Together
Product Details
7OF Cartridge (9607-03)
Description:
Problem solving and special application cartridge
Oxidizing water filter for iron and sulfur in low water volume applications
Removes noxious tastes and odors by oxidizing dissolved iron, sulfur and manganese (up to 10 ppm)
Reduces corrosion in coffee brewers, fountain equipment and water coolers
Reduces metallic tastes and sulfur (rotten egg) tastes
Reduces metallic stains
pH range: 6.6 to 8.8
NOTE: No electrical connection required
Contents: Granular of manganese green sand
Features:
Capacity: 1,000 PPM gallons
Maximum Flow: 0.5 gpm (1.9 Lpm)
Qty. per Case: 1
Working Pressure: 10 - 125 psi (0.7 - 8.6 bar), non-shock
Max. Temp: 35 - 100°F (2 - 38°C)
H: 20.75" D: 3.25"
---
Specifications
Dimensions:
20-3/4" H x 3-1/4" Dia.
Capacity:
Varies Gallons
Flow Rate:
0.5 GPM
Max Pressure:
125 PSI
Max Temperature:
100 °F
Reduction Claims:
Iron, Sulfur, Manganese, Corrosion, Metallic Taste & Odor
Replaces These Pcs:
Everpure:
Heritage Parts:
EVEEV960703
Restaurant Supply:
8807
Fits In These Systems:
Everpure:
357296-06
EV9256-17
EV9256-18
EV9256-19
EV9259-24
EV9272-14
EV9272-18
EV9272-41
Filter Head
QC7I
QL1
QL2
QL3
QL3B
Pentair:
357296-06
EV9256-17
EV9256-18
EV9256-19
EV9259-24
EV9272-14
EV9272-18
EV9272-41
Filter Head
QC7I
QL1
QL2
QL3
QL3B
Additional Info
rmation
---