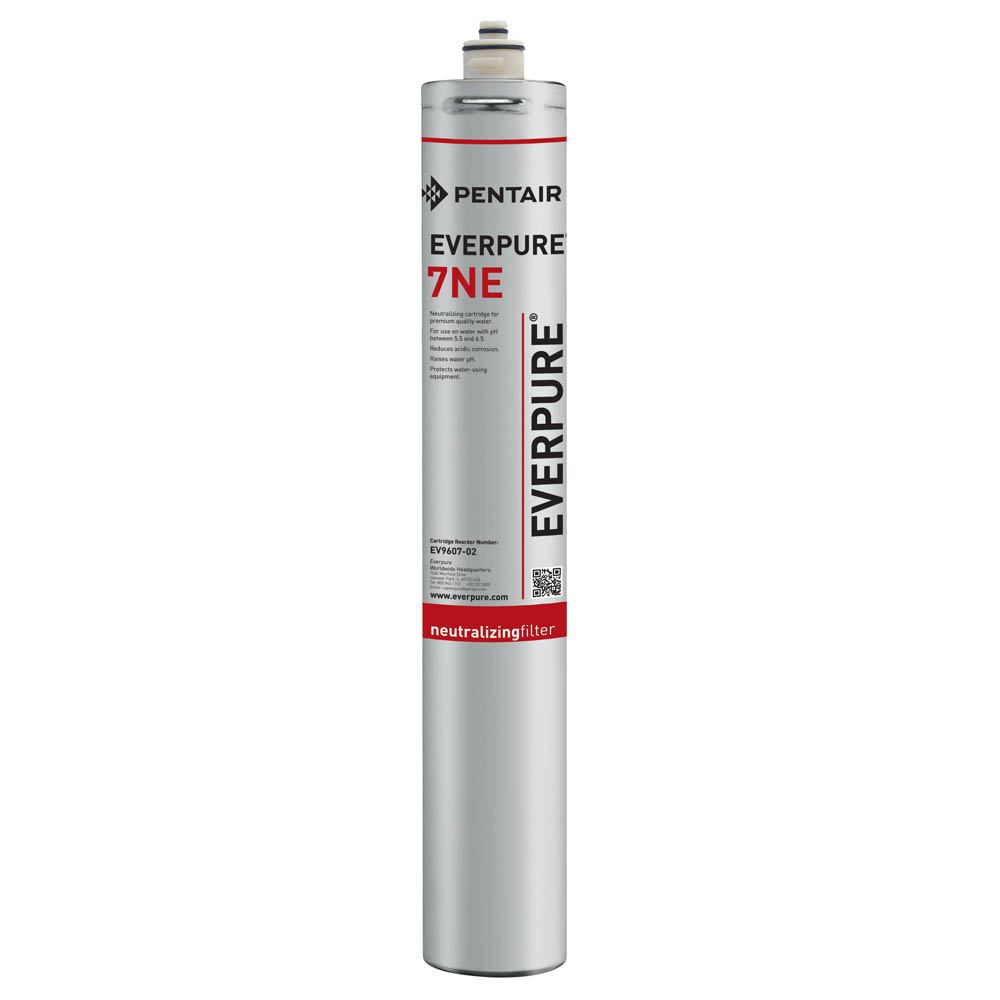 Everpure EV9607-02 | Our#: 111875
7-NE Cartridge
Everpure EV9607-02 | Our#: 111875
Fast Shipping & Free Returns
100% Compatibility Guarantee
5 people in your area recently purchased this product!
Fast Shipping & Free Returns
100% Compatibility Guarantee
Frequently Purchased Together
Product Details
7-NE Cartridge (9607-02)
Description:
Problem solving and special application cartridge
Neutralizing cartridge for acidic water conditions
Elevates pH in water
Reduces acidic corrosion
Used on water wth pH between 5.6 and 6.5
Protects equipment
NOTE: No electrical connection required
Contents: Granules of magnesium oxide; will increase the hardness of water
The contaminants or other substances removed or reduced by this drinking water system are not necessarily in your water. Do not use with water that is microbiologically unsafe or of unknown quality without adequate disinfection before or after the system.
Systems certified for cyst reduction may be used with disinfected water that may contain filterable cysts.
Features:
Capacity: Varies
Maximum Flow: 0.5 gpm (1.9 Lpm)
Qty. per Case: 1
Working Pressure: 10 - 125 psi (0.7 - 8.6 bar), non-shock
Max. Temp: 35 - 100°F (2 - 38°C)
H: 20.75" D: 3.25"
---
Specifications
Dimensions:
20-2/4" H x 3-1/4" Dia.
Flow Rate:
0.5 GPM
Max Pressure:
125 PSI
Max Temperature:
100 °F
Reduction Claims:
Acidity, Rust, Corrosion
Replaces These Pcs:
Everpure:
Heritage Parts:
EVEEV960702
Restaurant Supply:
8806
Fits In These Systems:
Everpure:
357296-06
EV9256-17
EV9256-18
EV9256-19
EV9259-24
EV9272-14
EV9272-18
EV9272-41
Filter Head
QC7I
QL1
QL2
QL3
QL3B
Pentair:
357296-06
EV9256-17
EV9256-18
EV9256-19
EV9259-24
EV9272-14
EV9272-18
EV9272-41
Filter Head
QC7I
QL1
QL2
QL3
QL3B
Additional Info
rmation
---