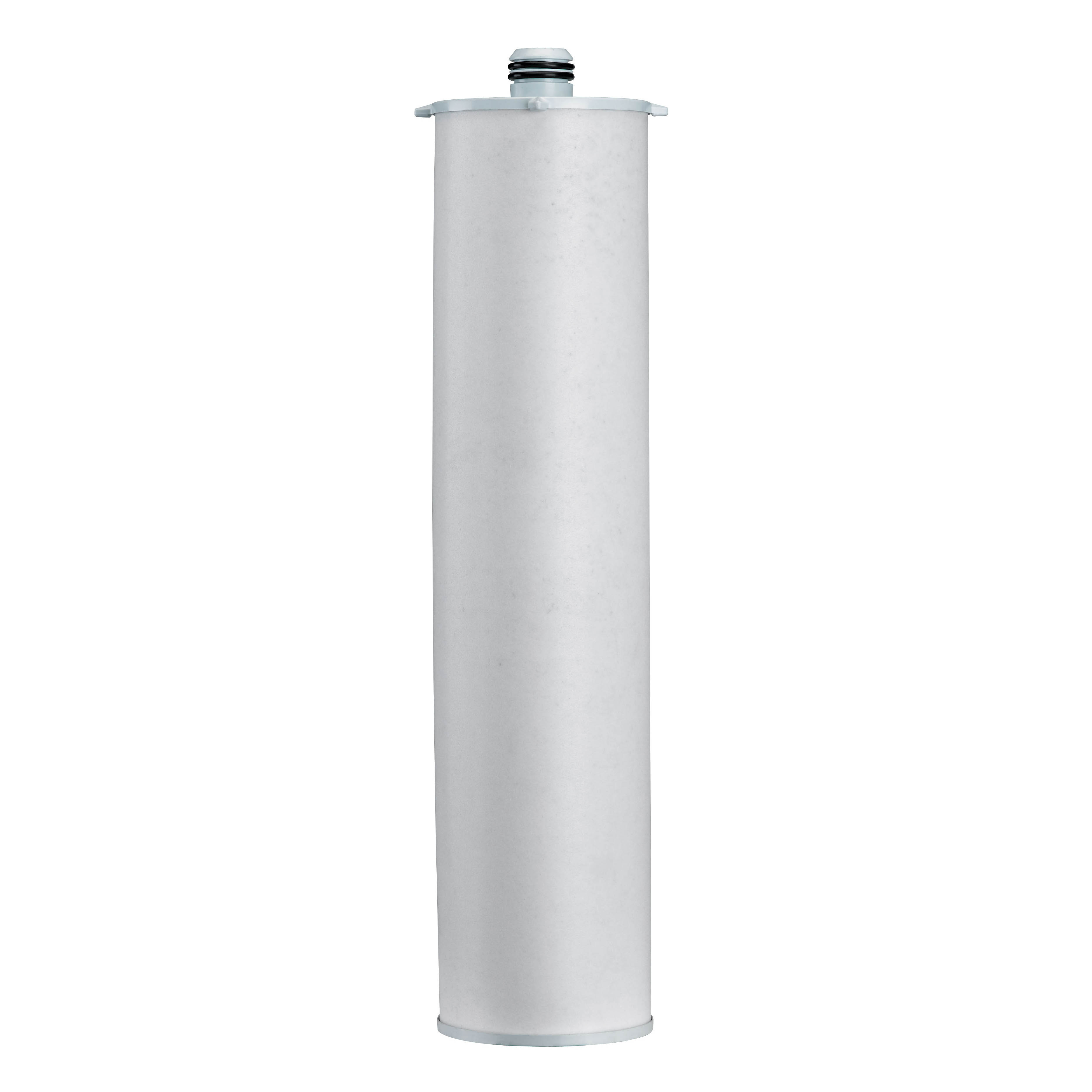 Everpure EV9105-02 | Our#: 111792
Everpure CC1E Replacement Filter Cartridge
Everpure EV9105-02 | Our#: 111792
Fast Shipping & Free Returns
100% Compatibility Guarantee
Everpure CC1E Replacement Filter Cartridge (EV9105-02)
2 people in your area recently purchased this product!
Fast Shipping & Free Returns
100% Compatibility Guarantee
Frequently Purchased Together
Product Details
Everpure CC1E Replacement Filter Cartridge (EV9105-02)
Improves the taste and consistency of beverages and ice by reducing chloramine, chlorine and other off-tastes and odors
CC1E extended service cartridge contains radial flow granular activated carbon (GAC)
Designed for High Flow, High Volume applications.
---
Specifications
Dimensions:
21" H x 5.35" Dia.
Capacity:
15,000 Gallons
Flow Rate:
5.0 GPM
Max Pressure:
100 PSI
Max Temperature:
100 °F
Reduction Claims:
Sediment, Chloramines
Replaces These Pcs:
Heritage Parts:
Restaurant Supply:
8652
Webstaurant:
339EV910502
Fits In These Systems:
Everpure:
357296-06
EV9256-17
EV9256-18
EV9256-19
EV9259-24
EV9272-14
EV9272-18
EV9272-22
EV9272-23
EV9272-24
EV9272-41
EV9278-91
EV9293-01
EV9293-02
EV9293-03
EV9293-04
EV9293-21
EV9293-22
EV9293-23
EV9293-24
EV9336-11
EV9798-38
Filter Head
Insurice Quad PF / Coldrink 4
Insurice Single PF / Coldrink 1
Insurice Triple PF / Coldrink 3
Insurice Twin PF / Coldrink 2
QC7I
QC7I DIO Manifold
QC7I Quad
QC7I Triple
QC7I Twin
QL1
QL2
QL3
QL3B
Series Head
Twin Series Head
Pentair:
357296-06
EV9256-17
EV9256-18
EV9256-19
EV9259-24
EV9272-14
EV9272-18
EV9272-22
EV9272-23
EV9272-24
EV9272-41
EV9278-91
EV9293-01
EV9293-02
EV9293-03
EV9293-04
EV9293-21
EV9293-22
EV9293-23
EV9293-24
EV9336-11
EV9798-38
Filter Head
Insurice Quad PF / Coldrink 4
Insurice Single PF / Coldrink 1
Insurice Triple PF / Coldrink 3
Insurice Twin PF / Coldrink 2
QC7I
QC7I DIO Manifold
QC7I Quad
QC7I Triple
QC7I Twin
QL1
QL2
QL3
QL3B
Series Head
Twin Series Head
Additional Info
rmation
---