ClearChoice CCB001 | Our#: 185158
ClearChoice Replacement for Single Head Cuno CFS9112-S / 55892-01 - 3 pack
ClearChoice CCB001 | Our#: 185158
Fast Shipping & Free Returns
100% Compatibility Guarantee
NSF/ANSI 42 & 53
FOR SINGLE HEAD COFFEE/TEA & ICE SYSTEMS
Cyst Reduction
Scale Control
Chlorine, Taste & Odor Reduction
Total Dissolved Solids Reduction
Sediment Reduction
15,000 gallon Capacity
Sanitary, quick change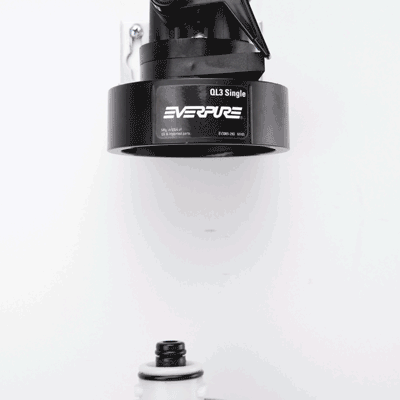 GUARANTEED TO FIT
Our replacement filters are specially designed
to fit your EverPure Q Series Filter Head.
This product is currently unavailable.
The ClearChoice CCB001 that you're looking for is so popular right now, it is not available at the moment. Enter your email address and we'll keep you updated when it's in stock.
Fast Shipping & Free Returns
100% Compatibility Guarantee
NSF/ANSI 42 & 53
Frequently Purchased Together
Product Details
***This filter will only work in Single Head systems***. For Manifold Systems, see our high capacity I4000 replacement https://www.discountfilters.com/commercial-water-filters/clearchoice-ccb004-3-pack/p184775/
This filter can be used in both Coffee/Tea and Ice Systems because it is specially designed to handle systems where scale removal is key, like in producing crystal-clear coffee, tea, or ice.
Built-in polyphosphate scale inhibitor reduces water-related ice machine problems caused by scale build-up. Reduces particles as small as 1/2 micron, removing contaminants and impurities such as chlorine and other volatile compounds, leaving finely polished, better tasting water. Pre-filter wrap prevents premature fouling.
*The contaminants or other substances removed or reduced by this drinking water system are not necessarily in your water. Do not use with water that is microbiologically unsafe or of unknown quality without adequate disinfection before or after the system. Systems certified for cyst reduction may be used with disinfected water that may contain filterable cysts.
ClearChoice filters use ultra-fine, high capacity activated carbon that always meets or exceeds OEM specifications in a more compact filter.
Cuno® is a registered trademark of 3M Corporation St. Paul, MN - National Trade Supply, Inc, DiscountFilters.com and ClearChoice are not affiliated with 3M Corporation.
---
Specifications
Micron Rating:
.5 Micron
Dimensions:
10" Length x 3- 1/2" Diameter
Capacity:
15,000 Gallons
Certifications:
NSF/ANSI 42 & 53
Flow Rate:
1.67 GPM
Max Pressure:
125 PSI
Max Temperature:
100 °F
Reduction Claims:
Cysts, Scale, Chlorine Taste & Odor, Sediment
Replaces These Filter Cartridges:
3M:
70020017219
BevGuard:
BGC3200S
CUNO:
55892-01
5589201
CFS5631604
CFS9112-S
EcoLab:
Everpure:
Heritage:
TMP631604
Webstaurant:
635CFS9112S
Fits In These Systems:
Everpure:
35729606
EV9272-41
EV927241
Filter Head
QC7I
QL1
QL2
QL3
QL3B