ClearChoice CCB-ESH | Our#: 197860
ClearChoice Replacement for Everpure® Filters - Single Head, 6-Pack
ClearChoice CCB-ESH | Our#: 197860
Fast Shipping & Free Returns
100% Compatibility Guarantee
NSF/ANSI 42 & 53
Cyst Reduction
Scale Control
Chlorine, Taste & Odor Reduction
Total Dissolved Solids Reduction
Sediment Reduction
15,000 gallon Capacity
For use in Single Head Systems
Sanitary, quick change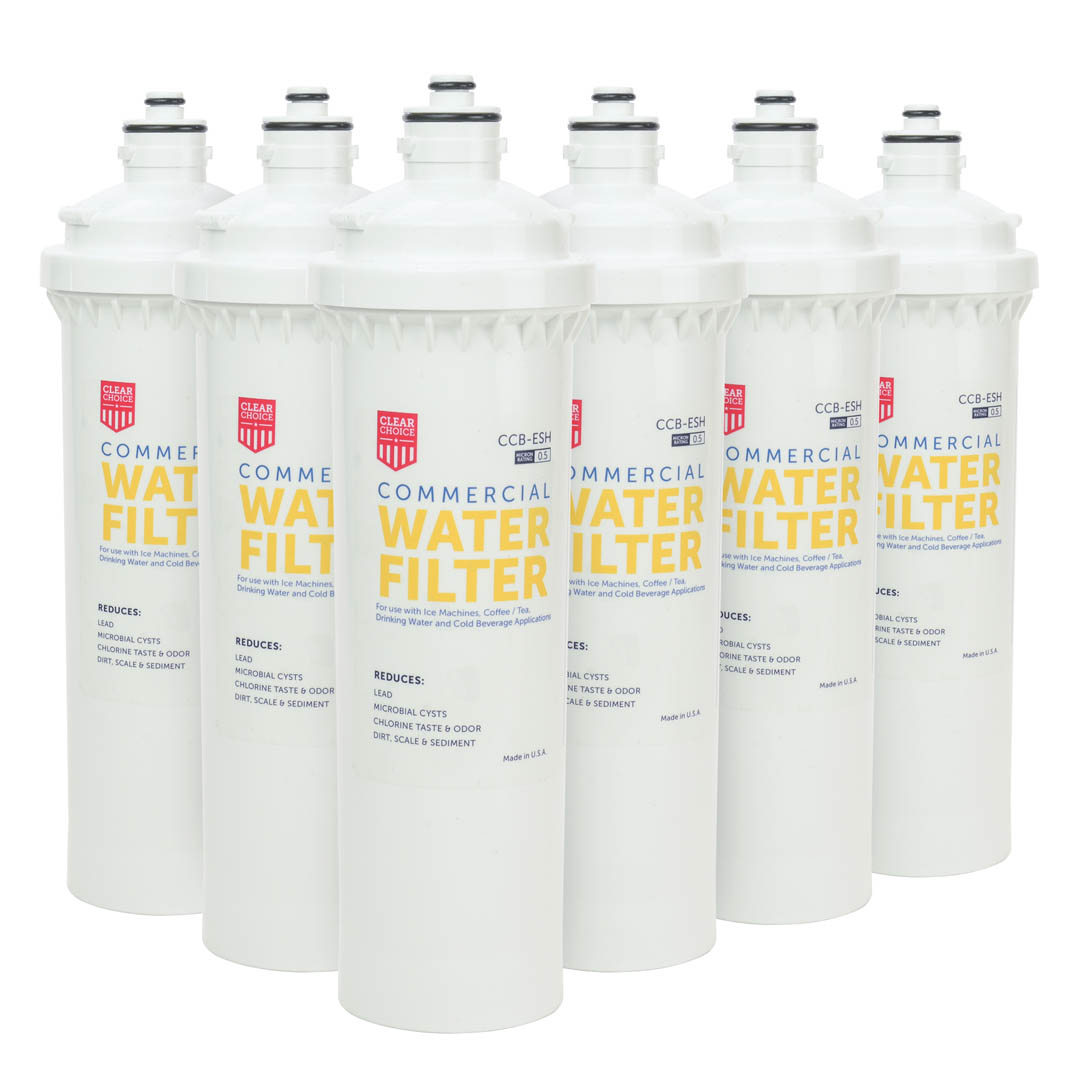 4 people in your area recently purchased this product!
$

33.48
(

6

Filter Cartridges for $

200.85

)
In Stock
Ships in 24 hours
Fast Shipping & Free Returns
100% Compatibility Guarantee
NSF/ANSI 42 & 53
Frequently Purchased Together
Product Details
Designed for the high-volume requirements of the food service industry - the ClearChoice CCB-ESH is ideal for use in many different point-of-use commercial applications. This versatile filter is used for ice machine, coffee/tea, drinking water, and cold beverage applications.

NOTE: For use in single-head systems only. Will not fit multi-head systems.
FEATURES:
ClearChoice filters use ultra-fine, high capacity activated carbon that always meets or exceeds OEM specifications in a more compact filter
Reduces chlorine taste and odor
.5 micron filtration reduces cysts
Contains polyphosphate to inhibit scale
Replacement is easy - simply twist!
Cartridge size - 3-3/4" Dia X 12-3/4" L
Everpure® is a registered trademark of Everpure Inc.. National Trade Supply, LLC, DiscountFilters.com and ClearChoice are not affiliated with Everpure. This is not a Everpure OEM product and is not covered under any Everpure manufacturer's warranty. Any use of the Everpure brand name or model designation for this product is made solely for purposes of demonstrating compatibility.
---
Specifications
Micron Rating:
.5 Micron
Dimensions:
3-3/4" Dia X 12-3/4" L
Capacity:
15,000 Gallons
Certifications:
NSF/ANSI 42 & 53
Flow Rate:
1.67 GPM
Max Pressure:
125 PSI
Max Temperature:
100 °F
Reduction Claims:
Lead, Cysts, Chlorine Taste & Odor, Scale, Sediment
Replaces These Filter Cartridges:
BevGuard:
BGC3200S
Cuno:
CFS9110-S
CFS9112-S
CFS9812X-S
Everpure:
2CB5
2CB5-S
4CB5
4CB5-S
4SI
7CB5
7CB5-S
EV961222
EV961226
EV961250
EV961251
EV961255
EV961256
EV961266
EV961276
EV961310
EV961321
EV961326
EV961716
EV961721
EV961726
EV961736
EV961776
EV961802
EV961807
EV961811
EV961813
EV961816
EV961821
EV961901
EV961906
EV963406
i2000
MC2
OCS2
NuCalgon:
4621-10
4621-11
ECO-i20002
NU-i20002
Tier1:
FS1004
Fits In These Systems:
Everpure:
35729606
COLD/INSURICE SINGLE
COLDRINK 1
COLDRINK SINGLE
EV9256-17
EV9256-18
EV9256-19
EV925614
EV925617
EV925618
EV925619
EV9259-14
EV9259-24
EV925924
EV9272-18
EV9272-41
EV927218
EV927241
EV9275-60
EV929301
EV9324-02
EV9324-21
EV9324-22
EV9324.01
EV932401
EV932421
EV932460
EV932461
EV932471
INSURICE SINGLE
QC7I
QL1
QL2
QL3
QL3B
Pentair:
EV9256-17
EV925617
EV9259-14
EV9259-24
EV925914
EV925924
EV9272-18
EV9272-41
EV927218
EV927241
EV9275-60
QC7I
QL1
QL2
QL2-OCS2
QL3
QL3B