ClearChoice CCB-CFS | Our#: 197107
ClearChoice Replacement for Cuno® Filters
ClearChoice CCB-CFS | Our#: 197107
Fast Shipping & Free Returns
100% Compatibility Guarantee
NSF/ANSI 42 & 53
Cyst Reduction
Scale Control
Chlorine, Taste & Odor Reduction
Total Dissolved Solids Reduction
Sediment Reduction
15,000 gallon Capacity
Sanitary, quick change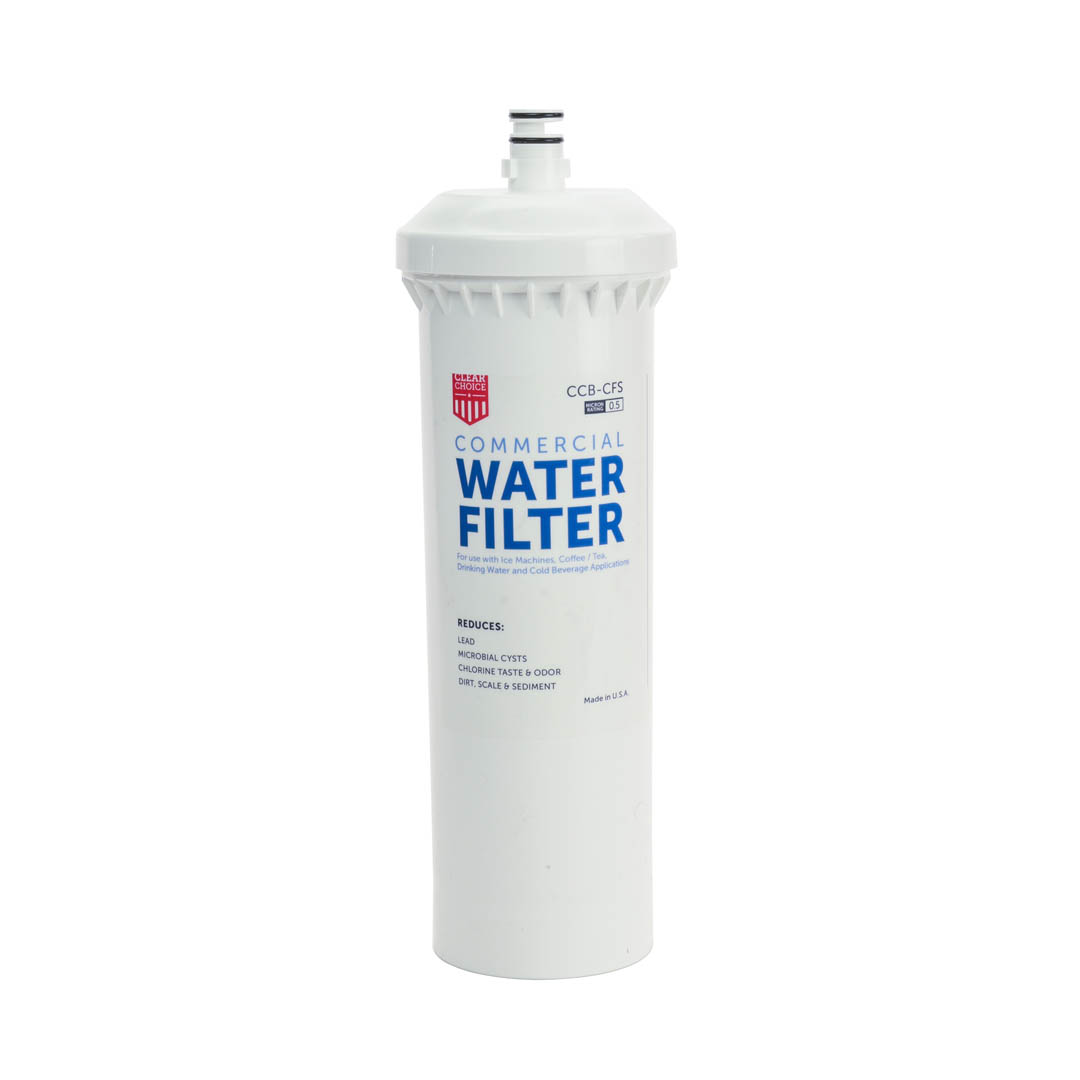 4 people in your area recently purchased this product!
Fast Shipping & Free Returns
100% Compatibility Guarantee
NSF/ANSI 42 & 53
Frequently Purchased Together
Product Details
Designed for the high-volume requirements of the food service industry - the ClearChoice CCB-CFS is ideal for use in many different point-of-use commercial applications. This versatile filter is used for ice machine, coffee/tea, drinking water, and cold beverage applications.

FEATURES:
ClearChoice filters use ultra-fine, high capacity activated carbon that always meets or exceeds OEM specifications in a more compact filter
Reduces chlorine taste and odor
.5 micron filtration reduces cysts
Contains polyphosphate to inhibit scale
Replacement is easy - simply twist!
Cartridge size - 3-1/2" Dia X 12-1/4" L
Cuno® is a registered trademark of the 3M Company. National Trade Supply, LLC, DiscountFilters.com and ClearChoice are not affiliated with Cuno or 3M. This is not a Cuno OEM product and is not covered under any Cuno manufacturer's warranty. Any use of the Cuno brand name or model designation for this product is made solely for purposes of demonstrating compatibility.
---
Specifications
Micron Rating:
.5 Micron
Dimensions:
3-1/2" Dia X 10" L
Capacity:
15,000 Gallons
Certifications:
NSF/ANSI 42 & 53
Flow Rate:
1.67 GPM
Max Pressure:
125 PSI
Max Temperature:
100 Degrees °F
Reduction Claims:
Cysts, Scale, Chlorine Taste & Odor, Lead, Sediment
Replaces These Filter Cartridges:
Bunn:
30331.1001
30331.1002
30331.1004
EQ-11-TL
EQ-H-1
EQ-T-1
EQ-TL-1
Cuno:
55600-01
5572003
5581705
5581708
5581725
5581727
5581905
5581906
5589301
5589303
5589306
5589308
5601101
5601103
5601105
5601107
5602713
CFS517
CFS8110-S
CFS8112
CFS8112-S
CFS8112EL
CFS8112EL-S
CFS817
CFS8576
CFS8576-S
CFS8720
CFS8720-S
CFS8720EL
CFS8720EL-S
CFS8812ELX
CFS8812ELX-S
CFS8812X
CFS8812X-S
Heritage:
AQUCFS8112-ELS
TMP5581708
TMPCF8112S
Lancer:
LNC55817-08
NuCalgon:
Swift Green:
SGF-8112S
Fits In These Systems:
Cuno:
5581905
5581906
5581912
5581913
5581916
5581917
68375-01
6837501
68567-10
6856701
CFS560
CFS570
CFS7720
CFS7720-S
CFS7812
CFS7812-S
CFS8112-S
CFS8576
CFS8576-S
Series 6000
Series 7000
Series 8000