Bio Ouster D-H1020-12 | Our#: 193451
Complete 3-IN-1 Hot Tub Water Care Kit (8 Weeks)
Bio Ouster D-H1020-12 | Our#: 193451
Fast Shipping & Free Returns
100% Compatibility Guarantee
Complete 3-IN-1 Water Care Kit (8 Weeks)
Purges dangerous bio contaminants from jets, pipes, and surfaces
Complete spa maintenance kit
Includes spa cleanse gel, 16 oz bottle of water conditioner, microfiber chamois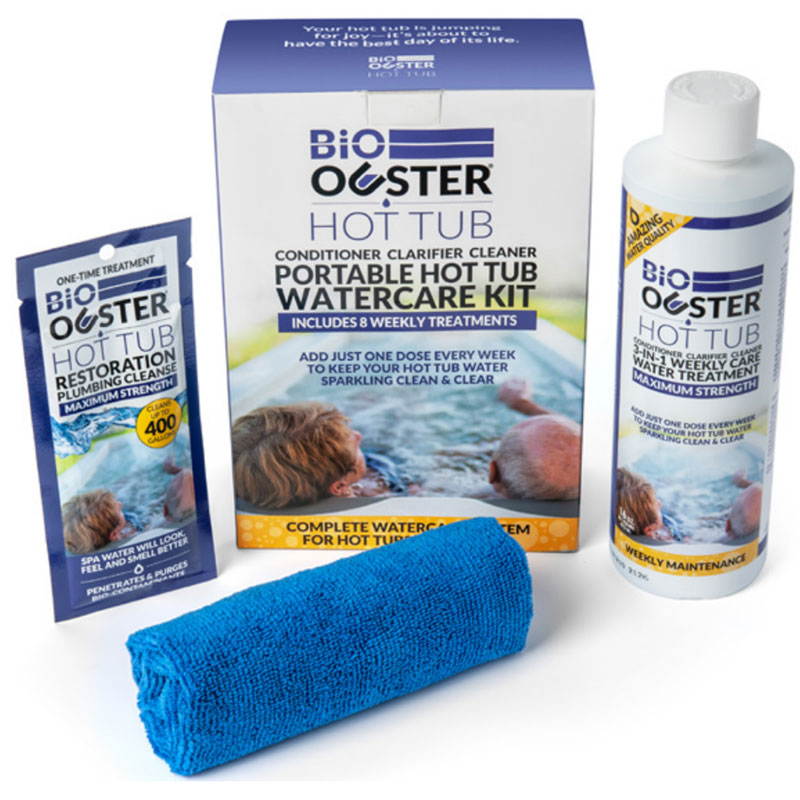 4 people in your area recently purchased this product!
Fast Shipping & Free Returns
100% Compatibility Guarantee
Frequently Purchased Together
Product Details
Complete 3-IN-1 Water Care Kit (8 Weeks)

Complete spa maintenance kit includes one-time cleanse, eight weekly care treatments and microfiber chamois. Lasts 2 months based on 400 gallon spa.

Your hot tub probably isn't as clean and safe as you think. Dangerous communities of bio matter such as bacteria, yeasts, fungi, protozoa, algae, and other organisms thrive in the pipes and surfaces of your spa by creating a protective shell called bio matter. Remember, while bathing in what seems like a perfectly clean spa, behind the scenes are many feet of interior plumbing lines moving water seamlessly throughout the spa. When not in use these plumbing lines become a breeding ground thriving on nutrients such as soaps, lotions, sweat, organics and other contaminants. The main reason lies in the operating temperature. You usually heat the water up to about 100 degrees creating a wonderful environment for bacteria. After just a few months in operation you will likely see changes. The most common are usually "black, brown or white" flecks coming from your jets. Others may experience foul' or 'musky' smell coming from your spa. The root cause is usually bio-matter. These colonies of bacteria stick to any surface as long as moisture and nutrients are present including rubber gaskets, interior plumbing system, jets and even your skin. Bio Ouster® CAN aid in the removal of the Biofilm by penetrating the matrix allowing for planktonic cells to be oxidized by the sanitizer or drained from the spa.
Features:
One (1) 16 oz bottle 3-IN-1 weekly maintenance water conditioner (8 doses)
One (1) packet spa cleanse gel (1 dose)
One (1) bonus microfiber chamois
Step-by-step instructions included
Formulated to maintain superior water quality, improve pump & jet performance and minimize the build-up of bio-matter
Kit lasts 2 months based on 400 gallon spa
---