An Anatomy Lesson
Where is the air filter on your forced air heating/cooling system?
By: Krysten Cox
---
This isn't your typical anatomy lesson, but maybe you'll take away more than you did in 9th grade biology class. Please see below to find out where to locate the air filter on these bad boys
DO YOU HAVE A FORCED AIR SYSTEM?
Well, I don't really know if you do or not. I'm just like you, clueless and confused. But I have great resources here at NT Supply to help me out. So here's a word from someone who really knows.
"If you feel hot and cold air blowing out of registers in your floors and/or ceilings - you probably have a forced air system. With a forced air system a large, centrally-located blower sucks air from different areas of your home through "return" ductwork. The air is pulled through the blower and gets heated or cooled (depending on the time of year). The heated/cooled air is then distributed via this same blower throughout the home through "supply" ductwork.

No offense, but the air in your home may be dirty. You don't want dirty air to ruin your expensive heating /cooling system. In the return ductwork, right before the blower, you will usually find an air filter. The filter is a VERY important as it keeps your equipment in tip top shape."
-Reed Barich, CSO of National Trade Supply


Here's what a forced air system looks like inside your house: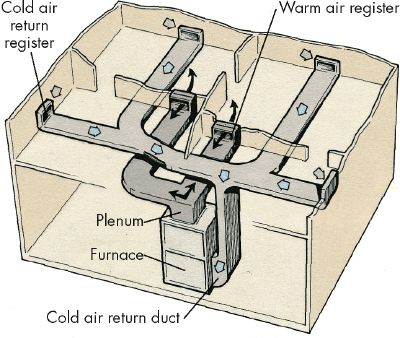 Image source: http://home.howstuffworks.com/home-improvement/heating-and-cooling/how-to-troubleshoot-a-forced-air-distribution-system.htm
ELECTRIC FORCED AIR HEATING/COOLING SYSTEMS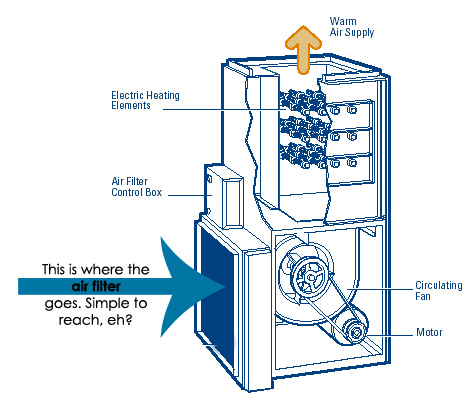 Ima ge source: http://oee.nrcan.gc.ca/residential/personal/electric-forced-air-heatings-system.cfm?attr=4
GAS-FIRED FURNACE FORCED AIR HEATING/COOLING SYSTEMS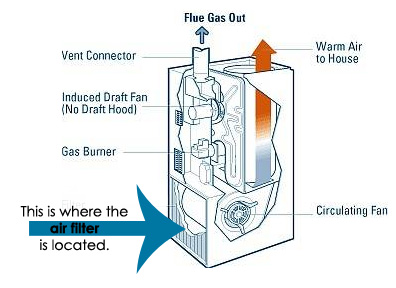 Image source: http://oee.nrcan.gc.ca/residential/personal/gas-propane-furnaces.cfm?attr=4
OIL-FIRED FURNACE FORCED AIR HEATING/COOLING SYSTEMS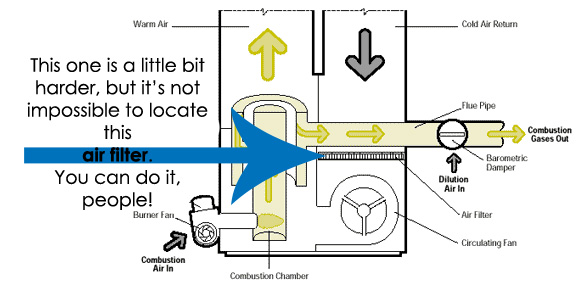 Image source: http://oee.nrcan.gc.ca/residential/personal/oil-forced-air-heating-systems.cfm?attr=4
---