Aprilaire 413 | Our#: 172682
Aprilaire 413 Filter Replacement Media for Aprilaire 4400 Air Cleaner, 2-Pack

324 review(s)
Aprilaire 413 | Our#: 172682
Fast Shipping & Free Returns
100% Compatibility Guarantee
Protect more sensitive lungs
Highest rated filter to reduce most pollutants
Reduces pollen, dust, lint, dust mite debris, pet dander & mold spores
Lessens odors from car fumes & smoke
Removes bacteria & virus carriers
Creates cleaner indoor air
8 people in your area recently purchased this product!
$

65.46
(

2

Filters for $

130.92

)
In Stock
Ships in 24 hours
Fast Shipping & Free Returns
100% Compatibility Guarantee
Frequently Purchased Together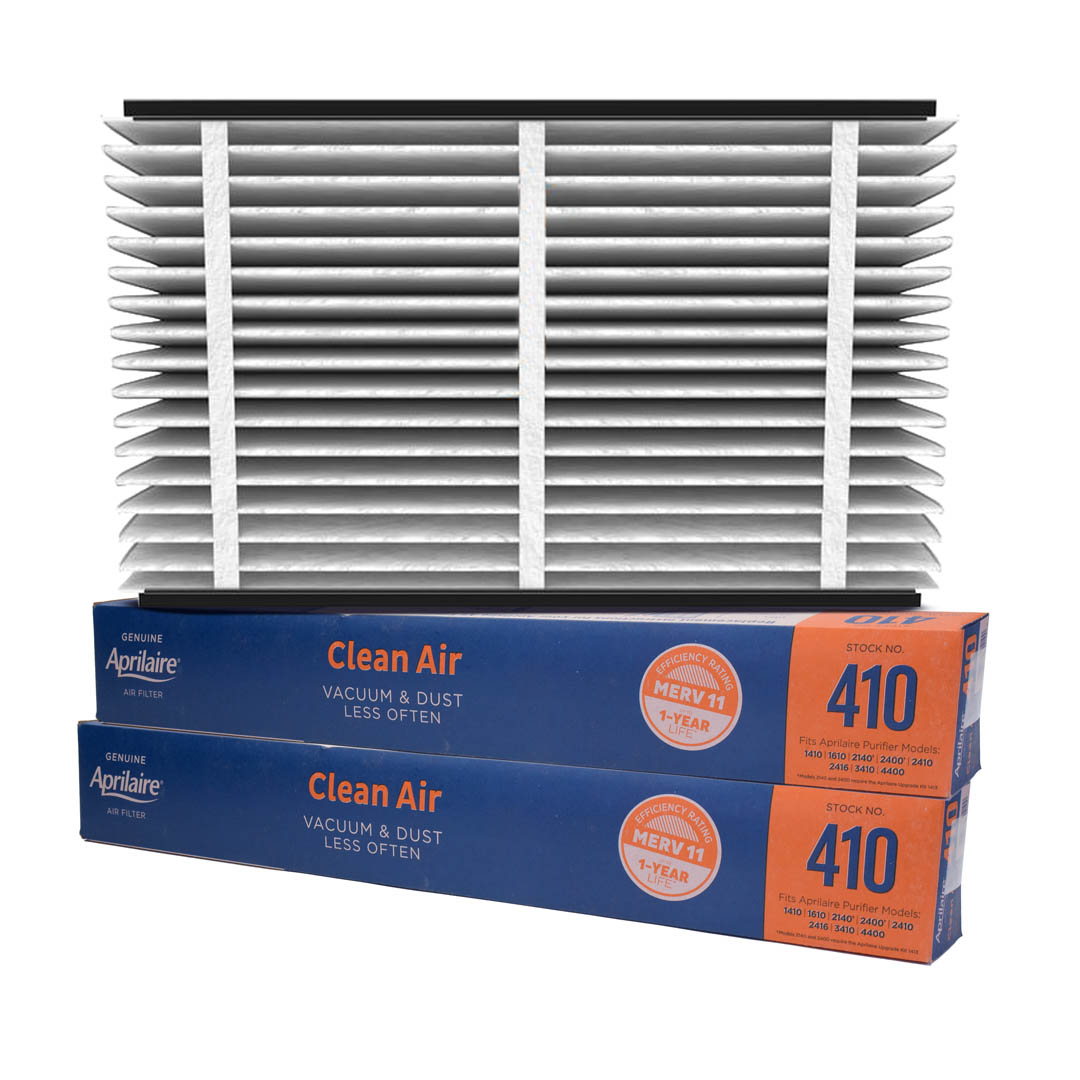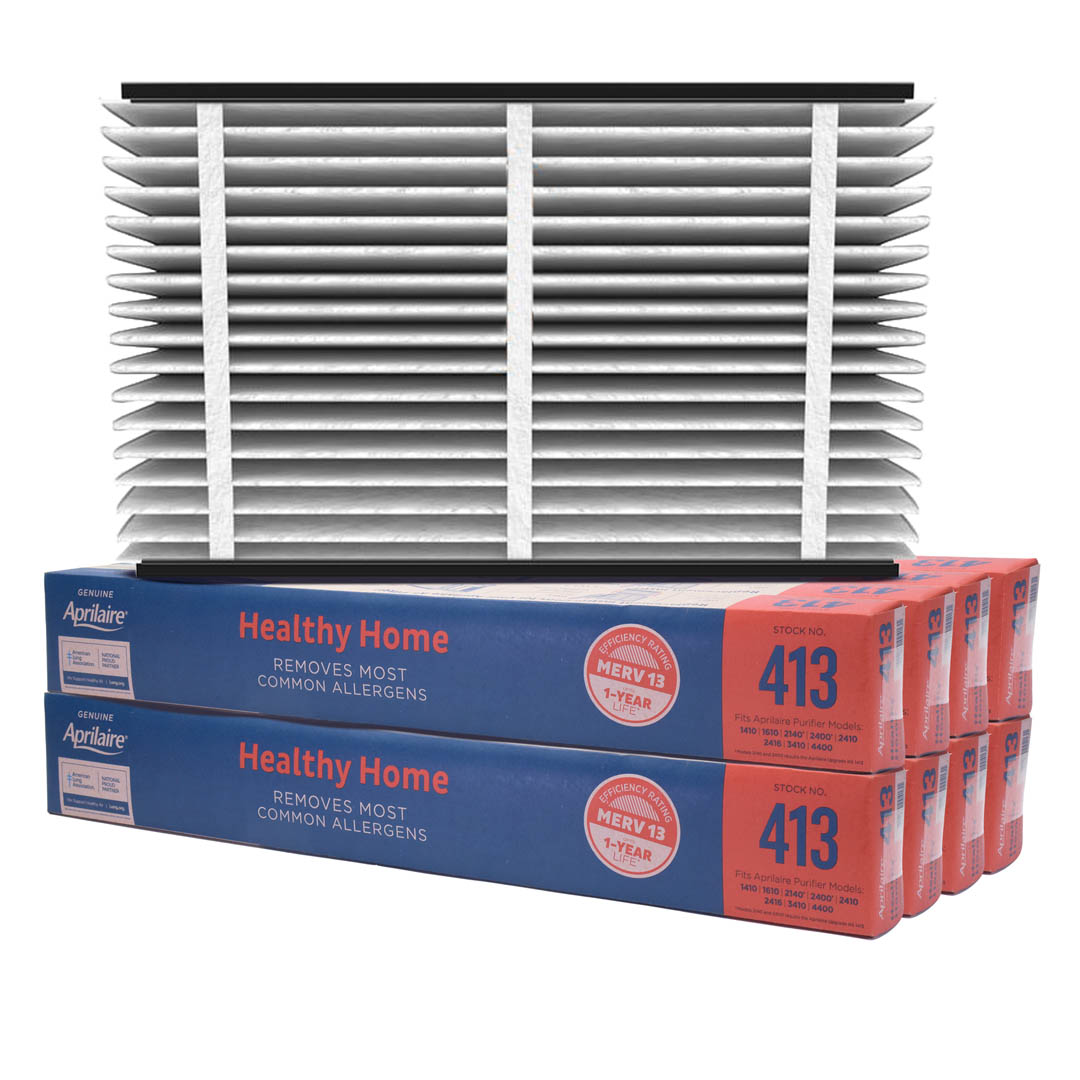 Product Details
Aprilaire 413 Air Cleaner Replacement Filter Media - 2-Pack
The Aprilaire Air Cleaner works to remove harmful air pollutants from your residential or commercial spaces. The pleated synthetic design of the Aprilaire 413 filter efficiently traps and removes particle using a special filter media. The MERV 13 rating of this Aprilaire 4400 replacement filter ensures that particles such as dust, pollen, and odors that trigger asthma, allergies, and other respiratory problems are filtered out of your space's air supply. This set of 2 Aprilaire 413 filters is a solution to your air quality problem that provides your home or office with safe, clean air.
After pollutants saturate your Aprilaire air cleaner filter replacement over time, the filter-changing process can be done in seconds. Simply remove the dirty filter material and replace it with clean media. This simple process of changing your filter and the benefits in brings can provide a healthier, allergen-free environment as well as energy savings.
Features:
Rated MERV 13
6-month filter life
Traps and removes 75% of virus-sized particles under 1 micron and over 90% of dust-sized particles from 3 to 10 microns
Permanently removes over 90% of mold, pollen and spore particles between 3 and 10 microns
Removes most odors including those from cleaning chemicals, cigarettes and cigars, pets, bathrooms and cooking
SelfSeal reduces air bypass and improves filter performance
Airflow capacity up to 2000 CFM maximum
Expanded media slides into place without tools or modifications
Fiber media resists moisture and microbial growth
Features a life span of 9 months to up to 2 years based on the frequency of the fan's use and air particulate level
Easy to install
Original Manufacturer Part
For use in Air cleaner models 1410, 1610, 2410, 3410, and 4400
Can be used in air cleaner models 2400 and 2140 - but only after air cleaner is upgraded using the 1413 Media Upgrade Kit
Replaces part # S1-FM413 in Source-1, Coleman, Luxaire, and York branded mechnical air cleaners model M13PAC16252 / S1-TMPAC16252
---