Aprilaire #213 MERV 13 Replacement Filter, 2-Pack
Aprilaire 213 | Our#: 172678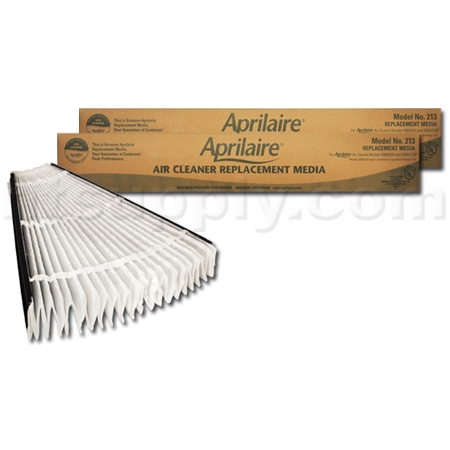 Description
---
Indoor allergens like dander and pollen reduce indoor air quality and aggravate respiratory problems. Additionally, odors from smoke, cooking, paint and the bathroom decrease air quality. Replacing the air cleaner's filter regularly ensures the air inside residential and commercial buildings stays fresh, pure and clean for easier breathing. When the airflow or the air quality decreases, the replacement filter easily inserts into place and provides a healthy indoor environment.
rated MERV 13
traps and removes 75% of virus particles between 0.3 and 1 microns
traps and removes more than 90% of dust particles between 3 and 10 microns
reduces tobacco smoke, bathroom, pet, chemical, paint and cooking odors
100% synthetic gradient density media
collapsible media with self-spacing pleats
filter installs in seconds with no tools needed
SelfSeal reduces air bypass, improves filter performance and ensures an airflow capacity of up to 2000 CFM
Replace the filter once every six months to two years based on airflow and environmental conditions
commercial and residential use
OEM part
For use in Air cleaner models 1210, 2210, 3210, and 4200
Can be used in air cleaner models 2200 and 2120 - but only after air cleaner is upgraded using the 1213 Media Upgrade Kit
Replaces part # S1-FM213 and fits Source-1, Coleman, Luxaire, and York branded media air cleaners model M13PAC20252 / S1-TM13PAC20252
Reviews
---
GERARD GRANT 2 days ago
Aprilaire #213 MERV 13 Replacement Filter, 2-Pack fits and works fine
Mary Brzozowski 2 days ago
Very pleased with how fast our order was completed.
James Wray 2 days ago
We just had our heatpump serviced and this time we had the replacement filter ready and waiting instead of having to pay their fee for a new one. We have been using these filters for about 5 yrs., and are very pleased with them!
Dianne Dexter 2 days ago
Excellent experience time after time. Dependable for sure.
Lorraine Endicott 2 days ago
These filters are so much easier to install than the original filters that were in our HVAC unit. Excellent product.
James A. Austin III 2 days ago
I love the filters I now by from your company but unfortunately for me and you you do not carry the filters for my other two A/C units. they use Part #918758 a MAH - 1056 A. If and when you decide to carry these filters give me a call and you can triple our business together and your profit!!! Jim Austin
CatherineS 2 days ago
I was able to order the filters I needed at a much lower price than my oil company would have charged me. I installed it my self and saved on what have been a service call. Easy and quick order, delivery and installation.
Kevin Harris 2 days ago
Fast shipping and great furnace filter.
Todd Stewart 2 days ago
great filters at the best price I have found.
John A Halasz 2 days ago
Easy to order Aprilaire filter, fast delivery, and a breeze to install. Did I mention a good price also!
Sally Parks 2 days ago
I am so happy with these filters. They were much less expensive than what I paid at the company where I got my furnace and A/C. I didn't have to drive across town to purchase them. They were delivered to my door with free shipping! The best part about Discount Filters though is ther fabulous customer service.
Clint Scheible 2 days ago
Good product, Easy to remove and install. Dust collection shown on the filter at 6 months usage is "generous" which tells me it is doing its job. It also tells me that , if you can afford it, 6 month replacement is better than the yearly replacement indicated by the manufacturer.
James Hartley 2 days ago
Those filters are what helps to keep the air in my house clean. I consider them to be absolutely necessary. By ordering them from Discount Filters, I have them readily available when I need them. Those orders always go through smoothly, without any problems.
Robert E. Evinger 2 days ago
Product was as advertised and on my porch the day that was stated for delivery. Great service.
Kari Putney 2 days ago
Great service. Easy ordering, fast shipping, low price and I don't have to worry about filters anymore!
Michael R. Jacobs 2 days ago
Great filters, pricey but they work extremely well. I got the 2-pack (Tu-Pac?) and that should be a year's worth of micro filtered air for my house. I recommend getting the OEM filter- trust me on this. You won't regret it.
james e corfits 2 days ago
We have used Aprilaire filters for a long time. The #213 MERV 13 two pack is a great buy and the filters work great for taking the dust and other material out of the air we breath. Wife states that by using these filters her dusting of the furniture has been reduced to once a week vs. two or three times per week.
Michael Ballast 2 days ago
We have already noticed a reduction in dust around the entire house. The house is warmer with a clean filter in place.
Harvey 2 days ago
These products were exactly what I needed
William 2 days ago
Excellent product, reasonably priced , fast service
Lawrence Licata 2 days ago
The Aprilaire #213 MERV 13 replacement filters provide me with increased filtration efficiency over the standard MERV 10 filter that came with my air cleaner. I recommend these replacements for anyone looking for greater filtration.
margaret norton 2 days ago
This product is easy to use and works efficiently.
Cvanilla 2 days ago
I purchased this product and it arrived quickly and fits properly! Price was competitive!
Darwin Ahrendt 2 days ago
Great quality and can't beat the price!!!
Daniel J Lovaglio 2 days ago
Very good filters. Use them all the time. Easy to order, delivered on time and good price. Usually always order two.
Michael Shing 2 days ago
Great Service! Thanks. Fast delivery and easy to install. My one stop filter provider.
Lusby Md 2 days ago
I was extremely satisfied with Discount Filters! The customer service is great , the price,product and delivery. I would surely recommend this to family and friends! Thank you again for being a great company to do business with and save money too.
Brad Chaplin (Director Of Maintenance,Kokomo,In) 2 days ago
Very economical and good quality.Highly recommened
Ron 2 days ago
Promptly delivered and easy to install! Went in without a hitch.
JC 2 days ago
Good product. Good service. But quite pricey. JC
Patricia Gullo 2 days ago
very good filter,fair price,but when ordering the 2-pack they were in one box instead of separate boxes, which caused them to bend and fold.
Joseph M Brand 2 days ago
they fit and work like a charm. Will order them again through DiscountFilters. very helpful site that guided me to the correct filter.
G. Marshall Grimes 2 days ago
Excellent filter that lasts longer than advertised.
JM 2 days ago
Fair prices and quick delivery. Can't ask for much more than that.
Michael Butcher 2 days ago
What can I say, it's a furnace filter...
James Morgan 2 days ago
This is a high-quality product that is easy to install and reasonably priced for a whole-house HEPA filter.
Carolyn Thompson 2 days ago
This is the second time I have ordered these filters. I like the price and the service was great.
joseph green 2 days ago
My order was received in a few days and installed my media filter in 4 or5 minutes . Very easy to install , fit perfectly .
Dennis 2 days ago
Your filters are top of the line and I will continue to purchase them from you In the future and I haven't found them any cheaper anywhere else Thank you.
Stephanie J. Patton 2 days ago
Great service and delivery! I would recommend buying your filters from this company.
Audrey L Luetscher 2 days ago
As usual, very happy with the product. Fits like a glove & arrived in a timely fashion.
Kathleen Shaw 2 days ago
Nice, thick medium at a good price. Just stick it in the frame and go.
PAUL CADY 2 days ago
Good price. Great service. Accurate shipment. No complaints.
Dennis Marshalik 2 days ago
Great price, fast shipping ! Return customer.
Richard R. Duda 2 days ago
This is a new product I'm using for the first time but like it very much because its easier to install into my system. I'd recomend it for others t use.
Patrick King 2 days ago
Product and price we're excellent. It arrived on time & no problems with the fit.
Literature
15 people in your area have bought this product in the last day!
FREE to join and you can easily cancel online at anytime
With auto delivery, you will always have a new filter on time (no need to remember to log on to place an order).
You control order frequency, delivery schedule, and quantity - all online!
Get email reminders before each delivery
---

Refrigerator Water Filter Tip #3:
When a new refrigerator filter is installed, there may be some sputtering and spitting of water while air is forced out of the filter media. This is normal and will stop after the carbon media becomes saturated with water.