AIRx AXPXXFIL0024 | Our#: 186220
AIRx replacement for Bryant / Carrier EZ-FLEX Filter Media EXPXXFIL0024 - 2 pack

1 review(s)
AIRx AXPXXFIL0024 | Our#: 186220
Fast Shipping & Free Returns
100% Compatibility Guarantee
Reduce common allergy symptoms
Reduces allergy irritating particles
Captures allergens like dust, mold spores, pet dander, dust mite debris and more
Lessens odors from car fumes & smog
Creates cleaner indoor air
Actual Dimensions: 23 ¾" x 24 ¾" x 4 ⅜"
This product is currently unavailable.
The AIRx AXPXXFIL0024 that you're looking for is so popular right now, it is not available at the moment. Enter your email address and we'll keep you updated when it's in stock.
Fast Shipping & Free Returns
100% Compatibility Guarantee
Frequently Purchased Together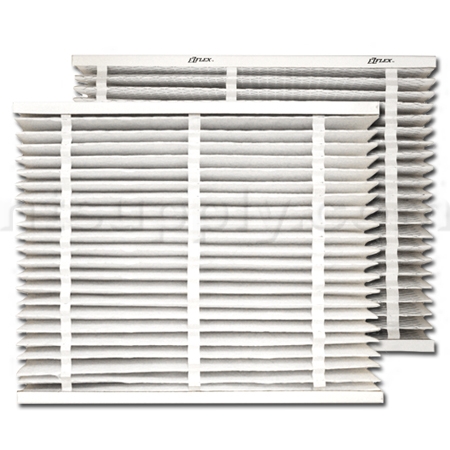 Product Details
AIRx replacement for EXPXXFIL0024 Filter Media - 2 Pack

AIRx Media fits Bryant, Carrier, Payne, Day-Night MACA, MPKA, EZXCAB series air cleaner cabinets. Media comes shipped like a collapsed accordian, and must be expanded and assembled with metal support rods. The existing hard plastic end caps aren't necessary to use with the AIRx replacements as the media extends to seal against the filter housing.
Kit with end caps can be purchased seperately (See Part# EXPXXUNV0024)
The AIRx filter system can reduce dirt and dust buildup on your system's components while trapping small sized pollutants and contaminates that irritate your eyes, lungs, and sinuses. As a result, this air cleaner promotes lower utility bills, long term reliability and peak system performance.

Features:
Saves space - shipped in collapsed form
MERV 11
EZ to assemble - saves up to 99% on assembly time - no combs
Low pressure drop - keeps your HVAC system running at peak efficiency
Change at least 2 times per year
Specifications:
Expanded Nominal Dimensions - 24" X 25" X 5"
Expanded Actual Dimensions - 23-3/4" X 24-3/4" X 4-3/8"
Fits MACA, MPKA, EZXCAB mechanical air cleaners from Bryant, Carrier, Payne, Day-Night, Honeywell Popup 24x25x5
MERV 11
Fits Carrier EZXCABCC0024 and Bryant EZXCABBB0024 Cabinet
ASSEMBLY INSTRUCTIONS:
---
Do you want to know about the technical specs?
Nominal Dimensions
Actual Dimensions
Filter Media
Electrostatically charged 100% synthetic gradient media that does not support microbiological growth
Filter Support Grid
30 gauge galvanized expanded metal grid
Frame
Moisture resistant double-wall beverage board
Max Temperature
180F (82C) continuous service, peak 225F (107C)
Max Humidity
Resistant to 100% R.H.
Replaces These Filters:
Carrier / Bryant:
EXPXXFIL0024
EXPXXLMC0024
EXPXXUNV0024
EZCABCC1024
EZFLEX24
EZFLEX24FCAR
EZXCABBBB0024
EZXCABCC0024
FILXXCAR0024
Magnet:
Additional Info
rmation
---