Filter Spray - 18 oz can
Smith Filter 7002 | Our#: 172004
1 Year Purchase Guarantee - Free returns for a year, up to $1000 of purchase protection.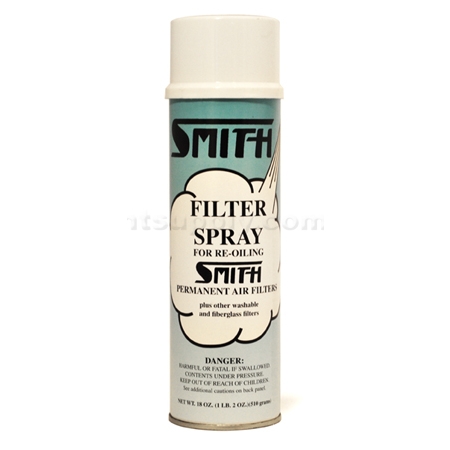 NOTE: Not for use with electronic air cleaner filters
Filter Spray - 18 oz can. This spray will enhance the performance of all residential and commercial disposable and washable filters. The liquid adhesive spray (slightly tacky/non oily) attracts pollen, sub-microscopic dust and is positively charged to electrostatically attract negative charged matter.
Description
---
Filters remove allergens, particulates and contaminants from the indoor air you breathe. Your furnace, air conditioner and air cleaner include protective filters. To increase the performance of these filters, spray them with filter spray. The slightly tacky liquid adhesive helps the filters attract particulates like dust, pollen and dirt. While the spray is not oily, it does include a positive charge. The adhesive electrostatically attracts particulates that might otherwise escape the filter. Designed for residential and commercial filters, it works on washable and disposable filters but not on electronic air cleaner filters. To clean the filter, wash it with plain water. Increase the efficiency of your filters with filter spray.
18 oz can
slightly tacky but not oily
provides an electrostatic charge to the filter
attracts pollen, dirt and other particulates and contaminants
works on disposable and washable filters but is not for use on electronic air cleaner filters
easy to wash away with plain water
commercial and residential use
Reviews
---
Filter Spray - 18 oz can
Filter Spray - 18 oz can Reviewed by 1
|
Displaying reviews 1-1:
Comments:
Recently moving to Florida and a new home we couldn't believe all the dust we kept accumulating. When we looked into the vent areas (5) in our home. Some had paper filters some had none. I had bought one large filter from you when I thought I only had one vent. It worked beautifully and it came quickly not disappointed at all. The next 4 solved the problem completely. I don't have to worry about when to change them and the spray is great as well. You have made my life easier and less cost to my budget. they will pay for themselves in no time. Thanks again for being honest about the product and the service.
BOTTOM LINE: Yes, I recommend this product
Literature