Filter Spray - 18 oz can
Smith Filter 7002 | Our#: 172004
1 Year Purchase Guarantee - Free returns for a year, up to $1000 of purchase protection.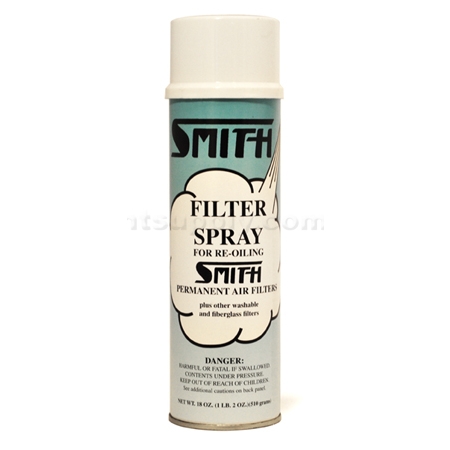 Description
---
Filters remove allergens, particulates and contaminants from the indoor air you breathe. Your furnace, air conditioner and air cleaner include protective filters. To increase the performance of these filters, spray them with filter spray. The slightly tacky liquid adhesive helps the filters attract particulates like dust, pollen and dirt. While the spray is not oily, it does include a positive charge. The adhesive electrostatically attracts particulates that might otherwise escape the filter. Designed for residential and commercial filters, it works on washable and disposable filters but not on electronic air cleaner filters. To clean the filter, wash it with plain water. Increase the efficiency of your filters with filter spray.
18 oz can
slightly tacky but not oily
provides an electrostatic charge to the filter
attracts pollen, dirt and other particulates and contaminants
works on disposable and washable filters but is not for use on electronic air cleaner filters
easy to wash away with plain water
commercial and residential use

Refrigerator Water Filter Tip #3:
When a new refrigerator filter is installed, there may be some sputtering and spitting of water while air is forced out of the filter media. This is normal and will stop after the carbon media becomes saturated with water.