FILTERSCAN® Air Filter Monitor / Clog Detector
CleanAlert FS-242-B | Our#: 177965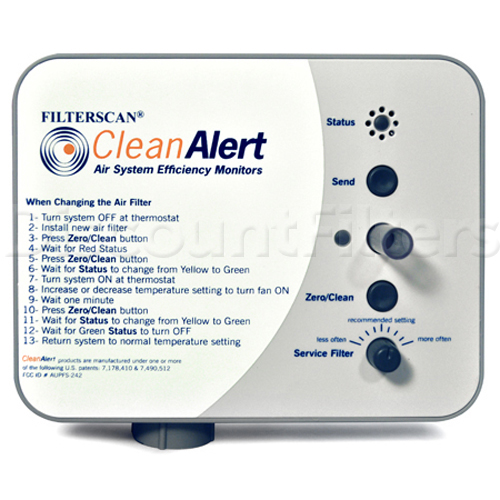 Description
---
FILTERSCAN® Air Filter Clog Detector - Model FS-242-B (battery-operated)

A clogged air filter can reduce your indoor air quality (IAQ) and increase your energy bills. Most importantly, a clogged filter can be the cause for very expensive repairs to your heating and cooling system. A recent study notes that dirty filters are the primary cause of HVAC equipment failure.

The FILTERSCAN® monitor is installed and calibrated with a clean filter - and learns your system's peformance in a clean state by measuring the air pressure inside the HVAC system. As your filter gets dirty - the pressure changes. Once the pressure reaches a pre-determined level - the FILTERSCAN® monitor alerts the user that the filter needs to be changed or serviced.

How it works: When a clogged filter is detected - unit STATUS LED turns red and blinks/sounds an audible beep 5 times every 10 minutes until unit is reset (and clean filter is installed).

FEATURES AND BENEFITS:
Takes the guesswork out of changing your filter, and maintaining your filter system
Maximizes the efficiency of your HVAC system
Easy installation
Prevents costly repairs
FS-242-B is battery-operated (batteries included)
Technical Information:
Intended for continuous and automatic monitoring of the clogging of an air filter installed into a household or commercial forced air heating, air conditioning, or heat pump system. Monitor is compatible with most air filters ranging in differential pressure drop from 0.10"wg to 4.0"wg and with single and multispeed blower HVAC systems, and most VAV (Variable Air Volume) systems.
FILTERSCAN® Air Filter Clog Detector, may be installed upstream, downstream, or differentially across the air filter, the best results will be found when installing downstream of the air filter (that is, between the air filter and the system blower fan, usually located at the return duct of the HVAC system).

SPECIFICATIONS:
Pressure Differential Range - 0.1 to 4.0 in inches of water
Clog Filter Trigger Point - 1.5 to 2 times initial differential pressure (at the recommended setting on the SERVICE FILTER control)
Temperature Range - 32-122 F (0-50 C)
Operating -40-257F (-40 - 125 C)
Storage Humidity - 80% RH, non-condensing
Power Requirements - 5.5 VDC at 25 mA Status LED on, 3 mA Transmitting, 60 uA Standby
Batteries, Monitor - (4) AA 2400 mAH
Battery Life - Approximately 1 year
Insertion Depth into Duct - Does not extend into duct
Clogged Air Filter Alarm - Red STATUS LED & 2 KHz Beeper alternating ON & OFF five times
Low Battery Alarm - Yellow STATUS LED blinking approximately once per minute
Malfunction Alarm - Red STATUS LED continuously illuminated
Mounting 5 holes - 4 @ 7/64" and 1 @ 3/8"
Monitor Dimensions - 6" x 4.625" x 1.5"
FCC Identification # AUPFS-242
Industry Canada # 10341A-FS242


Save Your Furnace Tip #3:
Did you know that the nominal size of your air filter is probably not the same as the actual size? Just like measurements on lumber, the actual size of an air filter is usually slightly smaller than the nominal size.