Filtrete Model 3US-PS01 Professional Faucet Water System
3M 3US-PS01 | Our#: 172623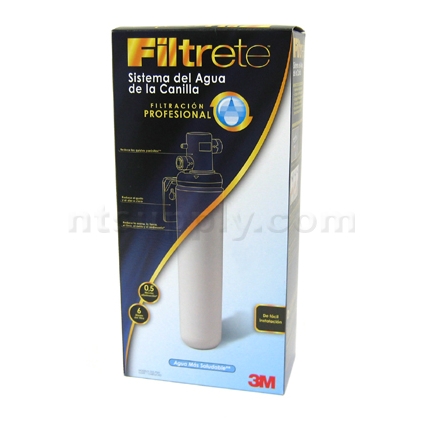 FiltreteT Professional Faucet Water System. Includes filter head assembly, mounting hardware, plumbing connectors and 2,000 gallon capacity water filter cartridge

Description
---
CLICK HERE FOR REPLACEMENT WATER FILTERS

Click to View More Info and Video!

FiltreteT Model 3US-PS01 Professional Faucet Water System. Includes filter head assembly, mounting hardware, plumbing connectors and 2,000 gallon capacity water filter cartridge.

The FiltreteT Professional Faucet Water System fits neatly under the kitchen sink. It provides great tasting water and has a convenient shut-off valve for no mess filter replacement. The FiltreteT Professional Faucet Water Filter is a chemical and mechanical reduction filter that reduces sediment, including sand, silt, particulates and rust. it also reduces chlorine taste and odor, and parasitic cysts. The system is tested and certified by NSF International against NSF/ANSI Standard 42 for the reduction of chlorine taste and odor and NSF/ANSI 53 for the reduction of cysts.
Features:

6 month filter life
Operating temperature - 40-100F
Operating pressure - 25-125 psi
Rated flow - 1.5 gpm
Capacity: 2,000 gallons
0.5 micron nominal removal - better sediment removal with lower micron rating
For cold water use only
Maintains water flow
Quick, no mess filter change - no tools required!
Filter directly from existing faucet
Overall height of system and filter - 15-1/2" - approximately 3" clearance needed below for filter change
Installation Details:




You will need an adjustable wrench and a screw driver.
* Turn off the cold water supply and remove supply line to faucet using wrench
* Install push-in fittings to faucet and cold water supply line
* Install filter mounting bracket to area under sink
* Install filter to mounting bracket
* Cut tubing "to length" to fit between filter and supply line and from filter to faucet
* Connect the tubing
* Turn on water supply and enjoy cleaner, better tasting water

NOTE: Has not been certified by the California Department of Public Health (CDPH) for sale in the state of California

Reviews
---
Easy Installation
Good Tasting Water
Comments about 3M Filtrete Model 3US-PS01 Professional Faucet Water System:
This thing does the job, but I haven't had it long enough to comment on filter life. We have two adults in the household, so it ought to hold up to spec. Easy install, no leaks, but I don't care for the drop in water pressure from this deal, where the cold supply runs through the filter all the time. Larger connection hose size would help, but that's the compromise you face with this type, in exchange for a lower price. It's not a deal breaker, but it's noticeable.

BIG improvement in water quality for us. Takes out the chlorine taste and smell (that alone is worth it for me), and the cloudy appearance of the water which always came with summer and the addition of more chemicals from the water company. There's a slight metallic taste that still remains, but it's far less than before, and it's acceptable. Really improved tea and ice cube taste (you don't realize how much those cubes flavor drinks until you get a filter.)

Should help with sediments when the utility does its dreaded "mains cleaning", and the sediments stirred up by cleaning the pipes really affect the appearance of the water (perfectly safe to drink according to their yearly announcement; I wonder) 3M is a good manufacturer, and I trust their products; we use their Filtrete brand furnace filters too.
Compact
Easy To Install
Quiet
Comments about 3M Filtrete Model 3US-PS01 Professional Faucet Water System:
Simple install, Filter change is a snap !
Questions and Answers
---
Literature