Culligan HF-360 Whole House Water Filter Housing
Culligan HF-360 | Our#: 175746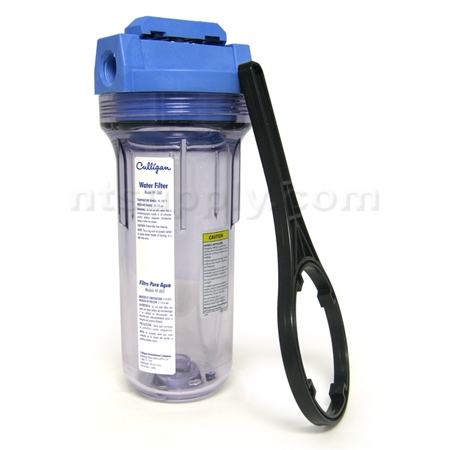 Description
---
CLICK HERE TO SEE VIDEO ON FILTER INSTALLATION

Culligan HF-360 Whole House Water Filter Housing

NOTE : This product DOES NOT INCLUDE a mounting bracket - Se Related Oarts and Accessories below
NOTE : This product DOES NOT INCLUDE a filter - see " Recommended Filters for This Housing "

This versatile whole-house system allows for filtration of all water that enters your home via the main cold water line. The unit uses standard 10" filters - so you can use whichever filter you like to acheive the desired result. This system is typically used with sediment filters to reduce sediment, rust, scale and dirt. The reduction of these contaminants provides better water for drinking and bathing and extends the life of devices like washing machines, water heaters, and other household appliances that use water.

Product Features:


"Valve-In-Head" design means the water flow can be shut off during filter changes - this makes filter changes easy and eliminates the need for additional shut-off valve.
Clear housing makes filter inspection easy
Includes housing wrench for easy sump removal
Integral pressure relief button releases trapped air
Connection can be made to 1/2" or 3/4" main water line
Compatible with most 2.5" X 10" Filter Cartridges - Culligan / Pentek S1 is recommended.
This product does not include any filter cartridge
Specs:
Pressure Range: 30-125 psi (2.1-8.6 bar)
Temperature Range: 40-100°F (4.4-37.7°C)
Connections: 3/4" FPT

Items you may need for installation:
3/4-inch compression fittings for copper pipe
1/2-inch adapter fittings for copper pipe
Teflon® tape
Note: Galvanized fittings must be used for installation on galvanized pipe


Save Your Furnace Tip #4:
MERV stands for Minimum Efficiency Reporting Value, and measures a filters' efficiency in removing small particles. The higher the MERV rating, the more particles the filter can remove.