Whirlpool Freshflow Replacement Air Filter Cartridge, 2-Pack
Whirlpool W10311524 | Our#: 178260
1 Year Purchase Guarantee - Free returns for a year, up to $1000 of purchase protection.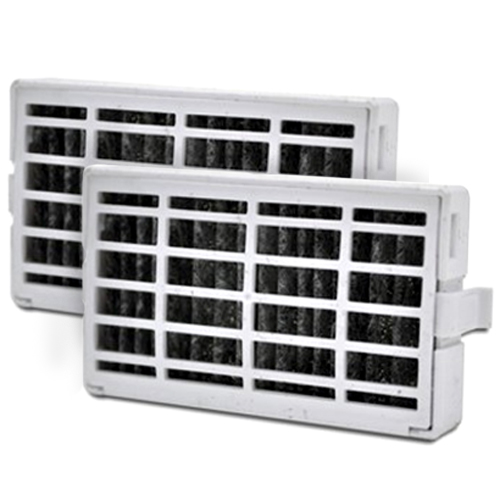 Description
---
Whirlpool Freshflow Replacement Air Filter Cartridge - AIR1 (W10311524), 2-Pack

Certified for Whirlpool, KitchenAid, Maytag, Amana, and Jenn-Air refrigerators - the Freshflow refrigerator air filter reduces common food odors.

The air filter lets air actively pass through the filter, helping neutralize odor and bacteria. It reduces odors 15 times better than baking soda. Replace filter ever 6 months.

Works with Whirlpool models: GSS26C4XXB, WSF26D4EXA, WRT571SMYB, WRT771RWYB, WRT779RWYB, WRT579SMYB

Instructions:
On some models, your refrigerator's accessory packet includes an air filter, which must be installed prior to use. On some models, the air filter is already installed at the factory
The air filter reduces the buildup of odors. This helps to maintain a cleaner environment inside the refrigerator.
Installing the Air Filter (on some models)
The filter should be installed behind the vented door, which is located (depending on your model) along either the rear or left interior wall near the top of the refrigerator compartment.
1. Remove the air filter from its packaging.
2. Lift open the vented door.
3. Snap the filter into place
Air Filter Status Indicator (on some models)
Style 1 - Install Manual Air Filter Status Indicator
The filter comes with a status indicator, which should be activated and installed at the same time the air filter is installed.
1. Place the indicator face-down on a firm, flat surface.
2. Apply pressure to the bubble on the back of the indicator, until the bubble pops to activate the indicator.
3. Lift open the vented air filter door. On some models, there are notches behind the door.
On models with notches:
Slide the indicator down into the notches, facing outward.
NOTE: The indicator will not easily slide into the notches if the rear bubble has not been popped.
Close the air filter door, and check that the indicator is visible through the rectangular hole in the door.
On models without notches:
Store the indicator in a visible place you will easily remember - either inside the refrigerator, or elsewhere in your kitchen or home.
Reviews
---
Whirlpool Freshflow Replacement Air Filter Cartridge, 2-Pack
Terence Palin 6 months ago
FOUND THE FRESH FLOW FILTERS WORKING JUST GREAT,THANK YOU DISCOUNT FILTERS
James S George 7 months ago
Easy to order. Reasonable price. Fast delivery. Easy to install. Improved refrigerator's performance (by minimizing moisture inside.) Will do it again. Thanks.
david kasoff 7 months ago
Great filters what else can you say
Gary M Trakshel 7 months ago
It is difficult to objectively rate this item since one of the two has only been in service for a couple of weeks. However, my cursory assessment is that it is doing its job because I do not notice any unusual odors in the refrigerator compartment.

Refrigerator Water Filter Tip #5:
It's a good idea to smear some food-grade silicone on the rubber rings at the end of your filter.