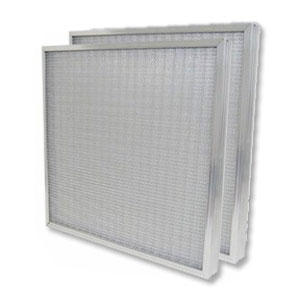 Smith Filter TA16252N | Our#: 177750
Light Duty 16" X 25" X 2" Aluminum Mesh Washable Air Filter
Smith Filter TA16252N | Our#: 177750
Fast Shipping & Free Returns
100% Compatibility Guarantee
Light Duty 16" X 25" X 2" Aluminum Mesh Washable Air Filter
4 people in your area recently purchased this product!
$

37.50
(

2

Filters for $

75.00

)
Fast Shipping & Free Returns
100% Compatibility Guarantee
Frequently Purchased Together
Product Details
Light Duty 16" X 25" X 2" Aluminum Mesh Washable Air Filter
(actual size 15.5" X 24.5" X 1.78")
This sturdy air filter is constructed with six layers of expanded aluminum mesh surrounded by a medium weight aluminum frame. Designed for air applications such as, light industrial, commercial, schools, office buildings and homes where a medium weight permanent filter is recommended.
FEATURES:
Same patented media design as the heavier, more costly filters
Light weight contruction makes removal and cleaning quick and easy
Constructed exclusively from Aluminum, giving it a resistance to rust and corrosion
Long life expectancy
Can be cleaned many times without losing shape or efficiency
UL Approved for Air and has surpassed the Federal Specification ASTM F872 required by all government contracts
CLEANING:
For best results, use either steam or hot water, with or without a mild detergent. Do not soak any aluminum filters in strong alkali.

CONSTRUCTION:
Filtering element shall be processed from sheet Aluminum, commercially known as 3003-H14, no less than .025 in thickness expanded through no less than .020 feed. The material is expanded in a special pattern of various densities. The filtering element shall consist of not less than six layers of material, and assembled so that each layer shall be at right angles with the proceeding layer. Each filtering element shall be corrugated from 1/4 to 3/8 to provide maximum dust holding capacity. The filter shall be framed in a formed aluminum channel, not less than .025 thickness. Corners are mitered and secured at one corner by heavy rivets. Holes shall be punched on one side of the frame to facilitate drainage after cleaning. Filter shall retain 290 grams of dust per 2.25 square ft (20x20 filter). Maximum resistance at capacity is 0.335 wg at 350 FPM air velocity.
---
Additional Info
rmation
---