Culligan TK-2 Water Test Kit
Culligan TK-2 | Our#: 175788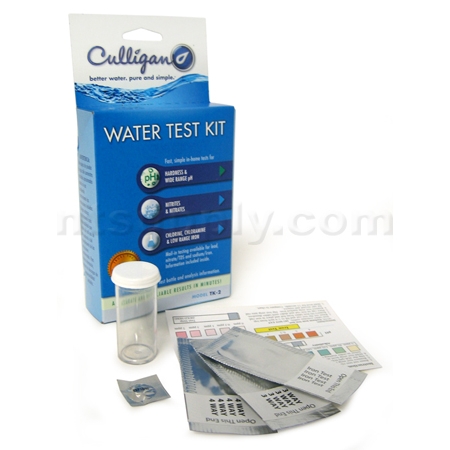 Culligan TK-2 Water Test Kit
Description
---
Culligan TK-2 Water Test Kit
The Culligan TK-2 Water Test Kit is a simple in-home water quality test kit used to identify potential contaminants in your water. The most common water issues which this water quality kit tests for include hardness, wide range pH, nitrates, nitrites, as well as chlorine, chloramine, and low range iron.
Accurate and reliable results are available only 15 minutes after using this Culligan water test kit. In addition to the main in-home component of this water quality test kit, there is an available option for mail-in testing to detect lead, nitrate/TDS, and sodium/iron. Futher information about this mail-in option is included inside the package.
WARNING: This Water Test Kit provides only approximate results when used in strict accordance with the enclosed instructions. Culligan expressly disclaims any and all liability of any sort resulting from misuse of this product or failure to follow instructions provided. See enclosed disclaimerr for more information.
What You Get :
Detailed Instructions & Analysis Information
Test Tablets
Test Bottle
Test Strips
Reviews
---
Comments about Culligan TK-2 Water Test Kit:
Two of the five tests yielded color results that did not match any of the applicable colors on the results chart. I phoned and said, does this mean I have a problem with my water? I told them what color the test strips showed. I was told, "oh, well, your water authority probably is already taking out the nitrates and nitrites from your water." But those were the tests that were not matching.....
My water co. (NJ American Water) just started adding ammonia to our water, and I wanted to check the chloramine level.
But the test you sent me doesn't measure that.
So I spent $ for nothing.
You sold me a chloramine test and it didn't test for chloramine. I would like a refund.
Questions and Answers
---