4-Stage Premium Reverse Osmosis System
FSHS Inc. PC-438 | Our#: 175608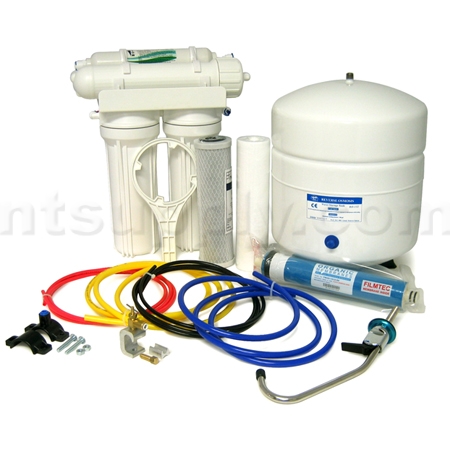 4-Stage Premium Reverse Osmosis System
Description
---
4-Stage Premium Reverse Osmosis System

Click here to see RO System faucet options
Once you install and use an "RO" system for drinking and cooking water - you'll wonder how you ever lived without one! Use RO water to make terrific tasting drinking water, ice cubes and coffee. RO water is also great for cooking. This R.O. System has an integrated Automatic Shut Off valve. This ASO allows the R.O. unit to automatically stop producing water once the holding tank becomes full of purified water.
This residential Reverse Osmosis Drinking System by FSHS Inc. features high quality components and high performance at a low price. These R.O. Systems are completely assembled and are ready for installation. This Reverse Osmosis Drinking Water System comes complete with everything you need to install it yourself and includes NSF approved components. Quick disconnect fittings means you don't need any special plumbing skills to get your system up and running. The system is suited for private well water or chlorinated city water capability.
This is a 4 stage drinking water system. The 4 stages are comprised of:

( 1 ) 5 micron Sediment Pre Filter
( 2 ) Split Sediment / Carbon Block Pre Filter
( 3 ) TFC Membrane
( 4 ) Granular Activated Carbon "Bullet" Post Filter


This system is easy to install !
The 4 Stage R.O. includes color coded tubing and all necessary installation materials, including instructions.
4 Stage R.O. System includes:
Integrated System Mounting Bracket
Automatic Shut Off ( ASO )
50 GPD TFC Membrane
10" 5 micron Sediment Pre Filter
10" Split Sediment / Carbon Block Pre Filter
Granular Activated Carbon "Bullet" Post Filter
4 Gallon Water Holding Tank - NSF Approved
Drain Saddle w/ 1/4" connection
Supply Water Tapping Valve
R.O. Faucet w/ Chrome Finish
Color-Coded Tubing : 1/4" RED - Feed Water, 3/8" YELLOW - Holding Tank, 1/4" BLACK - Discharge / Drain, 3/8" BLUE - R.O. Faucet
Spanner Wrench for filter sump removal
3/8" Shut Off Valve for the Holding Tank
Installation instructions
Reviews
---
Clean Taste
Durable
Easy To Clean
Easy To Install
Long Lasting Filter
Improving Taste
Improving Water Quality
Comments about FSHS Inc. 4-Stage Premium Reverse Osmosis System:
What is great about this product is that the filters can be bought on line. You do not need to find the R.O. fabricator for the filters, such as Watts, GE, Sears, ECO and many more.
Questions and Answers
---