Replacement Ice Maker Kit for Whirlpool Refrigerator/Freezers (RIM943)
Supco RIM943 | Our#: 175187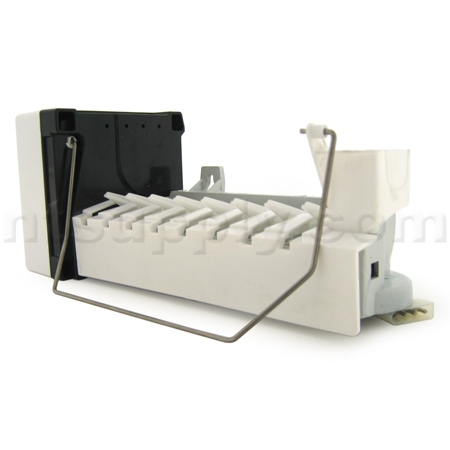 Replacement Ice Maker Kit for Whirlpool Refrigerator/Freezers - Replaces Whirlpool 4317943 Kits
Description
---
Replacement Ice Maker Kit for Whirlpool Refrigerator/Freezers - Replaces Whirlpool 4317943 Kits (and Subzero 4201760).

Replace your worn out icemaker yourself and save money! Includes electronic ice maker assembly with 4 electrical cables (1 pre-installed and 3 others which may be needed for certain models). Also includes mounting hardware/bracket, instructions. Does not include ice bucket, water valve , fill tubes.

Features:
Installs using existing wiring and plumbing
Water fill level is adjustable
Thermal safety cutout
Automatic or manual shutoff
D7824706
D7824705
D7824706Q
D7824705Q
4211173
D703817
D7824701
D7824702
D7824706Q
D7767601
D7824701
R0156806
95109-1
480616
480617
482014
482015
482016
482017
482018
482019
482020
482394
482433
482990
53-8021
625601
625603
625610
625611
625622
625625
625653
625656
625660
626002
626201
626237
626366
626461
626489
626608
626609
626626
626661
626662
626661
627572
797991
8114
833701
978552
978553
978556
Reviews
---
Big families (3)
Small kitchens (3)
Reviewer Profile:
Casual cook (9), Avid cook (6)

Primary use:
Personal (16)
Customer service suggested I try a certain model
ice maker, but were not sure it would fit my old
refridgerator. It did not work, but because of a
good return policy, I was able to try it.
Easy installation
Works Very Well
Replaced original ice maker, works perfect!
Normal Kitchen
Small Kitchens
It works as well as the original one. Installation is a breeze.It is a little slower than the original one.The price is right.A small mirror can help you to look inside.....if yo see the lining is flaky, it is time toReplace Icemaker. Testing of the solenoid valve is easy: take an old electrical kord. With the Connector left in place, install two femail spade connectors fro [@] to the other end of the cord. Just pug it in to the wall outlet for a second and see if water is flowing, if it is you know that the valve is good.
Ice Maker works great and about half the price of any other I could find.
Delivery was on time. Product was easy to hookup. Product works just fine right out of the boxwell satisfied
Easy To Install
Quiet
Simple instructions
Replaces leaking icemaker
This product was simple to install. I installed it within 10 minutes without my husbands help!
Big Families
Large Kitchens
This is a replacement icemaker and it seems to be working just fine. It was just recently installed, so hopefully it will continue working without any problem.
A novice can install
A simple install
Came with everything
Quiet
Works Fantastic
Arrived in time promised
Could not be happier with the performance
Mostly, ease of installation
Questions and Answers
---
Literature