Supco Replacement Ice Maker Kit for GE Refrigerator/Freezers RIM300
Supco RIM300 | Our#: 175186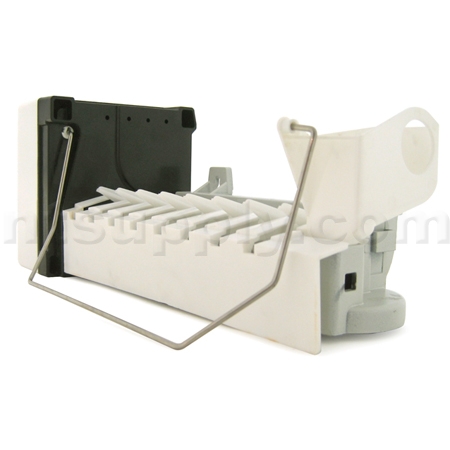 Replacement Ice Maker Kit for GE Refrigerator/Freezers - Replaces GE IM-3, IM-1, IM-2 & UKKIT Series
Description
---
Replacement Ice Maker Kit for GE Refrigerator/Freezers - Replaces GE IM-3, IM-1, IM-2 & UKKIT Series

Replace your worn out icemaker yourself and save money! Does not include ice bucket, water valve , fill tubes. RIM300 was designed to be a direct replacement for the General Electric IM1 through IM3 series and the UKKIT series icemakers. This Service unit comes with icemaker, adapter mounting plate, wiring harness and hardware. Does not include ice bucket, water valve , fill tubes.

Excellent service kit for over 75 GE part numbers!!

Features:
Installs using existing wiring and plumbing
Water fill level is adjustable
Thermal safety cutout
Automatic or manual shutoff
Replaces the icemaker found in these kits:
IM-1 and IM-1R
IM-2 and IM-2R
IM-3 and IM-3R
UKKIT1
UKKIT2
UKKIT4
UKKIT5
8340
JS2
JS3
MSE1
Reviews
---
Easy installation (76)
Works quickly (53)
Easy to maintain (30)
Good tasting water (22)
Ice (47)
City water (14)
Drinking (13)
Tea (6)
Coffee (5)
Reviewer Profile:
Budget shopper (32), Midrange shopper (19), Casual cook (10), Avid cook (3)
I installed a new water shutoff valve and this replacement ice maker. It does not work, nothing. I manually filled the ice tray, it froze but would not dump it. Don't know if this is a bad part or some other problem. Will have to call an appliance repairman.
Easy to Maintain
Good Tasting Water
Works Quickly
City Water
Coffee
Drinking
Ice
Tea
Delivery fast.Works great.should have had a better installation sheet.I thought it wasn't working because the water didn't fill right away.I thought there was something wrong.It just needed to cool down.
Easy Installation
Easy to Maintain
Good Tasting Water
Works Quickly
Installed in just a few minutes. Took several hours to get cold enough to start producing ice (documented). Been using for several weeks now and have had no issues.
Easy Installation
Easy to Maintain
just what I was looking for
Easy Installation
Works Quickly
The product fit well and worked exactly as expected. Delivery was excellent also.
First, I didn't know product was not the same as original, so I found another site and ordered one same as original. It came first. I will probably just throw your product away and take the hit.
The ice maker was a good fit. It took about 30 minutes to install. I have another ice maker that's giving me trouble. I may order one more and replace it too.
Easy Installation
Easy to Maintain
Good Tasting Water
Price Was Great Too
Works Quickly
Easy Installation
Works Quickly
Questions and Answers
---
Literature