Lennox 30026 Hammock Filter Material 40" x 20 Foot Roll (LB-71463)
Lennox 30026 | Our#: 112942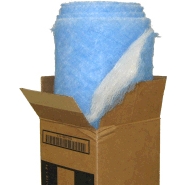 - Lennox Fiberglass Roll Filter Media - 40 Inches Wide By 20 Feet Long By 1 Inch Thick - Cut To Fit AmerGlas hammock filter material
Description
---
Lennox 30026 Hammock Filter Material 40" x 20 Foot Roll (LB-71463)
Cut To Fit Ameriglas hammock filter material lennox roll filters, For air conditioning and central heating systems with hammock filter frames
FEATURES:
Cut to size.
Easy to install.
Lasts up to 60 days.
Coated with a film of viscosine adhesive.

SPECIFICATIONS:
Nominal Dimensions: 40"x 20`x 1"
Reviews
---
Bad Value
Expensive
Low Quality
Comments about Lennox 30026 Hammock Filter Material 40" x 20 Foot Roll (LB-71463):
[...]Hammock filter material is poor and the system inadequate.
Questions and Answers
---