LG ADQ73214402 - Refrigerator Air Filter
LG ADQ73214402 | Our#: 177342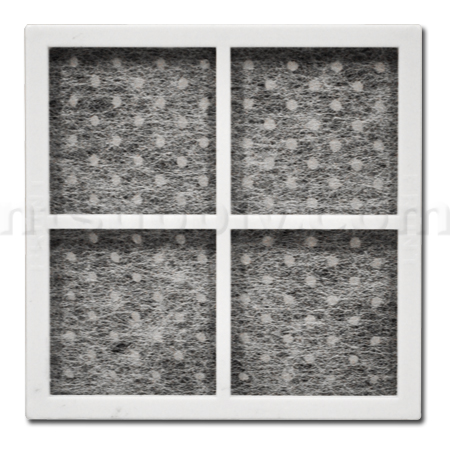 LG ADQ73214402 - Refrigerator Air Filter
Description
---
Designed for every major refrigerator brand, this air filter removes odors that might be present in your appliance. Every six months, or sooner if your refrigerator starts to smell bad, replace the filter. An air filter indicator light on the appliance turns on when the filter needs to be replaced. To remove the dirty filter, twist the filter cover on the refrigerator to the left. Remove the old filter and throw it away. With the new filter's front side facing outward, insert it into the cover. Replace the cover by twisting it to the right. Reset the change filter light by holding it down for three seconds. When the air filter is changed regularly, your refrigerator smells fresh and clean.
Fresh Air Filter removes refrigerator odors
replace every six months
the change filter light turns on and indicates the need to replace the filter
Same as LG part # LT120F, ADQ73214403, ADQ73214404
Same as Kenmore # 9918 or "Elite CleanFlow"
filter dimensions are 3-1/4" x 3-1/4" x 1/4"
Reviews
---
Easy installation (9)
Easy to maintain (4)
Works quickly (4)
Reviewer Profile:
Budget shopper (5), Midrange shopper (3)
Easy Installation
Good Tasting Water
Works Quickly
Seems to working perfectly
This replacement air filter for our refrigerator looked just like the original and popped right in. These seem pricey for what it is, thus 4 instead of 5 stars, but Discount Filters had the best price around.
Filter looked just like the original that came with fridge. BUT the filter was not wrapped or packaged-it was just placed in envelope and mailed!! Was it new?
Easy Installation
Easy to Maintain
Works Quickly
Best price on the web. It works PERFECTLY.
i have never bought this product before, the price is very high compared to A/C filters you buy in loews or home depot
Easy Installation
Easy to Maintain
Air filter, it was the right one and installed easily. Delivery was quick.
Easy Installation
Easy to Maintain
Good Tasting Water
Works Quickly
same product as the local box stores, half the price, fast shipping, great product
Easy Installation
Works Quickly
this air filter was easy to install and started working immediately.
Easy Installation
Easy to Maintain
I find it very convient to purchase as there is no longer after December 31st to purchase locally or at the reduced prices.
Questions and Answers
---
Literature