PLINK Garbage Disposer Cleaner / Deoderizer
Summit Brands 19010 | Our#: 175816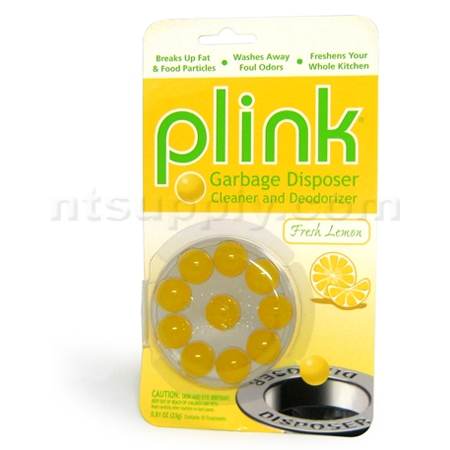 PLINK Garbage Disposer Cleaner / Deoderizer
Description
---
PLINK Garbage Disposer Cleaner / Deoderizer

You will receive 10 PLINK tablets - which can be dropped into your disposer to clean and deoderize!

FEATURES:

Breaks Up Fat & Food Particles
Washes Away Foul Odors
Freshens Your Whole Kitchen
For best results...Plink YOUR SINK AT LEAST TWICE A WEEK
Plink was invented by a plumber to work in seconds
Plink is Safe for your Plumbing and Septic Tank Systems
Plink is non-toxic and biodegradable
Easy to use just drop it in and run the disposal. No scrubbing your garbage disposal necessary!
Patented process encases liquid degreasing agent and citrus fragrance into the Plink ball
Drop in a PlinkŪ tab, turn on the water and disposal, and it goes right to work, breaking up smelly fats and food particles that have built up inside your garbage disposal. That helps prevent clogs, and the lemon scent freshens your whole kitchen.
Directions For Use:
1. Run disposer with hot water to clear it of excess food waste.
2. Reduce hot water to a slow stream.
3. Drop in one Plink ball and run disposer for 15 seconds.
4. Turn off disposer and water.
Note: Revive lemon scent as desired by running disposer with bursts of hot water.
Reviews
---
Questions and Answers
---