Replacement Goodman / Amana / Five Seasons Air Cleaner Filter 16x25
IAQ DPFPC16x25x5M11=D5S | Our#: 173374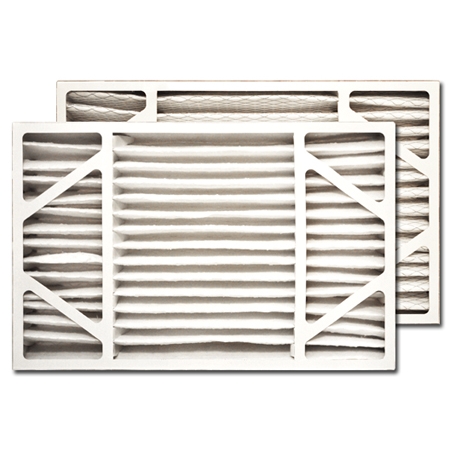 Unbranded replacement filter for 16" X 25" X 5" for Goodman / Electro-Air/ Amana / Totaline / York air cleaner cabinets. Rated MERV 11 - Actual dimensions 15-3/8" X 25-1/2" X 5-1/4"
MERV 11 Rated
16x25x5" Nominal

Description
---
Sturdy air filters reduce dangerous contaminants that float in the air throughout your home. Particulates from pet dander, dirt, dust and bacteria can create respiratory problems. This replacement filter traps these particulates and leads to healthier indoor air. It uses high efficiency, pleated media that is rated MERV 11. This rating indicates that the filter captures up to 85 percent of particulates as small as three microns. With built-in metal fingers and a metal frame, the media remains stabilized in the filter. It also resists moisture and reduces microbial growth even when humidity levels are high. For healthier indoor air and a reduction of airborne allergens, change the filter regularly.
rated MERV 11
high efficiency
pleated design captures for maximum contaminant capture
metal frame resists moisture and remains sturdy
galvanized wire and support finger resist rust, stabilize the media and provide stability to the filter
16 x 25 x 5" nominal size, 15-3/8 x 25-1/2 x 5-1/4" actual size
aftermarket part
Reviews
---
Easy to install (13)
Good size/fit (13)
Good value (13)
Great price (3)
Central AC (13)
Central heating (8)
Home (7)
Reviewer Profile:
Homeowner (17), Professional (3)
Very difficult to find filters, easy online at Discount Filters and great price to boot! thank you
Easy To Install
Good Value
The shipping box was not damaged, but the corners of both filters in the box were slightly crushed. Somehow this missed the quailiy control process.
Easy To Install
Good Fit
Good Value
Central AC
Central Heating
Home
Delivery was free and it arrived on time.
Central AC
Central Heating
Looked good and fit well. We will see how it cleans the air.
Easy To Install
Good Fit
Good Value
Central AC
Central Heating
Durable
Easy To Install
Good Fit
Good Value
Quiet
Central AC
Central Heating
Excellent service. Discount Filters sent me an email to check if I needed to reorder more filters and that reminded me I needed some for the winter. I ordered some, they responded verifying my order and I received them just a couple of days later.
Difficult To Install
Does Not Fit Goodman Unit
Read the fine print! Description said it fit my Goodman furnace, but actually it was almost an inch too long!
Easy To Install
Good Value
Central AC
Central Heating
Home
Product used for furnace and air conditioning units.
Perfect fit for unit. Very happy with product.
Easy To Install
Good Value
Central AC
Central Heating
Home
Use in my 2nd HVAC for high dust and particle removal. Good high efficiency product. Was not quite the dimensions I hoped for, but should work.
Easy To Install
Good Fit
Good Value
Questions and Answers
---