Filter Spray - 18 oz can
Smith Filter 7002 | Our#: 172004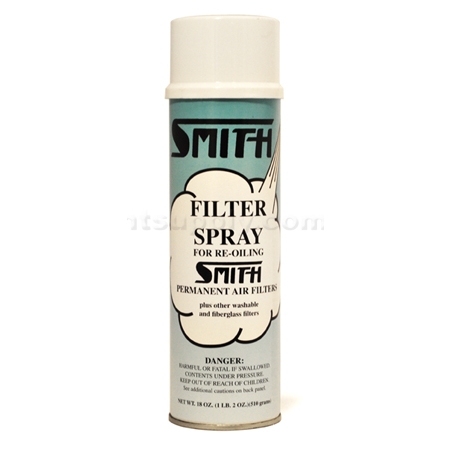 NOTE: Not for use with electronic air cleaner filters
Filter Spray - 18 oz can. This spray will enhance the performance of all residential and commercial disposable and washable filters. The liquid adhesive spray (slightly tacky/non oily) attracts pollen, sub-microscopic dust and is positively charged to electrostatically attract negative charged matter.
Description
---
Filters remove allergens, particulates and contaminants from the indoor air you breathe. Your furnace, air conditioner and air cleaner include protective filters. To increase the performance of these filters, spray them with filter spray. The slightly tacky liquid adhesive helps the filters attract particulates like dust, pollen and dirt. While the spray is not oily, it does include a positive charge. The adhesive electrostatically attracts particulates that might otherwise escape the filter. Designed for residential and commercial filters, it works on washable and disposable filters but not on electronic air cleaner filters. To clean the filter, wash it with plain water. Increase the efficiency of your filters with filter spray.
18 oz can
slightly tacky but not oily
provides an electrostatic charge to the filter
attracts pollen, dirt and other particulates and contaminants
works on disposable and washable filters but is not for use on electronic air cleaner filters
easy to wash away with plain water
commercial and residential use
Reviews
---
Reviewer Profile:
Homeowner (4)
Central AC
Central Heating
Home
Filter Spray - 18 oz can helps stop dust
Central AC
Central Heating
My wife did not like the smell, but it did what I got it for.
I use this on my glass prefilters to help collect dust before it gets to the more expensive pleated filters. I have only been using it for a couple of weeks, but i can tell there is less dust in the house now, and the filters are collecting more too.
Questions and Answers
---
Literature